+13
115 AH 54" ZERO TURN ELECTRIC RIDING MOWER
Model: #RY48140
5 High-Powered Brushless Motors
Battery Operated: Quiet Cutting, No Gas, Fumes, Charge and Go
Zero CO Emissions
+13
CUTS UP TO 3.5 ACRES PER CHARGE
Features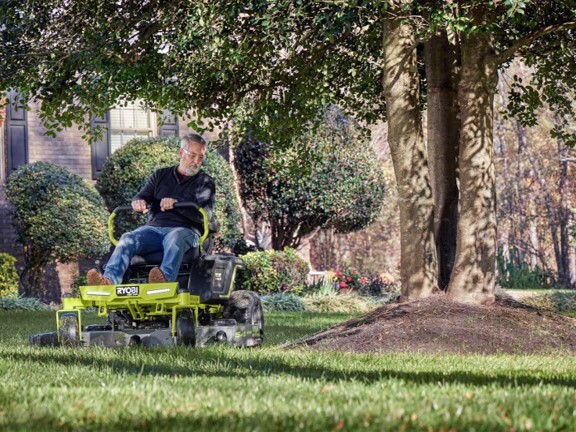 5 High-Powered Brushless Motors
For Ultimate Power and Efficiency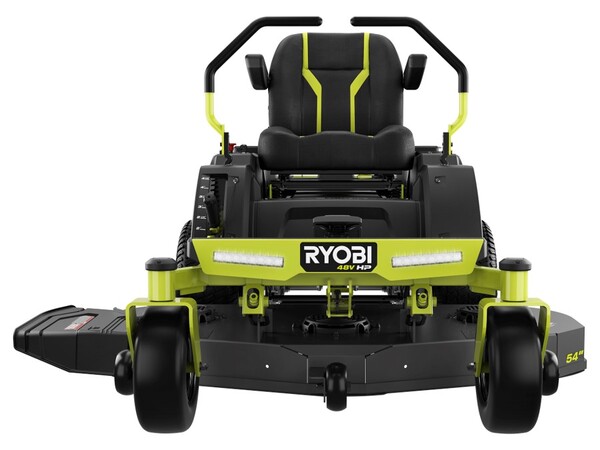 Low Maintenance
No Belts, Spark Plugs, or Filters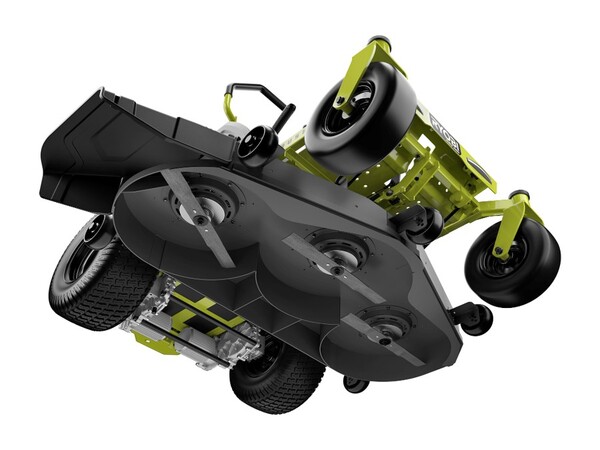 54 in. 10 Gauge Fabricated Steel Deck With 3 Precision Cut Steel Blades
For Durability and Clean Cuts Every Time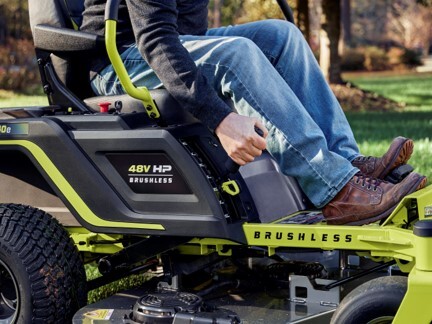 12 Position Deck Adjustments Ranging from 1.5"-4.5"
For Absolute Cut Height Control and Precision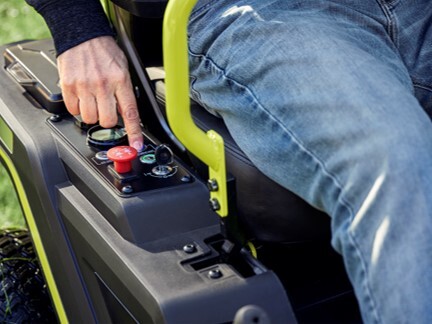 Armrests, Ergonomic Control Handles, 2 Cup Holders and Included Towing Hitch
For a Luxurious Mowing Experience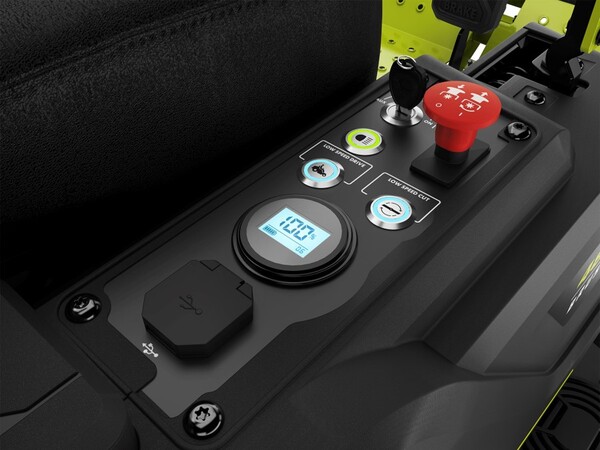 Advanced Control Panel
Includes a Slow Speed Option, Slow Blade Option, Reverse Mow, LED headlights, Battery Gauge, USB Charging Port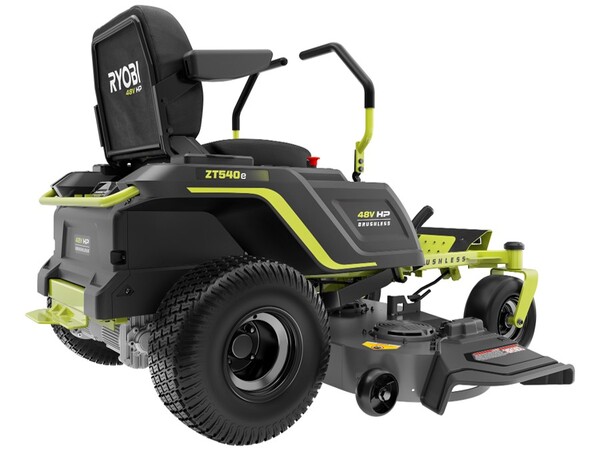 Side Discharge or Mulching
To Adapt To Whatever Your Project Requires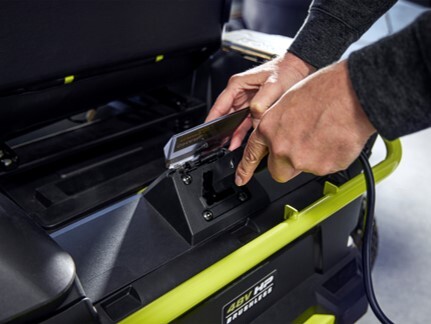 Easy Access Rear Charging Port
Charges Through Standard 120V Outlet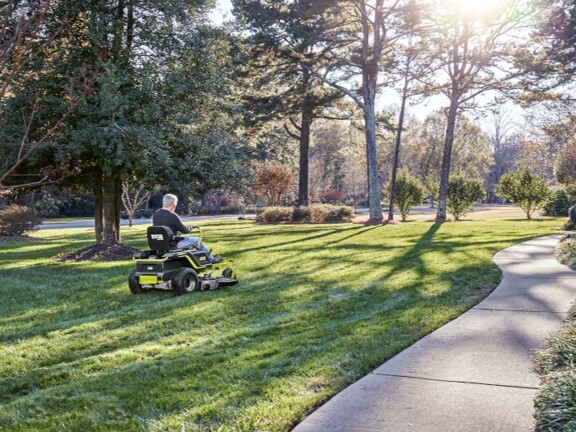 Zero CO Emissions
For a Clean, Green Experience Every Time
Specifications
Dimensions
Deck Size

54"

Cutting Height

1.5"-4.5"

Weight

796 lbs.
Details
Battery

48V 115Ah

Charging

Standard 120V Outlet

Cutting Area per Charge

Up to 3.5 Acres

Deck Height Adjustments

12 Position Manual Adjustment

Max Speed

7 mph

Replacement Battery

Leoch Model LDC12-115
Warranty
Warranty

3 Year Tool Warranty and 1 Year Battery Warranty
Includes
48V Zero Turn Electric Riding Mower with 115Ah Battery
[#<ProductFeature id: 4498, title: nil, content: "48V Zero Turn Electric Riding Mower with 115Ah Bat...", photo: "a2cd3af9-a182-4b86-a5a3-ddf4fc58c9dc.png", created_at: "2021-02-16 21:21:34", updated_at: "2021-02-16 21:26:23", product_id: 1653, sort: 0, enhanced_type: "included_item", enhanced_group: nil, enhanced_icon: nil>]
Reviews
115 AH 54" ZERO TURN ELECTRIC RIDING MOWER
54" 115 AH ZERO TURN ELECTRIC RIDING MOWER
is rated out of
5
by
59
.
Rated

2

out of

5
by
Nightfox321
from
Good at first
I am on my 3rd year with this mower. I really like the mower, and it seems like a quality machine. I like that the seat is nice and not just the foam type that cracks, and the hole thing seems sturdy. The problem is battery life. The first year was great, I could do my whole 1.5 acres of yard in one charge. The second year was okay. Just had to do it in two mows. Third year is pretty unacceptable, now it's more like 3 mows, so I have to try to get some mowing in every chance I get.
Date published: 2023-05-22
Rated

1

out of

5
by
Jim1348
from
Battery Problem
I bought our RYOBI 48V HP Brushless 54 in. 115 Ah battery electric riding zero turn mower April 2021 from Home Depot. Yesterday, which was our first mowing of the season, the mower would stop moving even though the battery indicator showed plenty of battery life. It worked pretty well the first and second year, though.
Date published: 2023-05-16
Rated

5

out of

5
by
Mpoulalion
from
Best lawn Moore I've ever owned.
I wanted this lawnmower, ever since it was first announced. And now that I've wanted this lawnmower, ever since it was first announced. And now that I have it, I can see why. I love the fact that I can quietly remove it from my shed and then engage the blades when I'm ready only to have a perfect cut at the speed at which I want. So when I need more delicate, slow manicures, I can push it. To slow speed but when I'm in an open area and it's smooth ground, I can launch it and it's amazing. I cut the grass and much less time than my neighbors which makes it even that much more fun.
Date published: 2023-05-15
Rated

3

out of

5
by
WNYPete
from
Great mower terrible batteries
I purchased the mower last year and was very happy with it. Would have given it 5 stars then. The mower was stored inside with batteries charging as recommended. Last year I could mow about 2 acres and have about 30% battery life remaining. This year I have to split the mowing over 2 days because the battery gauge flashes 5% after mowing 1acre. After spending almost $6000 on the mower you would expect battery life to a lot better. That's why it only gets 3 stars this year. Based on other reviews battery life just gets worse. Ryobi needs to rectify this serious problem.
Date published: 2023-05-14
Rated

1

out of

5
by
Nick1986
from
Bad batteries
Bought it last year... this year it lasts for 5 minutes and it wants to quit... I wish there was an easy lithium conversion at this point I'm so disappointed and I have a ryobi push mower, weed wacker, leaf blower, and drill and I love all of them
Date published: 2023-05-13
Rated

5

out of

5
by
Jack The Welder Guy
from
No belts! No gas! No oil! Low noise! comfortable
This machine exceeded my expectations. I was behind on weed abatement when the mower arrived and had to confront 3 and 4 foot high mustard weeds. It was a WOW to see this machine mow down this challenge. It performed well on uneven and slightly hilly terrain. I did have to go over some of the mustard weeds 2 or 3 times to get it down to the level I wanted but this machine outperformed both of my John Deere 54", and Craftsman 54" riding Lawn Mowers. And no belts and no gas. I use my air compressor to blow out the motors and the rest of the lawnmower. The blades are thinner than what I used with the others, but they have held up very well. The life of the battery is under 2 hours, but the terrain and height of the weeds has been abnormally challenging. I like the 0 radius turning capabilities. I have nearly 100 trees on my property, and this makes it much easier to mow around them. I have mowed for over 20 hours since I got the Ryobi and covered well over 10 miles if you put all the mowing in a straight line. I mow along the sides of the road / easement (5 to 15 feet wide on each side) reaching to my home. That is a little over 1/2 mile in addition to my 2 acres. I also mow property adjacent to mine for fire clearance / another 3 or 4 acres. I wish the mower had an hour meter to show the total hours in use. When the Ryobi arrived ( sooner than I expected ) it was fully charged and needed only a few minutes to do final assembly. The speed when not mowing is MUCH faster than my other mowers. The seat sensor is VERY sensitive so you must be firmly seated OR the mower stops suddenly. A little Less sensitive would be preferred. All in all, I am totally satisfied with the RYOBI RIDING LAWN MOWER. I have been recommending it to all my friends and will continue to spread the good word…. There is a better way to mow your estate, MUCH BETTER. The motto that John Deere uses "There is nothing that runs like a Deere", Just got beat out by RYOBI. RYOBI.... My choice for this and future purchases.
Date published: 2023-05-12
Rated

2

out of

5
by
Coke1964
from
Consider the lithium version.
I bought the ZT540E about 3 years ago and love the mower. But this mower has one huge issue with it, the batteries. I cut 2.25 acres of grass. Advertised to cut up to 3.5...lol. and no, it's not hilly, it's all flat. 1st year I could cut almost all, 2nd year took me 2 days, this year possibly 3 days because the batteries are toast. Followed all the instructions in regards to charging and storing. Still toast. This year I purchased 4 new LDC12-115-G31-T batteries to replace the ones that came with the mower, bought them straight off the Home Depot web site. Another $1350. spent on a mower that cost me 5k. Starting my 3rd year. Installed them and was eager to start mowing a good portion of my yard only to find out these batteries are worse than the ones I took out. I'm at my wits end here...paid a pretty penny for this mower and was initially excited, not so much now.
Date published: 2023-05-11
Rated

1

out of

5
by
Anonymous
from
Batteries do not hold up
I bought the mower 1.5 years ago. Noticed last spring that the batteries have trouble when it is cold, but on the whole they held up for the first year. This year I'm observing a significant degradation in battery life. Where I could formerly mow the whole yard on two charges (front yard one day, back yard the next), I'm now requiring three charges. And if I let the grass get long, it's four charges.
Date published: 2023-05-10
Rated

4

out of

5
by
Frankly
from
Very good machine.
Excellent design and workmanship. Easy to use and recharge. Batteries have lost quite a bit of capacity in the first year, so did not rate it at 5. Have contacted Ryobi service and hopefully will make it right.
Date published: 2023-05-02
Rated

1

out of

5
by
kvanstrien
from
TERRIBLE battery after 8 months use (1.5 seasons)
I mow approximately 1 acre lot which is about 3/4 acre of grass. I bought this mid season of 2021 so only used it a few months, and all of 2022 season (I live in Michigan, so this is about 5-6 month mowing season). Started noticing the battery wasn't great towards the end of 2022, and now the first mow this year I only had 20% remaining on the battery after a mow when the first year I had 70% or more. Looks like a COMMON issue after a year of use. The mower was also kept indoors at all times, and climate controlled (50-60 degrees) over the winter. I left it plugged in all winter as per the storage instructions in the manual. So MAYBE I could get through this season yet in a single mow, but the blades start shutting down around 10%, so I'm not sure I will or not. But seems the lifespan of these batteries is maybe 1-2 years. That is EXTREMELY disappointing. I know batteries won't last forever, but I'm mowing 3/4 acre with a mower advertised as 3.5 acres!! Should be able to do 3/4 acre for more than 1-2 year span. Also, it should be noted...I always run the blades on the slower speed to save battery. So this really shouldn't be an issue at this point. Other than MASSIVE issue, the mower is comfortable, pretty quiet (in comparison to gas), handles well and mows well....but I cannot recommend anyone buy this mower.
Date published: 2023-04-25