+15
40V HP Brushless 21" CrossCut Self-Propelled Mower with (2) 40V 6Ah Batteries and Charger
Model: #RY401150
40V HP Technology Delivers delivers GAS-LIKE POWER™
Cross Cut Multi Blade System for Superior Cutting Performance
Smart Trek Adaptive Variable Speed Self-Propelled
More Power. Longer Runtime. Longer Motor Life.
Features
GAS-LIKE POWER™
Provided by the brushless motor combined with advanced electronics and High Performance Lithium-ion Batteries
Up to 70 Minutes of Run Time
With included (2) 6.0 Ah batteries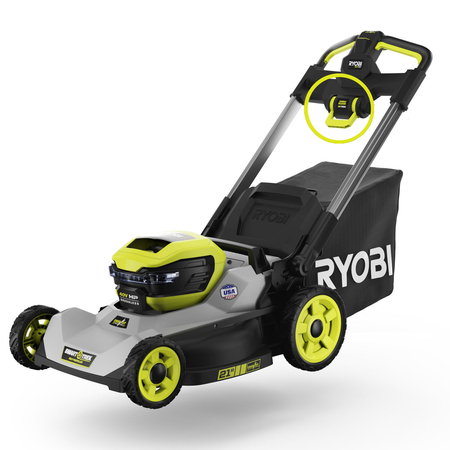 One Touch Folding Handles
For compact, vertical storage
Easy Lift Single Motion Bag Removal
For quick and easy clipping removal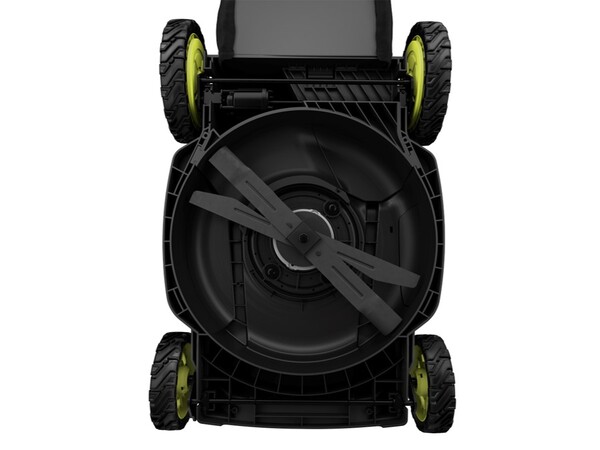 Cross Cut Multi Blade System
For superior cutting performance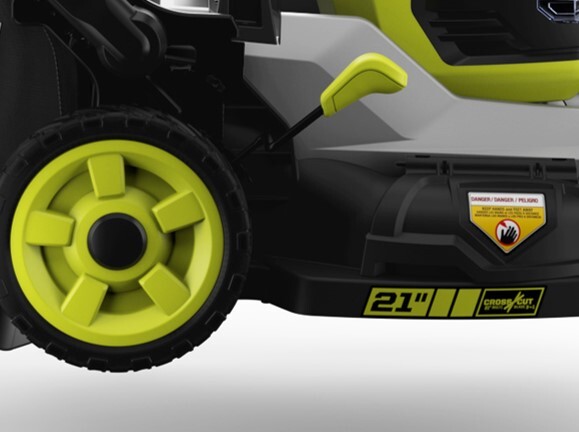 7 Position Single Point Height Adjustment
For easy and efficient mower height adjustment
Proudly Made in the USA
With globally sourced materials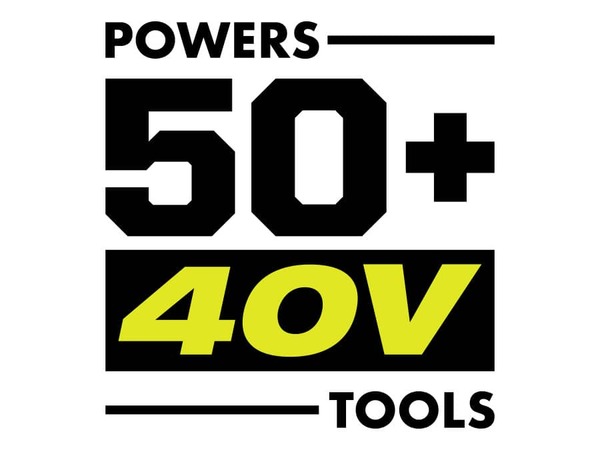 System Compatibility
Compatible with all Ryobi 40V tools and chargers
Specifications
Dimensions
Cutting Height

1.5" - 4"

Deck Size

21"

Weight

75 lbs.
Details
Battery

(2) 40V 6.0 Ah Batteries

Mowing Function

Mulching, Bagging, or Side Discharge

Recommended Yard Size

Up to 3/4 Acre

Deck Height Adjustments

7-Position Single Point

Estimated Runtime

Up to 70 mins.
Warranty
Warranty

5 year tool warranty and 3 year battery warranty
Includes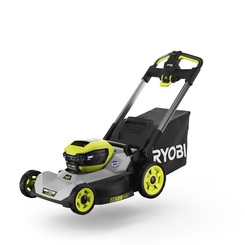 40V HP 21" Brushless Dual Blade Mower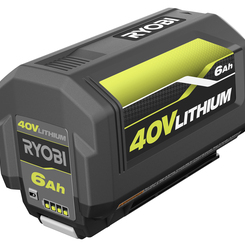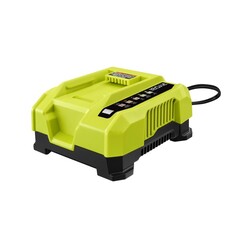 [#<ProductFeature id: 4053, title: nil, content: "40V HP 21\" Brushless Dual Blade Mower", photo: "b617ad35-ea22-4a3a-94aa-bd5c5efc22b5.jpg", created_at: "2020-12-09 21:47:49", updated_at: "2020-12-09 21:47:49", product_id: 1512, sort: 0, enhanced_type: "included_item", enhanced_group: nil, enhanced_icon: nil>, #<ProductFeature id: 4054, title: nil, content: "40V 6.0 Ah Batteries ", photo: "e43b7192-f1f2-4cee-bfd7-ef46c2362689.jpg", created_at: "2020-12-09 21:47:50", updated_at: "2020-12-10 04:01:34", product_id: 1512, sort: 1, enhanced_type: "included_item", enhanced_group: nil, enhanced_icon: nil>, #<ProductFeature id: 4055, title: nil, content: "40V Charger", photo: "9ce66ad8-1430-42aa-b6e6-bb866e119559.jpg", created_at: "2020-12-09 21:47:52", updated_at: "2020-12-10 04:01:38", product_id: 1512, sort: 3, enhanced_type: "included_item", enhanced_group: nil, enhanced_icon: nil>, #<ProductFeature id: 4069, title: nil, content: "40V 6.0 Ah Battery", photo: "4f87d419-bf87-4b8b-8f7b-dba33fa75d63.jpg", created_at: "2020-12-10 04:01:36", updated_at: "2020-12-10 04:01:36", product_id: 1512, sort: 2, enhanced_type: "included_item", enhanced_group: nil, enhanced_icon: nil>]
Reviews
40V HP Brushless 21" CrossCut Self-Propelled Mower with (2) 40V 6Ah Batteries and Charger
40V HP BRUSHLESS 21" CROSS CUT SELF-PROPELLED MOWER KIT
is rated out of
5
by
718
.
Rated

1

out of

5
by
BK from Iowa
from
Another dead mower, very disappointed.
LIke so many other, I have the issue with no blades spinning. Lights and self-propelled workers. This is my second session. I clean it after each use and it was stored in a garage. Used it once this year and now it will not cut. I have MANY Ryobi tools and this is my second issue this year. Things happen, but with no service center and no idea how to get parts to repair it I'm rethinking Ryobi mower and lawn tools. An $800 mower should not be disposable. Back to a gas mower that can be repaired when needed.
Date published: 2023-05-18
Rated

5

out of

5
by
Paulkam
from
Great mower
We bought this about a month ago extremely happy with the power get our entire lawn done with the two batteries and the cross cut blade cuts the grass so evenly
Date published: 2023-05-14
Rated

1

out of

5
by
Tiredoftrying
from
Worked for two years but now motor won't start
I've had the mower for two seasons. Stored in the garage and brought it out to cut the grass for the first time this year. Everything worked fine for about 10 seconds and the the blades stopped. The lights and self propel still work fine. Batteries were fully charged and key was properly placed. I made sure the mulching attachment was correctly installed. I have tried all the recommendations on the internet to get the blade motor started again. None of them work. Was pleased with the mower before this, but now I'm not. What does a 5 year warranty mean if there is nothing you can do, no part to replace and there isn't a service center any where near by!
Date published: 2023-05-14
Rated

1

out of

5
by
Nick809
from
Dissatisfied Customer
I brought this mower last year. Took it out this year the batteries only last for about 15 min. It takes me 2 days to cut my grass because the batteries won't hold the charge. I don't know if it is a problem with the batteries or the mower. The mowers always sounds like it is running at a very high speed.
Date published: 2023-05-13
Rated

1

out of

5
by
KP1018
from
Non Starter
I bought this mower at the end of September 2022. I've used it twice. Now it won't start. Lights and self propel work fine but the blades won't turn on. I've tried adjusting the folding handles every which way with no luck. There are no repair shops near me. Help!!
Date published: 2023-05-11
Rated

1

out of

5
by
Very upset customer
from
Do not buy, garbage....
Do not buy, seriously do not buy. Piece of junk. Mine was brand new, out of the box. Charged the batteries, mowed for 30 min, switched battery key because battery died. It self propels but mower won't engage. This is bs. Spend $700 plus. I switched battery compartments, switched the key. Nothing.... Called Ryobi hotlie, hour and fourth seven minute wait later, told me to call the service place. Called them, he told me that it'll be a 3 to 4 week wait till he gets to it. Told me he had 20 or more in the shop. This is a waste. Do not buy.
Date published: 2023-05-06
Rated

5

out of

5
by
FredRoc
from
Power of Gas, The Benefits of Electric
The Ryobi Lawnmower does a phenomenal job on my lawn. The power is excellent and the battery life completely covers my half acre. This unit does not disappoint!
Date published: 2023-05-03
Rated

1

out of

5
by
Husky09
from
Dead dead dead after 1 season
Thought it was great when I bought it last season. Have used it twice this spring and it died in the middle of mowing and now it doesn't start. Batteries charged, checked the key, made sure the blades move freely/nothing clogging or blocking anything. Still no power (light, blades, self-propel all dead.) It should still be under warranty except the nearest official service center is a two hour drive away (I'm in Seattle folks- not exactly a small town).
Date published: 2023-05-03
Rated

3

out of

5
by
Bobs Tear Duct
from
Mower good, batteries not enough
First off the mower itself is great. I have very thick grass in spots and it mulches down to invisible pieces like a champ... Or did anyway. My only disappointment was that it didn't team the batteries somehow, or auto-switch at least. Having to do that manually seems nuts, and the marketing implies that it *uses* 2 batteries, not *holds* 2. That said it's not a big deal except... The first issue I hit was that the second battery switched to had no ability to spin the thing up to get through thicker stuff and would slow then stop with the two center lights flashing. Very difficult to find what that means, and it clears after a short time on its own. The battery will power the smaller 20" push only mower but I got the assist because I've got arthritis and issues with sweating so much it's dangerous thanks to the meds for that. I kind of wrote it off as the battery heating up from being in the mower at first and just swapped out with a 6Ah from the smaller push-only mower, until I just happened to install the batteries in the other order and realized one had almost no torque, like it's not capable of pushing the amperage needed. I mow often enough that it was rarely a big problem, but it got worse over the season. Fast forward to this year and the second battery the mower came with is starting to do the same thing. I don't know if the 2021 serial numbers were defective or the mower just wants more than 6Ah can sustain, or if the included fast charger messes them up. Even the working battery slowly loses the ability to run the motor drive and deck as you mow so the self propelled feature becomes useless at maybe 40% battery life... Not pretty. The old 2019 SN battery still works fine. Since the batteries are most of the cost of these mowers I think they really should have shipped with 7.5Ah batteries or Ryobi should at least have a trade-up program considering the price and the ease with which they can re-use batteries (the internal cells, from what I've seen online, are just 18650s, not fancy custom LiPo or LiFe packs, so any underperforming ones are cheap to replace) I'm quite concerned about having to pay current crazy shipping back and forth on 2 batteries for a warranty claim only to have the repair place throw them on some basic tester, find that they put out the expected voltage and amps under some light load scenario, and having them sent back in the same condition that can't keep the self-propelled motors going for more than half the back yard if they decide to work. I'd much rather trade them in for higher Ah models that will last longer by nature and pay the difference but AFAIK such a program doesn't exist, and two 7.5Ah (or higher now?) cost more than the mower + batteries did. I never had any issues with the 20" push mower or a 40V expandit trimmer from 2015 that's been using the same smallish 40V with seemingly no wear since I bought it. I honestly didn't expect any problems from Ryobi given the reliability of the other two tools, so it's quite disappointing. I'll probably risk the warrantee thing soon unless shipping + uber to the UPS / Fedex office turns out to be higher cost than Amazon knockoff batteries, and have to deal with the single battery and a recharge between halves of the lawn while I wait, or do the worse of the two it came with first so I at least have a halfway working 2nd battery in the meantime. Just another big pain I didn't need.
Date published: 2023-04-29
Rated

1

out of

5
by
Anonymous
from
Six Hundred Dollar Throwaway Mower
Looks really nice! Mows great! Until it doesn't. Mower engine cuts off. Starts occasionally. So you check the batteries, look for obvious loose items. Statrt mowing again. Engine cuts out. You release the handle, spin-up the blades to full RPM, then proceed 5 feet, cuts out again. Seems related to shifting the handle, mowing on a slope, or almost anything. After 1 year, I can't even mow 1/4 acre. Google 'Ryobi electric mower cuts out' and you'll see reams of information about this problem across several model numbers. Seems there are some issues with loose handles and internal safety switches. I called Ryobi service and left my number for a callback. 2 hours later I spoke to a very indifferent associate that told me my closest service center is 66 miles away...from Orlando! Not a single service center in all of Orlando, FL? There are probably 30 Home Depots in greater Orlando that sell Ryobi mowers, but not a single service center. I absolutely loved the mower when I bought it, but will now seriously reconsider any Ryobi purchase.
Date published: 2023-04-24