+5
2300 PSI BRUSHLESS ELECTRIC PRESSURE WASHER
Model: #RY142300
Brushless Motor technology for superior performance
Turbo Nozzle delivers 50% faster cleaning
25 ft. high pressure non-marring hose extends reach without marking surfaces
+5
Engineered to handle the toughest jobs
Features
Brushless Motor Technology
For superior performance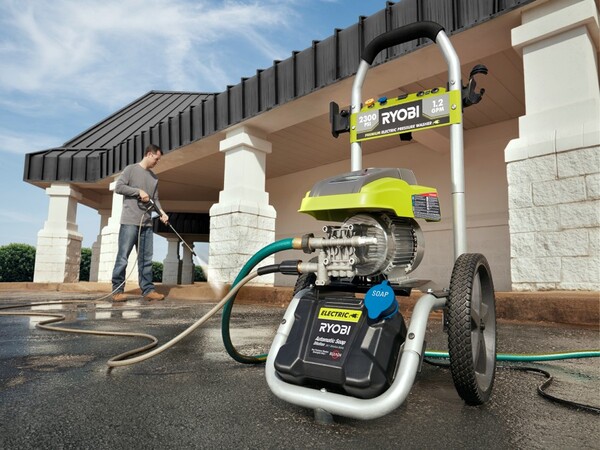 Turbo Nozzle
Delivers 50% faster cleaning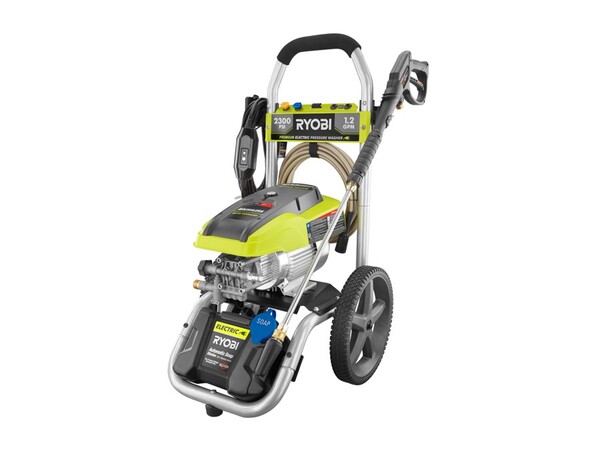 25 ft. High Pressure Non-Marring Hose
Extends reach without marking surfaces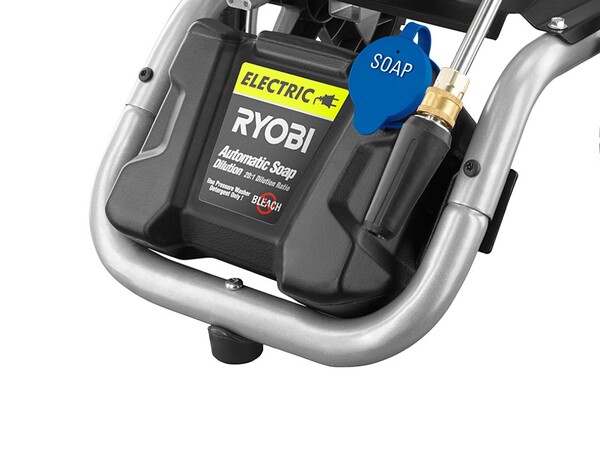 On-Board Detergent Tank
For easy soap application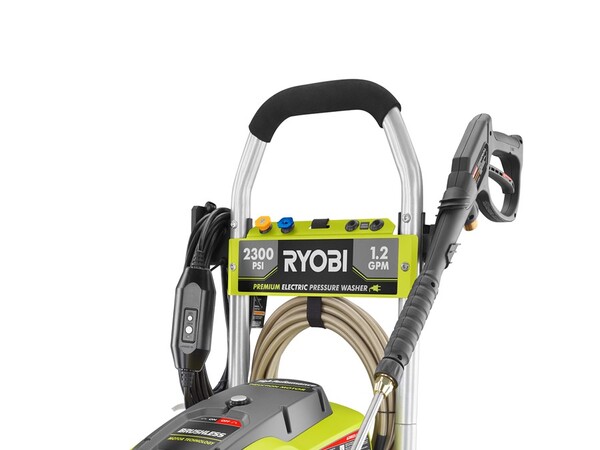 Hand-Truck Design
For durability and user convenience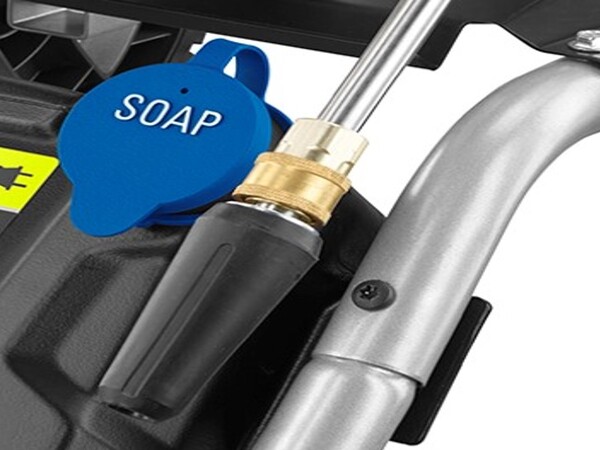 Quick-Connect Coupler
For easy nozzle changes
Specifications
Dimensions
Motor

13 Amp Brushless Motor

PSI

2300

GPM

1.2

Cord Length

35 ft. with GFCI

Hose Length

25 ft.

Pump Type

Axial-Cam with Bypass

Wheel Size

12"

Weight

49 lbs.

Warranty

3 year
Includes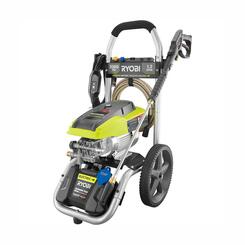 2300 PSI Brushless Electric Pressure Washer
Trigger Handle with M22 Connections
25 ft. High Pressure Hose
15 Degree Nozzle, Soap Nozzle, and Turbo Nozzle
[#<ProductFeature id: 3059, title: nil, content: "2300 PSI Brushless Electric Pressure Washer", photo: "e05554f7-ea5b-4550-888c-3b187f55521b.jpg", created_at: "2020-09-10 18:51:36", updated_at: "2020-09-10 18:52:37", product_id: 917, sort: 0, enhanced_type: "included_item", enhanced_group: nil, enhanced_icon: nil>, #<ProductFeature id: 3060, title: nil, content: "Trigger Handle with M22 Connections", photo: nil, created_at: "2020-09-10 18:51:37", updated_at: "2020-09-10 18:51:37", product_id: 917, sort: 1, enhanced_type: "included_item", enhanced_group: nil, enhanced_icon: nil>, #<ProductFeature id: 3061, title: nil, content: "Metal Spray Wand", photo: nil, created_at: "2020-09-10 18:51:37", updated_at: "2020-09-10 18:51:37", product_id: 917, sort: 2, enhanced_type: "included_item", enhanced_group: nil, enhanced_icon: nil>, #<ProductFeature id: 3062, title: nil, content: "25 ft. High Pressure Hose", photo: nil, created_at: "2020-09-10 18:51:37", updated_at: "2020-09-10 18:51:37", product_id: 917, sort: 3, enhanced_type: "included_item", enhanced_group: nil, enhanced_icon: nil>, #<ProductFeature id: 3063, title: nil, content: "15 Degree Nozzle, Soap Nozzle, and Turbo Nozzle", photo: nil, created_at: "2020-09-10 18:51:37", updated_at: "2020-09-10 18:51:37", product_id: 917, sort: 4, enhanced_type: "included_item", enhanced_group: nil, enhanced_icon: nil>, #<ProductFeature id: 3064, title: nil, content: "Operator's Manual", photo: nil, created_at: "2020-09-10 18:51:37", updated_at: "2020-09-10 18:51:37", product_id: 917, sort: 5, enhanced_type: "included_item", enhanced_group: nil, enhanced_icon: nil>]
Reviews
2300 PSI BRUSHLESS ELECTRIC PRESSURE WASHER
2300 PSI BRUSHLESS ELECTRIC PRESSURE WASHER
is rated out of
5
by
2242
.
Rated

5

out of

5
by
McBob
from
First Electric Pressure Washer is Winning Me Over
I bought this two days ago to replace an old gas model (other brand) that quit running. I wanted something different and wanted to escape the fumes of a gas engine. Research lead me to Ryobi. I purchased a 12" surface cleaner at the same time. Assembly was straight forward; within 30 minutes I was up and running. I finished my current project, taking up where the old machine failed. Initial impressions were, Wow, this thing is quiet!, and Wow, this thing has the power I needed, and Wow, the surface cleaner really works! The next day I cleaned a small cottage at my home. Putting cleaner in the soap tank lead to a new joy. Wow, the soap applicator really works, diluting the concentrate properly. Wow, changing tips is easy and Wow, this thing meets the cleaning expectations. Later, my wife commented that she thought I was sitting under a shade tree drinking a beer since she did not hear me pressure washing. I really like how quiet the electric motor is, how it stops when the trigger is released, and how it shuts down on its own if the water supply stops. After two days and about 8 hours of use, I find this machine to be well designed, easy to use and as powerful as promoted. Of course I am hopeful that I will continue to obtain this level of service from this machine for many years. This caught my neighbors attention as I was working in quiet, cleaning my front sidewalk with the surface cleaner, all so effortlessly. He, a retired quality control specialist, was quite impressed with this machine and the results I was getting. At this point, I do not have buyer's remorse!
Date published: 2022-09-23
Rated

5

out of

5
by
Anonymous
from
i love it uses less water and shuts off when you
i am so happy with Ryobi products it really works great i would tell all my friends about it
Date published: 2022-09-22
Rated

4

out of

5
by
RobbyMartinMD
from
Power washed entire house and deck in 2 days
Very good for a single family residential use. Have a decent size deck. Unable to reach second level — will have to get extender or step ladder.
Date published: 2022-09-18
Rated

4

out of

5
by
williemays
from
great so far, BUT....
I've only used this once. I'm satisfied so far. BUT...There were a few things that were concerning. (1) The 2 plastic pieces on the handlebar probably won't last very long. One holds the power cord and the other holds the trigger handle. Thin cheap plastic. (2) For $329 you'd think they would give you more than three nozzles. (3) There were no specific instructions on the soap tank. How much soap to add? Are there alternatives to the $13/gal Ryobi Soap? Buyers should be aware that the better 5-in-one nozzle is an extra $38, and the better foam blaster nozzle is another $35. (4) The parts that wear out the most should be listed in the owner's manual with part numbers and be made available for purchase. (For example, O-Rings) They have to be a perfect fit in order to prevent leaks. The dimensions should be listed. DIY guys like me want good equipment to last. Why not supply a spare parts list?
Date published: 2022-09-15
Rated

4

out of

5
by
DonnyLou
from
Works great for home
I bought this last month. It works great for around the house use. I would buy it again.
Date published: 2022-09-13
Rated

2

out of

5
by
Yankees101
from
Works great, when it works
I bought this a year ago and used it twice. The 3rd time, it stopped. No longer turned on
Date published: 2022-09-11
Rated

5

out of

5
by
Mike F1234
from
First pressure washer
Purchased this pressure washer and so far it meets my needs. It's also relatively quiet too!
Date published: 2022-09-09
Rated

5

out of

5
by
Whoop 55
from
Great tool
Great tool for the price. More affordable than most washers with its power
Date published: 2022-09-08