+4
FOAM BLASTER
Model: #RY31F04
+4
RYOBI Foam Blaster removes dirt, grease, oil, grime, road film and stains with thick clinging foam made from included detergent concentrate. The RYOBI Foam Blaster features an On/Off foam control lever, and can easily attach to a 1/4 in. quick connect spray wand for user convenience. This product can be used to clean vinyl, wood, brick, stucco, concrete, cement, asphalt, fiberglass, tile, stone, aggregate, metal, plastics and vehicles.
Features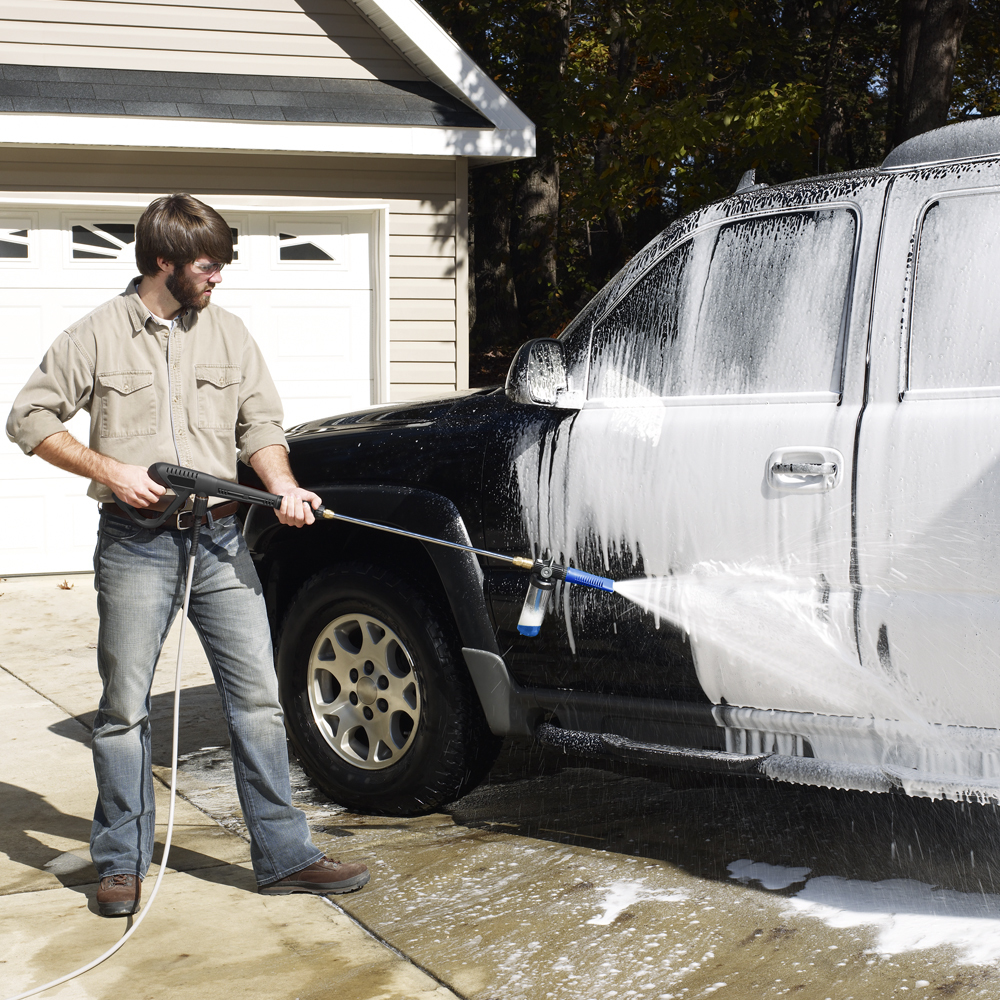 Easily Attaches to a 1/4 in. quick connect spray wand
Features an on/off foam control lever
For use on cars, siding, windows, driveways, vinyl siding, wood decks, and cement
For use with RY31D55 Ryobi foamer detergent
Includes
Foam Blaster
Detergant Refill
Reviews
FOAM BLASTER
FOAM BLASTER
is rated out of
5
by
53
.
Rated

1

out of

5
by
A reiger
from
Garbage, use the built in soap dispenser.
This thing looks awesome but is complete garbage. I followed the instructions to the letter and it was nothing more than a soap dispenser. Created zero foam using the RYOBI foamer detergent.
Date published: 2023-07-09
Rated

5

out of

5
by
Leanna
from
Great product
Great way to clean a vehicle - until our plastic jar jar broke at the threads so we can't use it anymore. Is there anywhere to buy a replacement container?
Date published: 2023-04-17
Rated

1

out of

5
by
Get something else
from
No replacement parts
The plastic container that holds the cleaner broke and you can't just buy the container. SMH
Date published: 2023-04-13
Rated

2

out of

5
by
mscibetta524
from
No Longer Foams - No Assistance or Help
I purchased this along with a Power Washer to car for my new car. The foamer worked great until yesterday. I purchased on 4/1/2022, but yesterday, 2/15/2023, the foamer sprays water but will not add the solution and maker foam. I tried a few solutions, but no matter what I did, the foamer only would spray water. This morning, I took my reciept and went back to The Home Depot, but they would not offer me an exchange and told me to call Ryobi. I just got off the phone with Customer Service and was basically told there is only a 90-day return policy, and basically I would have to rebuy the product at full cost. Not much of a reply to a good customer. Last chance, I thought I would reach out here for maybe a better solution.
Date published: 2023-02-16
Rated

1

out of

5
by
Rws1
from
Worked great until plastic soap container cracked
Bought to wash my truck and travel trailer. Lasted about 8 months and then the soap container broke while I was using it. Looks like plastic is crumbling and cracking. Would be a great product if soap container didn't fall apart.
Date published: 2022-11-27
Rated

4

out of

5
by
Anibalm50
from
Great features
I bought foam blaster is really good but the plastic cup is not strong break easily in the top
Date published: 2022-10-31
Rated

5

out of

5
by
Snapnpiks
from
Whats the dimensions of the cannister opening
Way too small i'm wondering the dimensions on the threaded opening...Works great but only 8 oz.
Date published: 2022-08-31
Rated

1

out of

5
by
Jesse FL
from
Clogged after 1 use
This worked great the first time. I followed all instructions and used the included Ryobi foam soap, and made sure to rinse and dry it very well. Now it does not draw any soap and just sprays water.
Date published: 2022-08-20
Rated

2

out of

5
by
Ry88
from
Doesn't last
This foam canon works as expected but the canister cracked by the 3rd use at the threads. It is made of very brittle plastic. Disappointed
Date published: 2022-06-18
Rated

1

out of

5
by
Satterly painting
from
Depends on ryobi
I bought this, first job super impressed, soap goes fast though. Go to fill again, threads stuck in housing n was no use then. Maybe defective. Maybe company can send me a replacement
Date published: 2022-06-10