+5
2300 PSI BRUSHLESS ELECTRIC PRESSURE WASHER
Model: #RY142300
Brushless Motor technology for superior performance
Turbo Nozzle delivers 50% faster cleaning
25 ft. high pressure non-marring hose extends reach without marking surfaces
+5
Engineered to handle the toughest jobs
Features
Brushless Motor Technology
For superior performance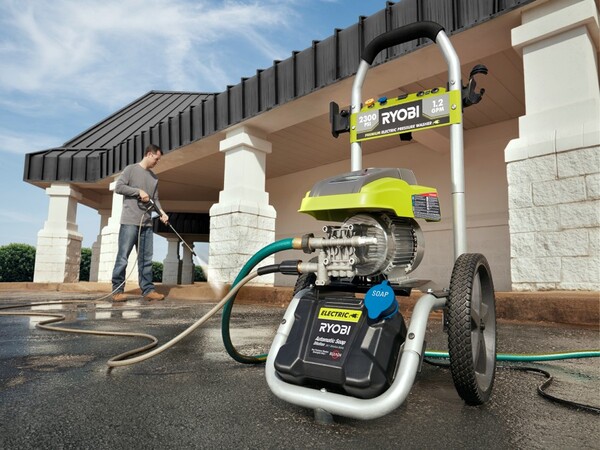 Turbo Nozzle
Delivers 50% faster cleaning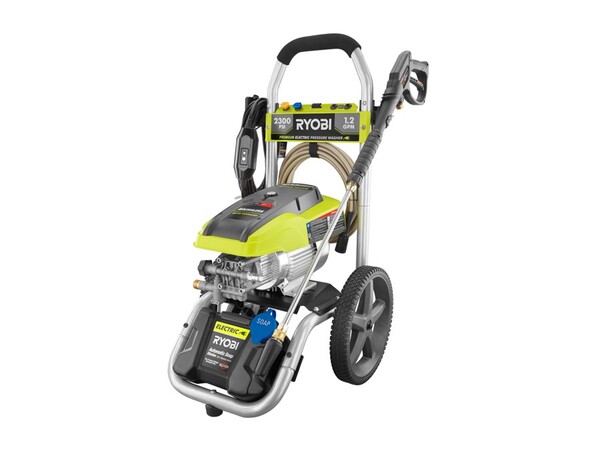 25 ft. High Pressure Non-Marring Hose
Extends reach without marking surfaces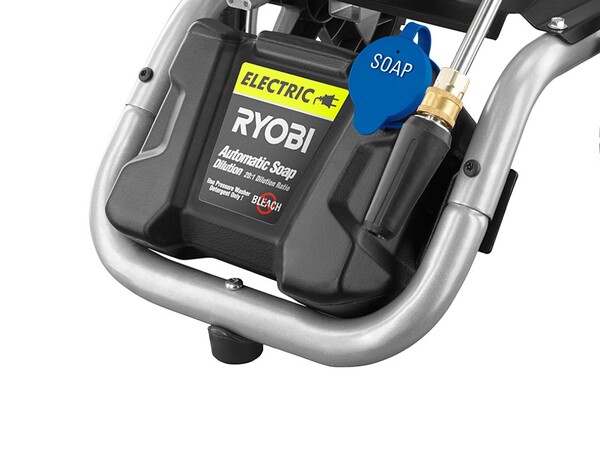 On-Board Detergent Tank
For easy soap application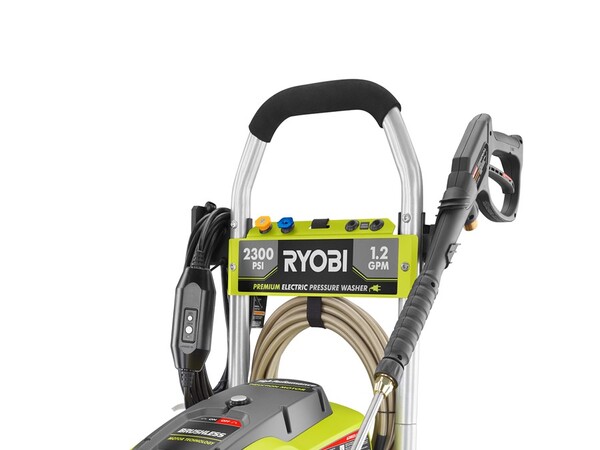 Hand-Truck Design
For durability and user convenience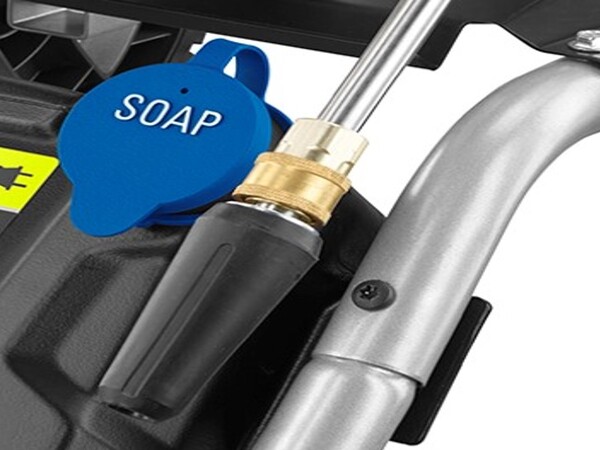 Quick-Connect Coupler
For easy nozzle changes
Specifications
Dimensions
Motor

13 Amp Brushless Motor

PSI

2300

GPM

1.2

Cord Length

35 ft. with GFCI

Hose Length

25 ft.

Pump Type

Axial-Cam with Bypass

Wheel Size

12"

Weight

49 lbs.

Warranty

3 year
Includes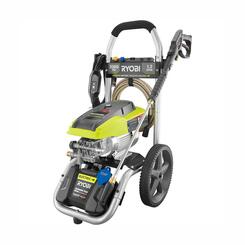 2300 PSI Brushless Electric Pressure Washer
Trigger Handle with M22 Connections
25 ft. High Pressure Hose
15 Degree Nozzle, Soap Nozzle, and Turbo Nozzle
[#<ProductFeature id: 3059, title: nil, content: "2300 PSI Brushless Electric Pressure Washer", photo: "e05554f7-ea5b-4550-888c-3b187f55521b.jpg", created_at: "2020-09-10 18:51:36", updated_at: "2020-09-10 18:52:37", product_id: 917, sort: 0, enhanced_type: "included_item", enhanced_group: nil, enhanced_icon: nil>, #<ProductFeature id: 3060, title: nil, content: "Trigger Handle with M22 Connections", photo: nil, created_at: "2020-09-10 18:51:37", updated_at: "2020-09-10 18:51:37", product_id: 917, sort: 1, enhanced_type: "included_item", enhanced_group: nil, enhanced_icon: nil>, #<ProductFeature id: 3061, title: nil, content: "Metal Spray Wand", photo: nil, created_at: "2020-09-10 18:51:37", updated_at: "2020-09-10 18:51:37", product_id: 917, sort: 2, enhanced_type: "included_item", enhanced_group: nil, enhanced_icon: nil>, #<ProductFeature id: 3062, title: nil, content: "25 ft. High Pressure Hose", photo: nil, created_at: "2020-09-10 18:51:37", updated_at: "2020-09-10 18:51:37", product_id: 917, sort: 3, enhanced_type: "included_item", enhanced_group: nil, enhanced_icon: nil>, #<ProductFeature id: 3063, title: nil, content: "15 Degree Nozzle, Soap Nozzle, and Turbo Nozzle", photo: nil, created_at: "2020-09-10 18:51:37", updated_at: "2020-09-10 18:51:37", product_id: 917, sort: 4, enhanced_type: "included_item", enhanced_group: nil, enhanced_icon: nil>, #<ProductFeature id: 3064, title: nil, content: "Operator's Manual", photo: nil, created_at: "2020-09-10 18:51:37", updated_at: "2020-09-10 18:51:37", product_id: 917, sort: 5, enhanced_type: "included_item", enhanced_group: nil, enhanced_icon: nil>]
Reviews
2300 PSI BRUSHLESS ELECTRIC PRESSURE WASHER
2300 PSI BRUSHLESS ELECTRIC PRESSURE WASHER
is rated out of
5
by
2375
.
Rated

1

out of

5
by
Don Not Buy
from
Leaks terribly!
I used this power washer twice. The Motor housing leaks.
Date published: 2023-09-06
Rated

5

out of

5
by
Nlcoheed
from
Fantastic for the price
I bought this because I needed to power wash my driveway and sidewalk. Living in Georgia, the red clay makes it difficult to keep things clean. This power washer was able to rip right through the years of grime and restore my concrete to new. I would highly recommend this for anyone looking to move away from a gas powered power washer. Its fantastic!
Date published: 2023-09-05
Rated

4

out of

5
by
wasmsu
from
Nice Machine!
Just purchased after considerable research online as this is my first electric power washer. It flawlessly cleaned my patio deck and sidwalks. The turbo head really performs well. I have a large concrete driveway that I would like to clean also, but quickly realized that it would take my days to complete! But I knew that going in, for small to medium cleaning jobs around the house it works great, and the long hose and power cord along with quiet operation makes it a pleasure to operate. Time will tell how long it will hold up, I've noticed reviews mentioning leaking oil from the motor...
Date published: 2023-08-30
Rated

4

out of

5
by
Happy Customer 44
from
Worked well using it for the first time!
I used this pressure washer for the first time today. It took a while to get the job done, but it did a great job of cleaning my concrete!
Date published: 2023-08-27
Rated

5

out of

5
by
Pressure Washer King
from
Ryobi 2300 Electric Pressure Washer Review.
I bought this over the weekend when my 20 year old Toro just wouldn't keep up any longer. I was a little nervous, since I've never used an electric unit before, but I was not disappointed. The unit is plenty robust to take care of any homeowner need. Highly recommend this unit..
Date published: 2023-08-21
Rated

1

out of

5
by
SGROVER
from
Worked great to start, but leaks oil.
I used this to wash our deck and siding. Worked great. Found a puddle of oil underneath it (leaking from motor) after being stored for about a month. Disappointed. Contacted Customer Service. Waiting to hear back
Date published: 2023-08-18
Rated

1

out of

5
by
Crsmitty67
from
Leaks
I purchased this from Home Depot in April 2023 and have used it twice. Went to use it again and it seems oil has been leaking out. No idea how to fix this. I liked the washer but don't believe I can use it anymore and it's too late to return. I have other Ryobi tools and have been happy with them but I'm not happy with this purchase.
Date published: 2023-08-16
Rated

5

out of

5
by
Nobody1001
from
Great Features for the price
Bought the unit a couple of weeks ago and have used it on concrete surfaces and assorted other outdoor items. Setup was easy, works great.
Date published: 2023-08-14
Rated

5

out of

5
by
Queen Ryobi
from
Love Ryobi products 😍
I have everything Ryobi! Purchased the pressure washer and love it as much as all of my Ryobi products. True believer in the Ryobi brand.
Date published: 2023-08-09
Rated

5

out of

5
by
Ethen
from
Amazing! 10/10
Very quiet machine! Excellent so far and I am very excited to use it going forward! Seems to be built very strong and professional!
Date published: 2023-08-07