+2
2000 PSI Electric Pressure Washer
Model: #RY141900
+2
The RYOBI 2000-PSI Pressure Washer is engineered to handle even your toughest jobs. With a powerful 13-Amp Electric Motor and Pressure+ Technology, this RYOBI Pressure Washer delivers 2000-PSI of force for quick cleaning of driveways, decks, windows, and other areas around the house. Featuring a durable roll-cage frame design, this pressure washer is designed for easy transport. The removable detergent tank offers easy soap application and hassle-free clean-up. For added convenience, the RYOBI 2000-PSI Pressure Washer is equipped with on-board hose reel and accessory storage. This unit also includes a bonus Turbo Nozzle that delivers up to 50% more cleaning power. The RYOBI 2000-PSI Electric Pressure Washer is backed with the RYOBI 3-year limited warranty and is guaranteed to deliver results for years to come.
Features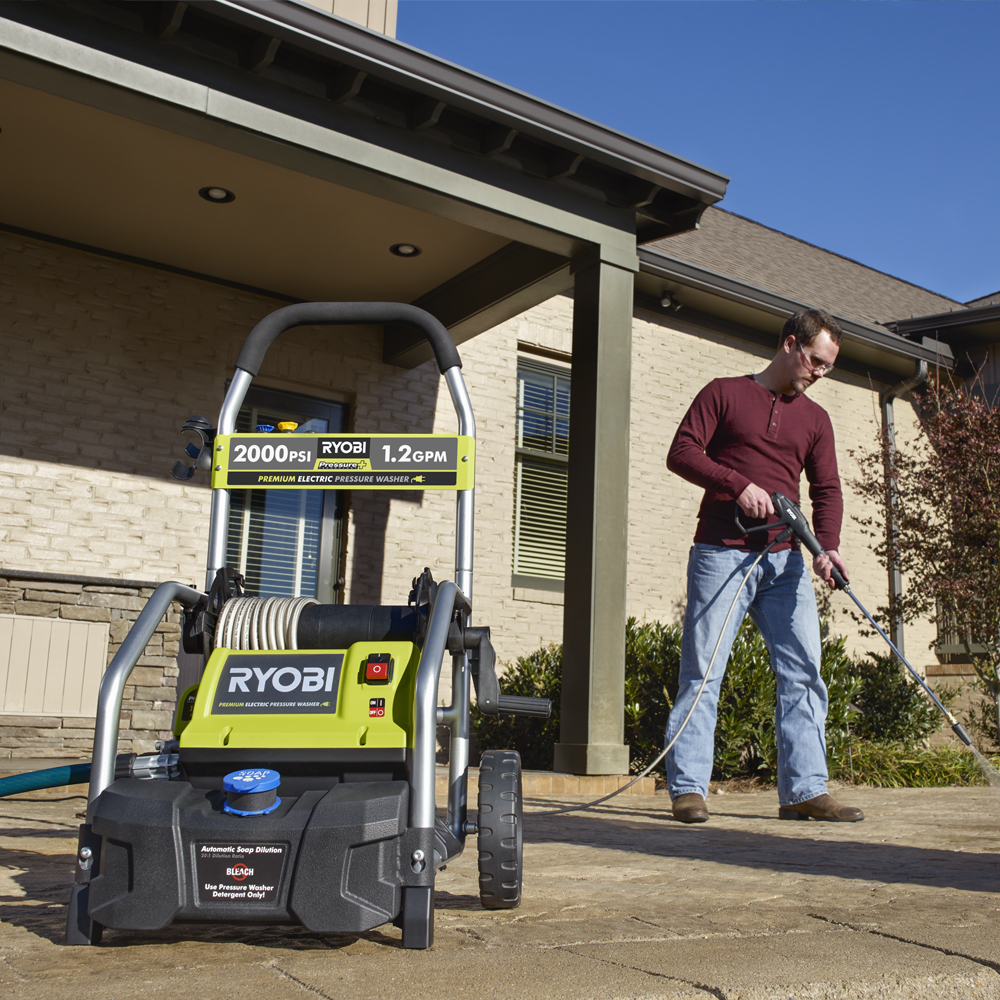 2000-PSI
1.2-GPM For Efficient Cleaning Of Residential Areas
Powerful 13-Amp Electric Motor
Pressure+ Technology Delivers Maximum Cleaning Power
Hose Reel For User Convenience
Rugged Roll-cage Frame Design Protects The Motor Housing And Stays Upright; No Tipping
Removable Detergent Tank For Easy Soap Application
Professional Metal Spray Wand With Quick-Connect Coupler For Easy Nozzle Changes
On-board Accessory Storage For User Convenience
Includes 3 Quick-connect Nozzles (15°, Soap, and Turbo) For Cleaning A Variety Of Surfaces
3 Year Limited Warranty
Reviews
2000 PSI Electric Pressure Washer
2000 PSI Electric Pressure Washer
is rated out of
5
by
4826
.
Rated

1

out of

5
by
Jager61
from
Not worth it
I've owned this for a few years and it's the second Ryobi PW I've owned. It worked great one time…one time. The connection from the motor on the high pressure side is gone, no support or parts available. Unhappy with at my self for giving a Ryobi a second chance. $179 wasted
Date published: 2023-10-03
Rated

2

out of

5
by
Felix1225
from
Plastic parts failed
It looks like other have algae the same problem as me. It worked fine until the neck of the pressure valve sprung a leak. I think they have better products.
Date published: 2023-09-05
Rated

1

out of

5
by
SMA62
from
DISAPPOINTING
I bought this model 2-3 years ago and used it 3 times (maybe once each year. It totally shuts off after a couple seconds now. Of course, I don't have my receipt or the box it came in. My only option is to spend the cost to get it fixed (IF it's still under warranty) or get a new one. I definately will NOT be buying another Ryobi Brand.
Date published: 2023-08-14
Rated

1

out of

5
by
RP115
from
Don't get it
Wouldn't recommend. I don't recall when I bought it but I can tell you I used it less than 10 times and it is broken. The handle stopped working right after about 6 uses and there was little pressure than using it today and the dang handle just broke.
Date published: 2023-07-25
Rated

1

out of

5
by
Mess3
from
Won't last!!
I purchased this in late summer 2020. I used it then and again in 2021 and 2022. I went to use it again this year and the handle was leaking, so we found a replacement and replaced it. Went to turn it on and the machine jammed? Some how and locked up the handle causing the hose to burst open in my face due to the pressure. So we bought a new hose. Connected the new hose and it is still jamming up and not working at all. Can on here to find a manual to trouble shoot and see the product has been discontinued and there are many many more reviews just like mine. Wonder if they discontinued it because of a known issue? Very disappointed and will be contacting customer service .
Date published: 2023-07-23
Rated

3

out of

5
by
JeffWolf1224
from
Good until it broke
Owned for 3 years, (I think) on the 2nd use, the spray gun handle started leaking produsely and the tip won't stop spraying. The gun inlet is spraying through the seams of the plastic piece and I cannot find replacement parts. It is a Ryobi 141900. Good item until it broke!
Date published: 2023-06-18
Rated

2

out of

5
by
jstieven
from
Stopped spraying water
This sprayer worked well when first bought, in less than 10 times using the sprayer does not pump out water -- water connected and pump "appears" to start when flip the switch. Very disappointed.
Date published: 2023-06-04
Rated

1

out of

5
by
BigPoppop
from
Not so great
I have a LOT of RYOBI tools. Happy with almost all of them but after my pressure washer handle issue, which I saw has many negative reviews, not sure if I'd buy RYOBI again. I'm just trying to find the replacement part that I'll pay for although under warranty. But I only get RYOBI computer generated responses in my help requests.
Date published: 2023-06-01
Rated

1

out of

5
by
Greg85
from
Started out great and then went to not great
I had received this a gift a year or 2 ago and really only used it for small, quick projects. Today I put it to the real test and pressure washed my house. It lasted 3/4 of the way through then the washer itself would act funny stall out and then continue again. I checked all the lines and everything seemed to be ok. Shortly after that, the gun wouldn't stop spraying at full pressure, made the job dangerous to keep using it. Finally the last straw was when the gun started leaking so bad from the handle, I could no longer finish the job. Highly disappointed.
Date published: 2023-05-21
Rated

2

out of

5
by
Miche2023
from
Wish it worked! So disappointed.
Purchased brand new. Used once snd it was amazing. Went to use it again and the spray gun handle leaks so bad. Checked o-rings- everything is good. My very first spray washer and Ryobi product. I am so sad.
Date published: 2023-05-13