+4
18V ONE+™ STRING TRIMMER/EDGER WITH 4AH BATTERY & CHARGER
Model: #P20140
+4
The ONE+ 18-Volt 13 in. String Trimmer has a lightweight design making it portable and easy to use around your yard. The auto-feed line head will automatically advance the line, so you don't have to deal with the hassle of bumping. This trimmer is also equipped with a variable speed trigger so you can have more control around fences, masonry, and other areas of your yard. With the press of a button the shaft rotates to an edger so you can quickly tackle your edging needs. The adjustable 11 in. to 13 in. cutting width allows you to optimize your trimmer for increased run time or a wider cut swath. This trimmer comes with a 4.0 Ah battery and charger that are compatible with over 175 RYOBI tools on the RYOBI 18-Volt system, all backed by a 3-year warranty.
Features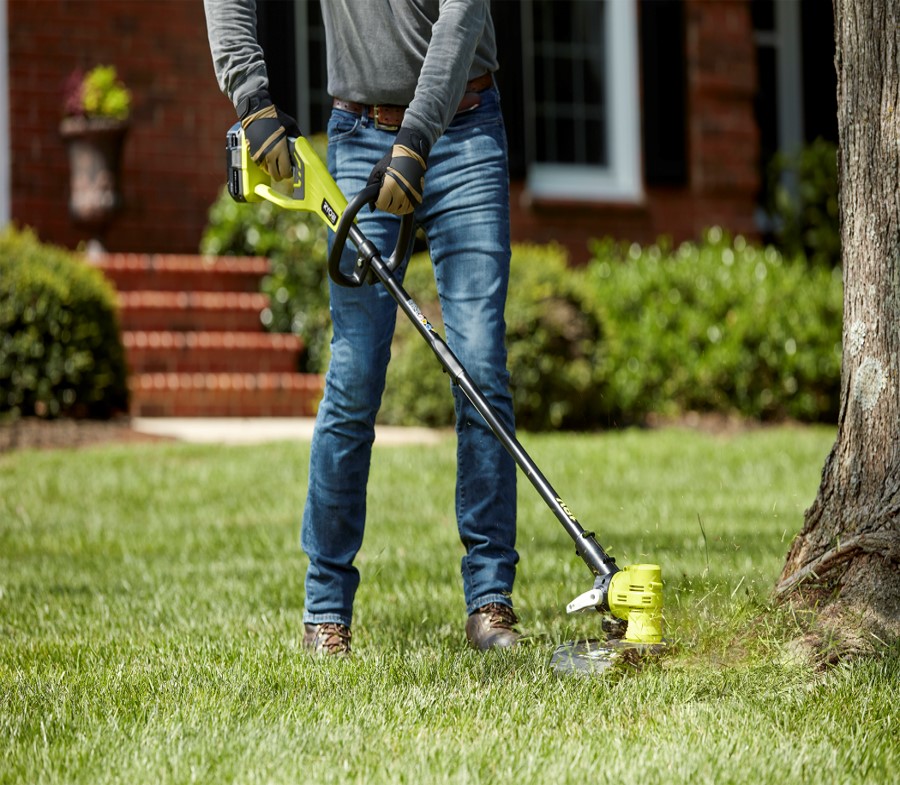 • Lightweight Design • Pivoting Head for Edging • Variable Speed Trigger • Up to 1 Hour of Runtime • Adjustable Front Handle
Specifications
Cutting Width: Adjustable 11-13"
Line Size: .080"
Weight: 7.5 lbs.
Includes
18V ONE+ String Trimmer/Edger
ONE+ 4Ah Battery
18V Charger
Reviews
18V ONE+™ STRING TRIMMER/EDGER WITH 4AH BATTERY & CHARGER
18V ONE+ STRING TRIMMER/EDGER WITH 4AH BATTERY & CHARGER
is rated out of
5
by
16
.
Rated

5

out of

5
by
Ferr3816
from
Convenient & Easy!
I've always been a B&D guy for trimmers, as well as electric models. But after reading good reviews with the Ryobi P20014 cordless model, I decided to give it a try, and I'm very impressed! Not having to haul electric cord all around the yard is fantastic, and the battery provides enough power with more to spare. The 13in. line combined with the long shaft makes it easier on my back, and the autofeed works great. But I'm most impressed with the edging, especially compared to B&D models. I can guide the edging from behind, rather than from the side. After getting used to the correct alignment with the edge of the pavement, it provides a sharp, smooth edge. Very impressive and will recommend as well!
Date published: 2021-06-19
Rated

4

out of

5
by
Cafemacabre
from
Longer life than expected
I just purchased this yesterday. We had just moved in and though the lawn had been mowed no one had trimmed at all this season. There is no power outlets on the outside so I was left with only cordless options. I was weary of buying better operated fearing I would have to charge the battery every ten to twenty minutes. I decided the give this product a chance and must say I am pleasantly surprised. Almost three hours of work cutting down some fairly thick brush and I only stopped to charge the battery once. Evan at that the battery charged pretty rapidly.
Date published: 2021-06-09
Rated

2

out of

5
by
Sandybeach069
from
This Ryobi Influencer was disappointed
Just purchased this trimmer. Went to charge the battery and was thrilled to see the new charger. It was small and compact, yes I was thrilled. So I plugged in my brand new charger and it stopped charging after my battery got 2 bars. I tried other outlets, didn't work. I tried taking the battery off the charger and charging it, didn't work. I unplugged the charger from the outlet and unplugged it from the charger, didn't work. Now I got to spend my time to now go back to Home Depot. Not a happy camper. I own many Ryobi products and love them. I'm just very disappointed about purchasing this trimmer that a) I couldn't use it today b) I now have a headache to replace the battery c) I have to waste my time to go back to the store .
Date published: 2021-04-15
Rated

5

out of

5
by
Dirt Dobber
from
Very pleased with overall features
I bought this trimmer/edger this past summer because I wanted one tool that would equally serve as both a first rate trimmer and edger. I wasn't disappointed. I read a number of reviews that were somewhat critical of the the trimmer line being fed too fast and too often once the user released the trigger which ultimately could cause a tangled line and/or wasted line feed. This could be a potential problem; however, as suggested by several other reviewers, I found this could be easily overcome if the user would just let the tool operate at a lower speed rather than stopping it completely when moving to a different area. It took a little bit of time to get used to this, but the more I used this method, the easier it got to move about tangle free and without wasteful line feed. I was also pleased that the edger portion of the tool had a wheel that made edging much easier and less of a strain on the users back.
Date published: 2021-11-05
Rated

3

out of

5
by
RDB 12
from
Convenient compatibility, mediocre trimmer
I purchased this to reduce the need for a trimmer and edger and have the ability for it to be all one unit. The trimmer leaves a bit to be desired over my previous 18V trimmer, it does not seem to have enough power to really get the job done like my old one. I do very much like the edger and the ease of changing heads out.
Date published: 2021-11-05
Rated

5

out of

5
by
DjKentucky
from
A well made trimmer
I had the smaller 18v RYOBI trimmer and it worked ok but trimmer line change was slower and the cutting width was pretty small. I purchased the larger 18v trimmer and love the quick line replacement and the increased cutting width. It is a lot harder on batteries but I always keep extra batteries with me.
Date published: 2021-11-04
Rated

5

out of

5
by
ackr
from
Great product
Bought this to replace refurbed one the same model. The refurb was not right. The new one is really powerful and easy to use. Light and handy.
Date published: 2021-11-04
Rated

4

out of

5
by
SimmaDownNow
from
Great for the quick easy maintenance
Works as well as you can expect for a battery edger. The rotating head is super convenient. Worth its value.
Date published: 2021-11-04