40V 5AH LITHIUM-ION BATTERY
Model: #OP4050A
Compatible with all RYOBI 40V Lithium tools and chargers, the 40V 5.0 AH Lithium-ion Battery is the perfect addition to your RYOBI 40V tool collection. It's lithium-ion cells deliver fade-free performance from start to finish. The convenient on-board battery life indicator keeps you informed while you're out in the yard tackling your landscaping jobs. The 40V 5.0 AH Lithium-ion Battery's extra cell capacity is perfect for higher output tools like 40V mowers, blowers and chain saws. RYOBI 40V Lithium surrenders nothing but gas.
Features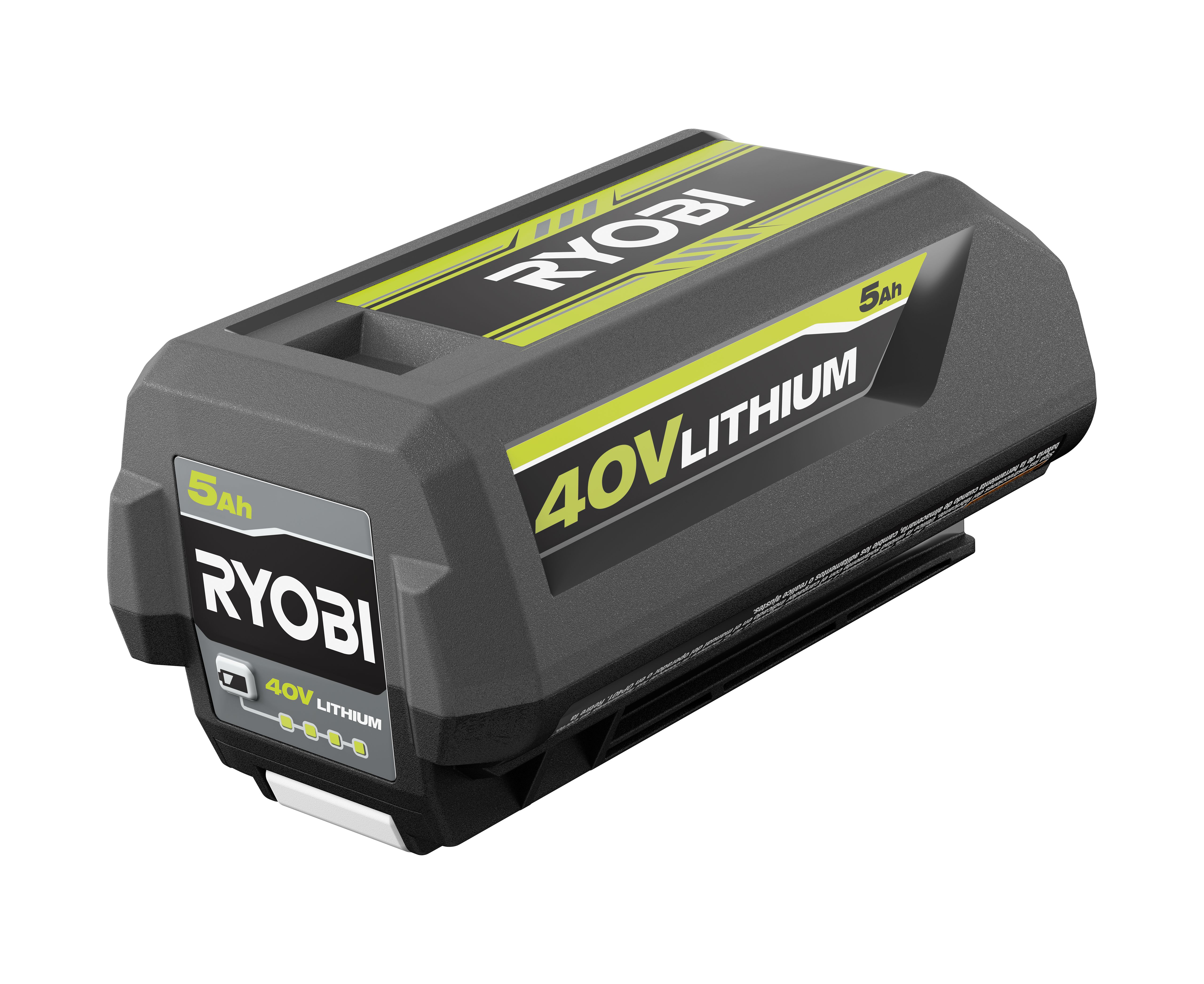 Compatible with All RYOBI 40V Lithium Tools & Chargers
Lithium-ion Cells Deliver Fade-Free Performance
On-board Battery Life Indicator for User Convenience
5.0 AH High Capacity: Ideal for 40V Blowers, Mowers and Chain Saws
Specifications
Voltage: 40
Amp Hours: 5.0
Cell Type: Lithium-ion
Compatibility: All RYOBI 40V Lithium Tools & Chargers
Weight: 4 lbs.
Warranty: 3 Year Limited
Includes
40V 5.0 AH Lithium-ion Battery
Operator's Manual
Reviews
40V 5AH LITHIUM-ION BATTERY
40V 5AH BATTERY
is rated out of
5
by
546
.
Rated

2

out of

5
by
Myryobi1
from
Not as durable as older batteries .
This was a replacement for a battery that stopped charging after less than 3 years. I have older model batteries that are still accepting charge with no problems.
Date published: 2023-08-20
Rated

2

out of

5
by
andyreesecups
from
The plastic holding front of the battery cracked
This battery appears to operate correctly but there's a large crack in the plastic that's holding the front of the battery to the clip. Not exactly sure how that happened especially since the battery appears to be pretty durable. This was one of my favorite batteries, now it feel unsafe to use. Attaching pictures for reference.
Date published: 2023-08-04
Rated

3

out of

5
by
Tonk77
from
Affordable and available!
I would like to know why it's cheaper to buy a tool with battery and charger? It seems the price would be significantly lower than having to buy another tool just so the battery isn't outrageously priced. Comparatively, my ryobi chargers and batteries seem to give out super quick compared to my dewalt batteries. 20v versus 40v though. I wish my ryobi tools had a smaller much lighter weight battery. It would be easier for a woman to use or hold for long periods of time. I also wish there were a closer repair place to where I live instead of having to drive over an hour to get replacement batteries and chargers. My positive about my ryobi tools is that they are much more affordable for me than the higher end brands. And they have a great selection of tools and attachments, etc. Good ryobi tool specials. Would like more lawn type tools on special with battery packs .
Date published: 2023-07-28
Rated

1

out of

5
by
lpcard
from
Does not fit older model chainsaw.
I bought this battery for an older model Ryobi chainsaw and it will not physically fit into the battery compartment. I spent almost as much for this battery as I did for the chainsaw, and to have it not fit is very disappointing, to say the least.
Date published: 2023-07-13
Rated

1

out of

5
by
Lumberjack11C
from
Two Died Right After Warranty
Both this and my 4Ah died as soon as the warranty expired. I wouldn't be surprised if they are intentionally doing this with how they died extremely close to each other and after warranty time frame.
Date published: 2023-07-12
Rated

1

out of

5
by
rkellyh
from
Unreliable. Batteries die soon after warranty
Strongly advise against purchasing any Ryobi 40V products. The batteires are extremely unreliable and seem to die on schedule soon after the warranty expires. I have both a 5AH and 4AH versions of this battery, both were purchased at the same time, and both magically failed within months of eachother a few months after the 3 year warranty expired.
Date published: 2023-06-26
Rated

2

out of

5
by
pdxerine
from
Poor lifespan
I have had my Ryobi lawn mover for approximately 6 years. And while I think has been a solid choice, I'm disappointed in the battery life. I'm pretty good about keeping my tools in good shape and have always stored my charger and battery in the house. I also charge my battery after every use and periodically through winter when I'm not mowing as frequently, in an effort to prolong the battery life. It's extremely disappointing that the batteries have such a short lifespan for their price point.
Date published: 2023-06-05
Rated

5

out of

5
by
Tryn
from
Great run time
This came with my string trimmer it allows me to finish my yard with wase
Date published: 2023-05-12
Rated

1

out of

5
by
AmySLP
from
No 5Ah 40V fits my RYOBI mower
If your mower is more than 4 years old this battery will not fit and RYOBI offers no solution other than to purchase an updated mower. The WHOLE reason I purchased a battery-powered mower was to be more ecologically responsible. Placing a 4 year old mower in the landfill because there's no battery to fit it is counter-productive. Furious!
Date published: 2023-05-08
Rated

5

out of

5
by
blakester
from
Warranty
I got this as a gift and was able to register it for the 3yr warranty
Date published: 2023-05-03