+3
EXPAND-IT™ Brush Cutter Attachment
Model: #RYBRC77
+3
The RYOBI Brush Cutter universal lawn attachment is the perfect tool to add to your shed. Effortlessly eliminate weeds and thick brush from you yard, around your garden, and under your deck. The 8 inch Tri-Arc blade has been designed to tackle the toughest brush and yard conditions. Connect the edger attachment, backed by a RYOBI 3 year warranty, to your RYOBI gas power head and get to work beautifying your yard. Save time, save money, save space.
Features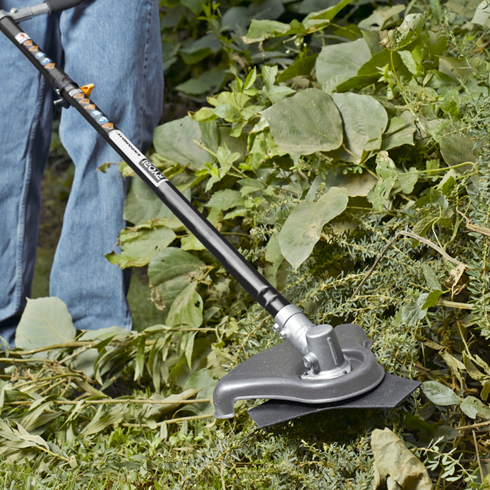 Ideal for thicker weeds and brush
Universal Brand Fit
8 in. Tri-Arc™ reversible steel blade
Straight shaft for extended reach
Requires no tools or adaptors
*Powerhead sold separately*
Specifications
Cutting Capacity: 8 inch cutting swath
Weight: 3.25lbs.
Attachment Coupler: universal attachment coupler
Blade: Tri-Arc steel blade
Includes
Expand-It Brush Cutter Attachment
Ergonomic J-handle
Shoulder Harness
Attachment Securing Cap
Hardware Bag
Gear Head Locking Tool
Operator's Manual
Reviews
EXPAND-IT™ Brush Cutter Attachment
EXPAND-IT Brush Cutter Attachment
is rated out of
5
by
981
.
Rated

4

out of

5
by
Michael72
from
Multi tool capable
I bought the brush cutter attachment to go along with my trimmer and the 40V battery is more than enough to handle most brush that I needed cut down. Very pleased.
Date published: 2023-11-02
Rated

5

out of

5
by
DerfTN
from
Works great!
Where has this been all my life? I love it. I bought this to handle road-side brush on a Tennessee mountain. It works great. It goes through 99% of the crud growing on the sides of the road. This will save me HOURS for the quarterly road maintenance. I am using it with the 40v head (RY40250). Great combination.
Date published: 2023-09-06
Rated

5

out of

5
by
RiverWolf
from
Great purchase, but with one minor flaw
I purchased this attachment along with the RY40250 Ryobi 40V String Trimmer. I used it today for the first time along our driveway and was quite impressed at how well it cut down the saplings growing along the edges of the drive. My only complaint is with the wingnut the holds the J-handle together. It really should be metal and not plastic nylon, which strips too easily. Other than that, great product.
Date published: 2023-08-28
Rated

4

out of

5
by
theRB
from
Great on the tough stuff
Handles the tougher weeds that clogged the string trimmer. I expected the blades to be sharp but this does the job.
Date published: 2023-08-14
Rated

5

out of

5
by
CrappieDay
from
Exactly what I was looking for.
We bought this Brush Cutter to cut through the tough weeds and small saplings that the string trimmer couldn't handle. There is no hesitation to how fast this cutter works through thick tough weeds and small trees. Great product!
Date published: 2023-07-31
Rated

5

out of

5
by
WhistlingSquirrel
from
Quick work!
I needed to clear along a fence row around the property and being very pleased with previously purchased Ryobi Expand-it tools, I thought I'd give this one a try. I was not disappointed. I completed a long stretch of clearing before the battery finally gave out. I highly recommend this tool attachment to anyone having the power head handle.
Date published: 2023-07-20
Rated

5

out of

5
by
JessDee
from
Great product
The brush cutter attachment was easy to attach and use. It cut through tall thick weeds and vines. It cleaned under and around shrubs. Wish I had purchased it earlier.
Date published: 2023-07-17
Rated

5

out of

5
by
Slivvy
from
Tough little tool. Included strap is helpful.
Works great with thicker brush. Easy exchange between attachments. Shoulder strap makes carrying tool for longer periods much easier—and can be used with other attachments.
Date published: 2023-07-12
Rated

5

out of

5
by
GBR63
from
The great eliminator.
Easy to change devices. The blade works better than I expected. Batter life is enough to do my yard and recharge is quick.
Date published: 2023-07-04
Rated

5

out of

5
by
EastcoasterDave
from
Easy as cutting through butter
I don't particularly like the battery operated lawn equipment but this thing is a beast. It cut through rough brush with ease. I only wish it was sharper...
Date published: 2023-07-04