+6
40V 300 WATT POWER SOURCE BATTERY INVERTER (TOOL ONLY)
Model: #RYi300BG
Perfect for Powering Small Electronic Devices: Laptops, Tablets, and Cell Phones
300 Watts of Continuous Power Output
Pure Sine Wave Technology: Safe for Small and Sensitive Electronics
+6
Convenient, on-the-go power wherever you need it
Features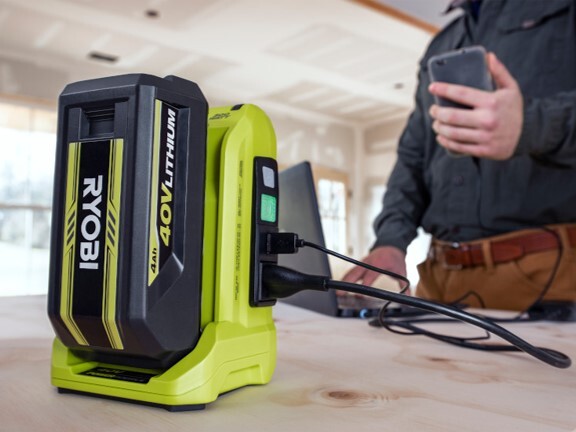 300 Watts of Continuous Power Output
For powering small electronics including laptops, tablets, and cell phones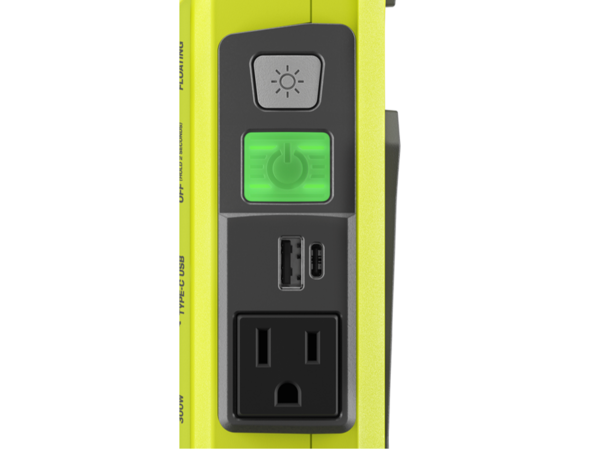 Included Outlets
(1) USB-A , (1) USB-C & (1) 120V Outlet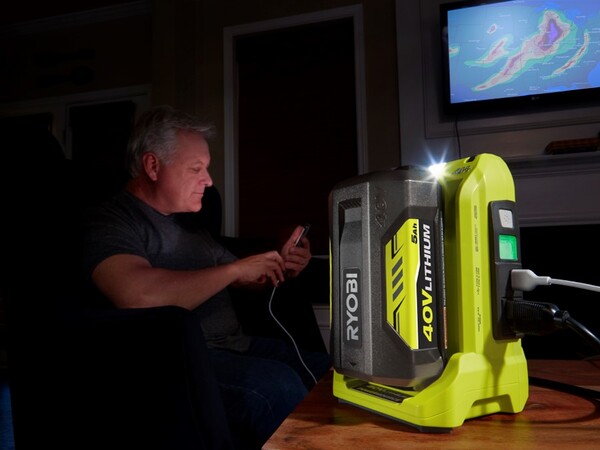 On-board LED Light
For user convenience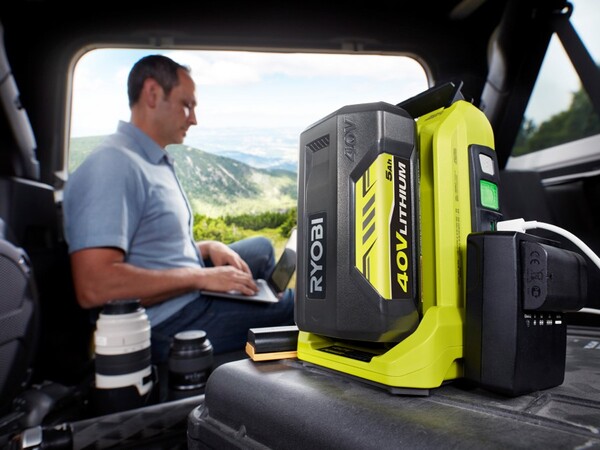 Pure Sine Wave Technology
Safe for sensitive electronics such as Laptops and Cell Phones
System Compatibility
Compatible with all Ryobi 40V Batteries
Specifications
Dimensions
Watts

300 Continuous

Outlets

(1) Household Outlet, 120V 2.5A & (1) USB-A Port, 5/9/12V 3A max. & (1) USB-C Port, 5/9/12/20V 2A max.

Electrical Output

Pure Sine Wave

Weight

2.25 lbs.

Warranty

3 Year Limited Warranty
Includes
40V 300 Watt Power Source Battery Inverter
[#<ProductFeature id: 4645, title: nil, content: "40V 300 Watt Power Source Battery Inverter", photo: "7b38c705-6efd-4546-bc16-9754e4b85888.png", created_at: "2021-02-23 20:56:05", updated_at: "2021-02-23 20:56:05", product_id: 1134, sort: 0, enhanced_type: "included_item", enhanced_group: nil, enhanced_icon: nil>]
Reviews
40V 300 WATT POWER SOURCE BATTERY INVERTER (TOOL ONLY)
40V 300-WATT POWER SOURCE
is rated out of
5
by
437
.
Rated

4

out of

5
by
odie333
from
Very useful!
I am a big fan of being able to use my batteries for power in an emergency. This 300-Watt Power Source really fits the bill for that. We are abel to power my wife's c-pap maching for the majority of the night with a 6ah battery. It doesn't make it all the way through the night, but that is a whole lot better than no c-pap at all. The inverter is lightweight and easy to store, and I really like the USB-C port for charging phones and tablets. One area that I think could use some improvement is the stability when stored in the vertical position. It is great when a battery is installed, but if no battery is installed it tips over very easily. Overall, this inverter is great, and I highly recommend it.
Date published: 2023-11-16
Rated

5

out of

5
by
ArwenDe
from
Great for blackouts!
Great device, useful in blackouts and for portable power.
Date published: 2023-10-14
Rated

5

out of

5
by
ScottyH
from
Peace of mind with plenty of power
I bought this as a power back up for charging phones and other electronics in the event of a power outage. It was more of a blessing than I thought. I use a sleep respirator at night for sleep apnea. So when our power went out for a few days last month, this unit came to my rescue. I used the 6ah hour battery that came with my brushless Ryobi lawn mower and it powered my machine with enough power to charge my phone through the night. I woke up feeling refreshed and with peace of mind knowing I won't need to worry if we lose power again. This unit will also come in handy when camping. I can bring a couple of batteries and be off the grid for a few days enjoying nature.
Date published: 2023-09-25
Rated

5

out of

5
by
40Volts
from
Great for Emergencies
I purchased 40V 300 WATT POWER SOURCE at Home Depot. We had a power outage and it performed perfectly. It powered a lamp for several hours.
Date published: 2023-09-19
Rated

5

out of

5
by
Bug72
from
Great
Works good so far it does everything I need it to do
Date published: 2023-09-19
Rated

4

out of

5
by
RyobiDude1610
from
Very handy, but a little pricy and heavy!
These work great for powering laptops, charging mobile devices and small electronics, especially in power outages. Depending on which 40v battery you have on there, they can be a bit heavy and a little pricy for the device and 40v battery. I like my 18v power sources better. They work very well though.
Date published: 2023-09-17
Rated

5

out of

5
by
Ishai18
from
Excellent
I bought this and I love the idea that it can last as long as you keep attaching batteries to it.
Date published: 2023-09-13
Rated

5

out of

5
by
Smith911
from
300 watts inverter is a best buy for me.
Best tool choice for me and my family while we travel and at home.
Date published: 2023-09-12
Rated

1

out of

5
by
Dgilb396
from
Initially great but failed fast
I purchased this in late 2022 and used it once. It worked great. I pulled it out again recently, less than a year old and no life at all. Tried multiple batteries and it does not show any signs of life. Very disappointing to say the least.
Date published: 2023-09-10
Rated

4

out of

5
by
Pete2121
from
Nice price for electrical capability
Nice for running light duty electrical products where there is no electricity.
Date published: 2023-08-30