+7
40V 1800 Watt Power Station / 4-Port Charger
Model: #RYi1802B6
(3) 120V Outlets, (4) USB-A Ports, and (2) USB-C Ports
Pure Sine Wave Technology: Safe for Sensitive Electronics
Bluetooth Monitoring Using the GENCONTROL™ App
+7
Convenient Quiet Portable Power
Features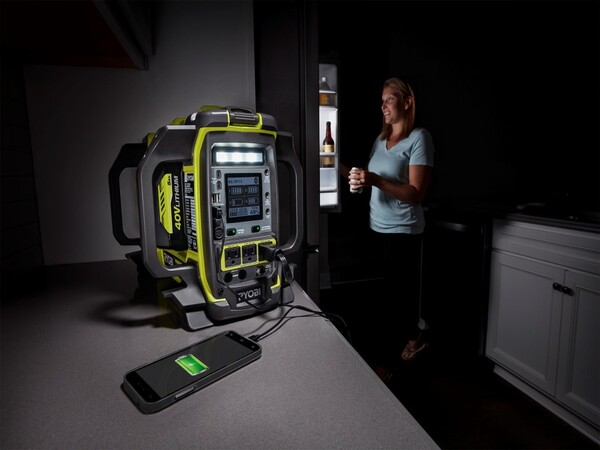 1800 Watts Max Running Power
Able to power a wide range of products from lights to a refrigerator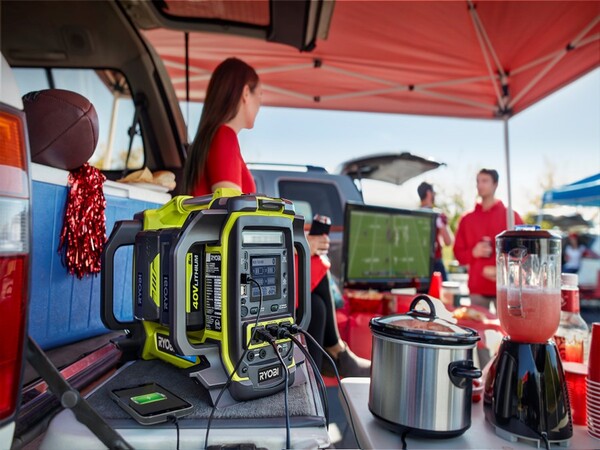 Pure Sine Wave Technology
Safe for sensitive electronics such as Laptops, Cell Phones, and LCD TVs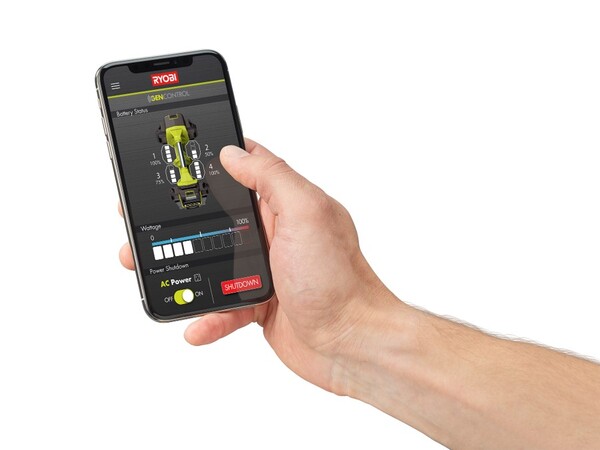 Bluetooth® Capable
Monitor up-to two inverters at the same time utilizing the GENCONTROL™ App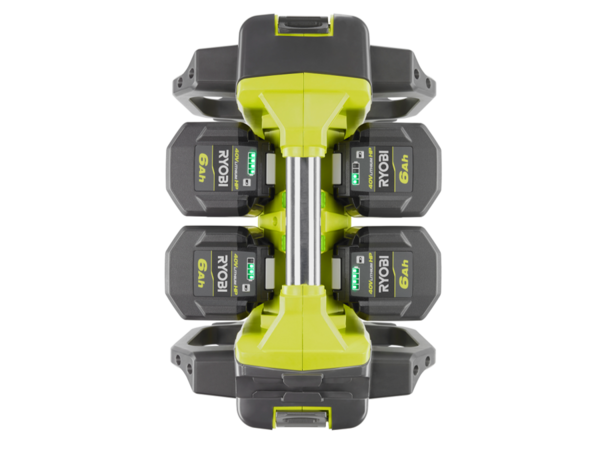 Doubles as a Super Charger
Charge up-to 4 Ryobi 40V batteries sequentially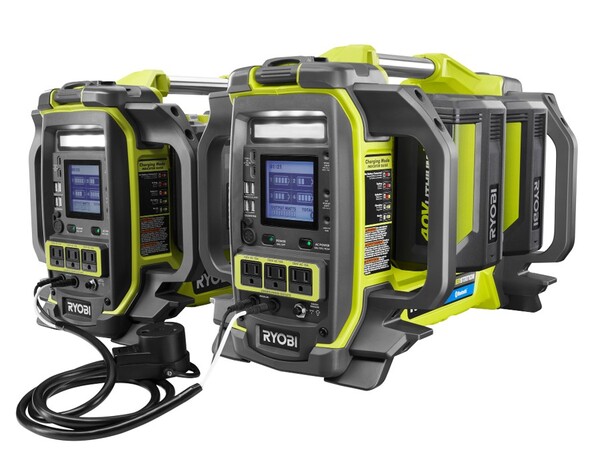 Parallel Capable
Connect another Ryobi 40V Battery Power Station or Ryobi Inverter Generator using a parallel kit, giving you twice the power and run time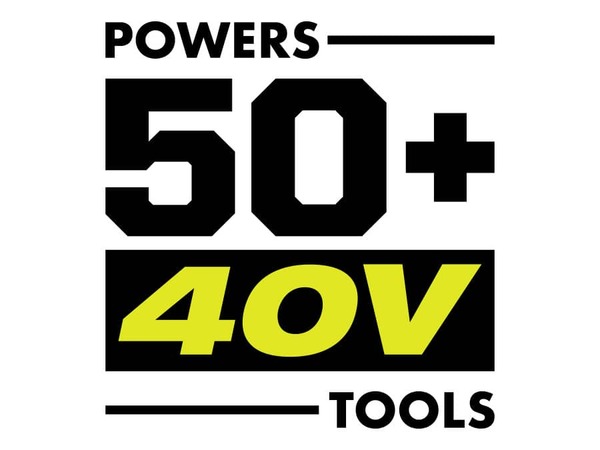 System Compatibility
Compatible with all Ryobi 40V batteries
Specifications
Dimensions
Watts (Starting)

3000

Watts (Running)

1800

Outlets

(3) Household Outlets, 120V 15A & (4) USB-A Ports, 5V 2.1A(x2) Shared & (2) USB-C Ports, 5/12/20V 3A max

Electrical Output

Pure Sine Wave

Warranty

5 Year Tool Warranty

Weight

12 lbs.
Includes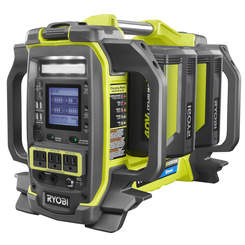 40V 1800 WATT POWER STATION
[#<ProductFeature id: 3299, title: nil, content: "40V 1800 WATT POWER STATION ", photo: "fb5d3b08-9f05-4a61-b765-1fe03aff07e3.jpg", created_at: "2020-10-09 01:43:34", updated_at: "2020-10-09 01:43:34", product_id: 1426, sort: 0, enhanced_type: "included_item", enhanced_group: nil, enhanced_icon: nil>, #<ProductFeature id: 3306, title: nil, content: "(2) 40V 6.0 Ah Batteries", photo: "e8729f3d-a82d-488c-ad8b-a017824e1987.png", created_at: "2020-10-09 01:55:35", updated_at: "2021-02-23 18:46:09", product_id: 1426, sort: 1, enhanced_type: "included_item", enhanced_group: nil, enhanced_icon: nil>]
Reviews
40V 1800 Watt Power Station / 4-Port Charger
40V 1800-WATT POWER STATION KIT
is rated out of
5
by
93
.
Rated

5

out of

5
by
Ajlugo
from
Great tools and very affordable
I bought lots of tools from ryobi i used a lot i like the tools
Date published: 2023-10-08
Rated

5

out of

5
by
betazeded
from
One Power Station to rule them all.
This is the quietest and most powerful electric generator I have ever owned. It will charge (or re-fuel) itself with any 120-volt outlet and I never have to worry about plug, oil or gasoline. I can chare it off of my solar system using my 700, 1500, 2000 or 3000-watt pure sine wave inverter. Re-fueling on the fly is easy with the hot swapping of the 40-volt batteries and using the rapid charger to fill them up again. Very portable because it weighs the same as a Honda 1100- watt unit but you do not have to carry a gas can with it or go to a gas station to fill up the can and it is 1600-watt continouse when you need more power. The only problem is the expense of the many 6 amp hour batteries or larger you need to keep it powered all day. But if you own a lot of Ryobi tools, you may already have a half a dozen of the 4-amp hour or 5-amp hour batteries that will work or charge in the unit. Just make sure you have at least 10-amp hours of combined batteries or more to get it to give the full 1600-watts. The unit i purchased had 2 -6-amp hour batteries included so adding two 4-amp hour batteries from my other tools gives me 20-amp hour or 800-watt hours or .8 kilo watt hours of usable power before a swap out with fully charged batteries. With 4 of the newer 12-amp hour 40-volt batteries, one can get 48 X 40 or 1.92 Kilo watt hours of continuous use before a swap out. This is the kind of power you pay thousands of dollars for, and they will not double to run your other Ryobi 40-volt tools.
Date published: 2023-10-01
Rated

5

out of

5
by
Levitico
from
Great Powe Station
I bought this for our camping and i am so happy that i did
Date published: 2023-09-29
Rated

5

out of

5
by
Nerm3
from
Works great
Works great and it's convenient, no noise and I can just turn it on and put it on my counter if I need it.
Date published: 2023-09-12
Rated

5

out of

5
by
Edwin_PR
from
Just the Best
Very usefull, handy, compact and well crafted. Totally recommended for field woks loke constructions, machine maintenance or even power outages in the house.
Date published: 2023-08-31
Rated

5

out of

5
by
PacificNorthWest Living
from
Great for TV and Video Game Systems while camping
Bought this knowing that I have invested in Ryobi 40v battery ecosystem. Works perfectly. Especially For camping and really enjoyed that I did not have to have my camper generator on while sleeping when my kids want to play video games and turn the TV on everything can be plugged in directly into this generator is so powerful so awesome I really appreciate not having to worry about gas and only having to have this bad boy on while I want coffee or anything else that requires more around 1500 watts or more I'm so happy for it. Also Ryobi warranty amazing thank you Ryobi for being amazing and looking into anything that I have and fixing it or replacing it really appreciate the 5 year warranty. I trust in the Ryobi warranty and the entire 40 volt and 18 volt system. Now if I can only convince my wife to get the 18-volt version of the power station.
Date published: 2023-08-26
Rated

5

out of

5
by
Tiger81
from
Perfect for tailgating
Bought this for tailgating for Clemson football games and it is perfect for what we need. Love that that we can set it anywhere including in our SUV with the tv and not have to deal with gas or noise. Runs our satelllite, tv, crockpot, etc all day with 4 batteries. Easy to use and like having the app to control it and monitor battery life. This summer we have also used during softball travel ball tournaments to run a high powered fan for the dugout when power source not otherwise available and gas generator not allowed. We also bought the 40V whisper air cannon that we just attach a 40v battery to use while we watch the games.
Date published: 2023-08-21
Rated

5

out of

5
by
Anonymous
from
Electricista
Muy comodo para el trabajo y para la casa el los tiempos malos.
Date published: 2023-08-14
Rated

4

out of

5
by
ALT A GO GO
from
Nice back up plan
Lately our power has been going out far to often. Sometimes for short spells, sometimes longer. This tool is perfect for the short term outages.
Date published: 2023-08-13
Rated

3

out of

5
by
sethmath
from
Great Product, missing important features.
I've had this powerstation since Nov 2021. There are some things it does great, and some features that it really is badly missing. The biggest feature it is missing is pass though charging. If they came out with an identical device that had pass though charging I would probably buy it. The ability to use this as a UPS would make it so, so much more valuable for me. Even if it's transfers speed was 1 second. The ability to leave it plugged up in line with a fridge or in my case Incubators for poultry would be invaluable. Right now I have to leave work as soon as I can and plug them up to this, and then when the power comes back on I have to move them back to wall outlets.
Date published: 2023-08-07