+9
2300 Watt Bluetooth Inverter Generator
Model: #RYi2322
Integrated Bluetooth Technology for the ultimate user experience
GenControl app and on-board LCD screen monitor and display power consumption, fuel level, and remaining run time
Clean power safely operates sensitive electronics through 120V outlets and USB outlets
+9
Ready with clean, quiet power for any occasion
Features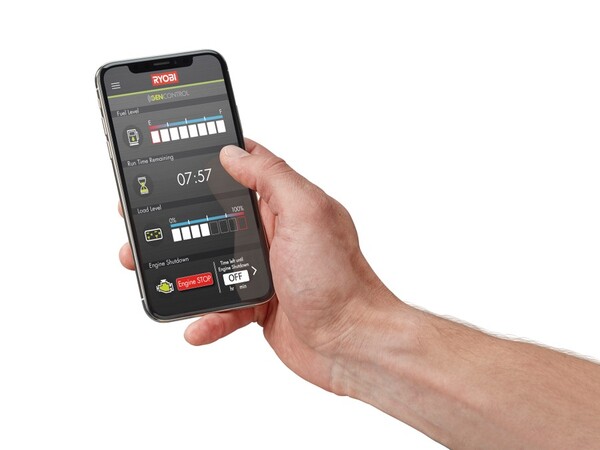 Integrated Bluetooth Technology
For the ultimate user experience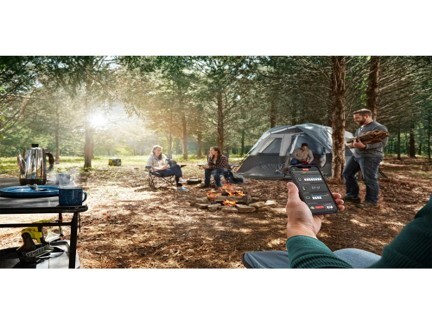 GenControl App & On-Board LCD Screen
Monitor and display power consumption, fuel level, and remaining run time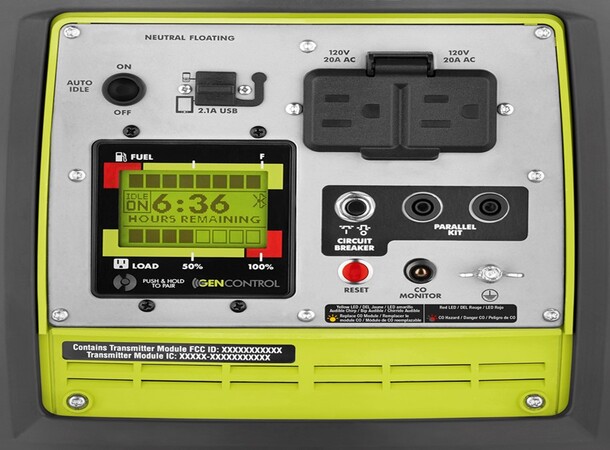 GenControl Reset Button & On-Board Reset Switch
Provide added convenience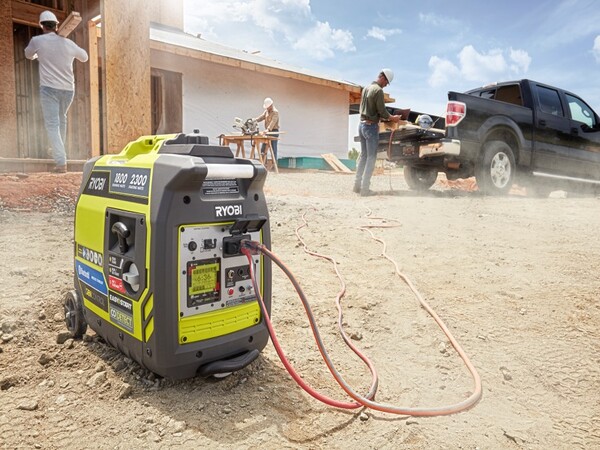 Auto-Idle Technology
Provides greater fuel efficiency and extended run time (up to 10.3 hours at 25% load)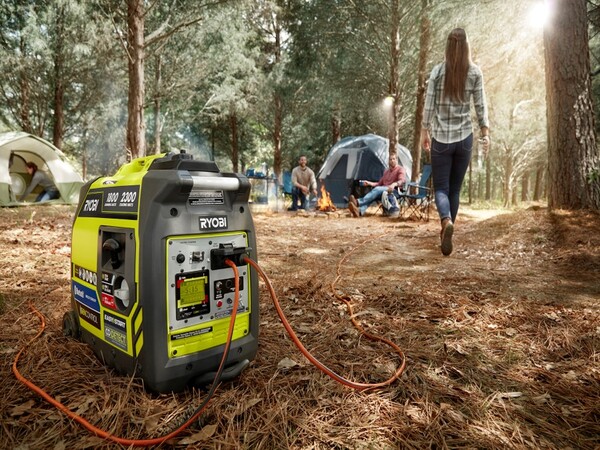 Automatic CO Shutoff with CO Sensor
For increased safety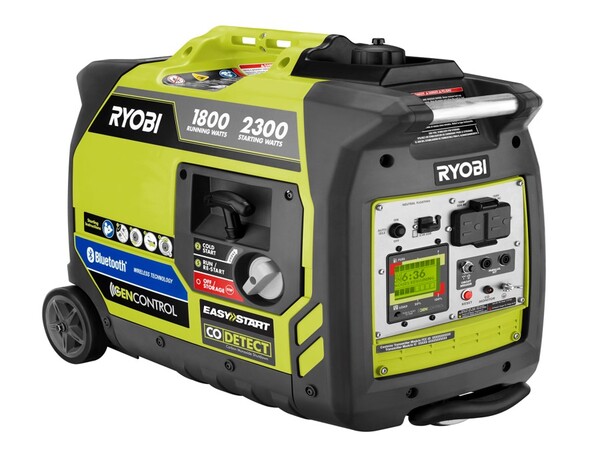 Parallel Kit Capability
For twice the power when a second generator is paired
Extended Handles & Rear Wheels
For easy transport
Clean Power
Safely operates sensitive eletronics through 120V and USB outlets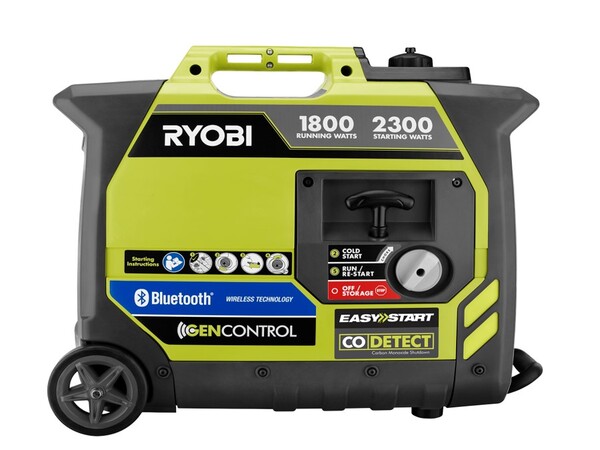 Easy 3 Step Starting
For reduced start-up times
Specifications
Dimensions
Running Watts

1800

Starting Watts

2300

Fuel Tank Capacity

1.2 Gallons

Run Time at 25% Load

10 Hours

Outlets

(2) 120V AC 20 Amp & (2) 5V DC 2.1 Amp USB

Weight

52 lb.

Warranty

3 Year
Includes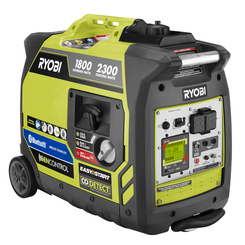 2300 Watt Bluetooth Inverter Generator
[#<ProductFeature id: 2843, title: nil, content: "2300 Watt Bluetooth Inverter Generator ", photo: "6ce09e3c-da98-4c50-842c-9c7f86a50f48.jpg", created_at: "2020-09-09 00:46:46", updated_at: "2020-09-09 00:46:46", product_id: 1363, sort: 0, enhanced_type: "included_item", enhanced_group: nil, enhanced_icon: nil>]
Reviews
2300 Watt Bluetooth Inverter Generator
2300-Watt Bluetooth Inverter Generator
is rated out of
5
by
1428
.
Rated

5

out of

5
by
Nathan kai
from
Easy to use
Bought when Typhoon Mawar had hit the island of Guam. The generator is eaay to start, has a useful bluetooh app tp help monitor and keep track pf the generator's fuel and powrr output. Its easy to transport with buold in wheels and telescopic handle. Buttons are labeled and clearly defined.
Date published: 2023-11-01
Rated

5

out of

5
by
PRryobi
from
Awesome Product
Bought last week. Added the provided lubricant and fuel (not included - lol) and it started on the third pull. It runs perfectly. Thank you!
Date published: 2023-10-18
Rated

1

out of

5
by
obrianjacob444
from
Why is my Ryobi 2300 generator saying over load
I recently purchased a ryobi 2300 watt Generator And I just took it out of the box and it won't do anything but say overload and surgeNow that we're camping and me thinking that I bought it brand new why should I have to start it app and test it first before I go well stupid me now we're stuck out here with no electricity
Date published: 2023-10-17
Rated

5

out of

5
by
8489
from
Great features. Set up was very easy.8489
I bought this generator knowing our power will be out for a few days. It powe8our appliances unyil the power was restored. A great machine.
Date published: 2023-10-14
Rated

4

out of

5
by
Canon
from
Beats any commercial back-up power systems
This unit is still my first choice for the gas-powered part of my off-grid power supply. Electric start and Gen-control remote acess combined with your battery inverter generator [with 4 6ah batteries] and 4 additional 6ah batteries with dedicated chargers, allows me non interupted power as long as I have gasoline. Have plans for solar/wind to be included with system thus not relying on gas alone.
Date published: 2023-09-18
Rated

5

out of

5
by
RyobiDude1610
from
Quieter than most, great features, Bluetooth!
This generator is quieter than others I've used, and I love the Bluetooth feature to see what the stats are, and to turn it off remotely. The wheels and handle make it easy to move around for the wife when I'm not around. We've used this several times when the "rolling brownouts" come through our area in Southern California. If you're in the market for a household generator, or a small generator for the job site, give this guy a try! You wont' be sorry you did, it's great!
Date published: 2023-09-17
Rated

1

out of

5
by
Florida Joe
from
Poor quality and reliability
Only used twice over several years. Well-maintained according to manufacturer recommendations. Went to test it out in advance of a hurricane and, although the motor works fine, it will not provide any power. It says that there's an overload even though nothing is plugged in to the generator. Tried all the reset buttons with no luck. This should not happen to a machine that is in near new condition. Definitely will not be buying another Ryobi generator.
Date published: 2023-09-07
Rated

1

out of

5
by
Anonymous
from
Horrible generator
Won't give us another one had it for 2 years Been in the shop 5 times co module keeps breaking keeps surging won't stay on after putting new gas in it every time it will die 5 mins later and won't turn on till 40 mins some days it won't start at I've had nothing but a horrible experience with this generator since day 1 blue tooth went out had that replaced less then a week later the blue tooth doesn't work again takes about 15 times to pull the cord to start it was quite at first after a 2 months it became extremely loud after all the times it's gone in the shop I figured by now Ryobi would give us another generator like they said they would since it's still under warranty but still going around in circles on that issue I highly recommend not to buy this unless you want a run around as well with Ryobi and to be constantly in the shop with it
Date published: 2023-09-04
Rated

1

out of

5
by
Doc508
from
Two Absolute Failures in less than a year!!!
I'm a patient and understanding man. But I've had enough!!! This is the second Ryobi generator that has failed me in less than a year's time. The first one ran for awhile before starting to develop multiple issues. This second generator has not run since day one of of setting it up and filling it with fuel.(Yesterday) It takes forever to get it started, it runs for a couple of minutes and then shuts off with an "Overload " message even though no load is attached to the generator! I'm done with Ryobi tools, I'll never spend another $1 on a Ryobi product. I want my money back!!! I don't want a replacement, I don't want it repaired. I want my hard earned money back..I'm a disabled veteran with an extremely limited income… and I live off the grid. I need something that is dependable, something that I can count on every single day that I go to start it up. Ryobi… I want my money back!
Date published: 2023-09-04
Rated

3

out of

5
by
Bradhad
from
I like the Bluetooth app
I bought this today when a tree took out my power line. It was easy to set up and get started. Bluetooth app is great when I'm inside and I can see how many watts each appliance is using.
Date published: 2023-08-25