+9
2300 Watt Bluetooth Inverter Generator
Model: #RYi2322
Integrated Bluetooth Technology for the ultimate user experience
GenControl app and on-board LCD screen monitor and display power consumption, fuel level, and remaining run time
Clean power safely operates sensitive electronics through 120V outlets and USB outlets
+9
Ready with clean, quiet power for any occasion
Features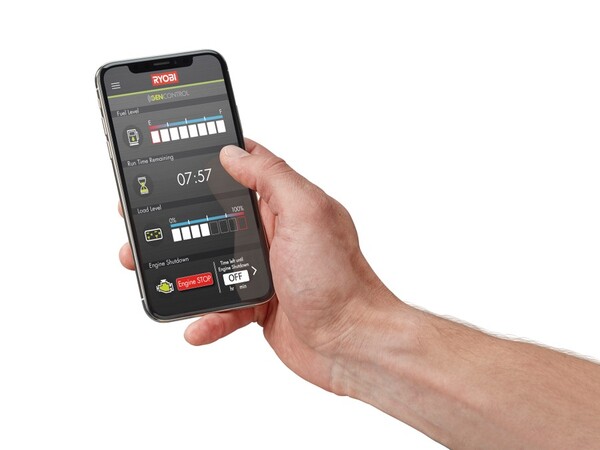 Integrated Bluetooth Technology
For the ultimate user experience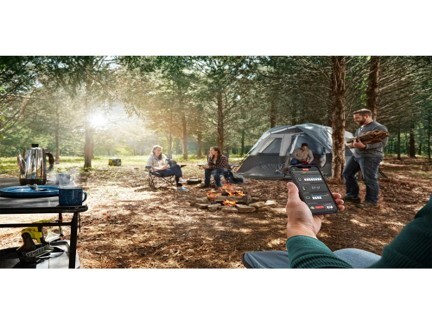 GenControl App & On-Board LCD Screen
Monitor and display power consumption, fuel level, and remaining run time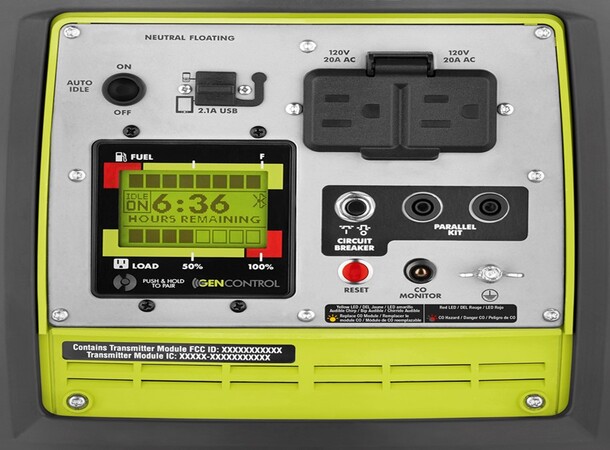 GenControl Reset Button & On-Board Reset Switch
Provide added convenience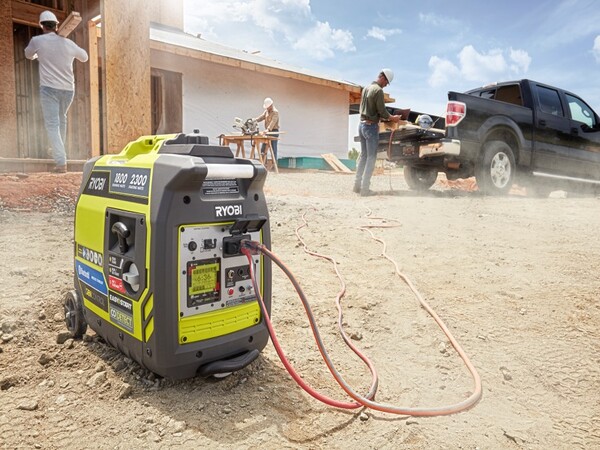 Auto-Idle Technology
Provides greater fuel efficiency and extended run time (up to 10.3 hours at 25% load)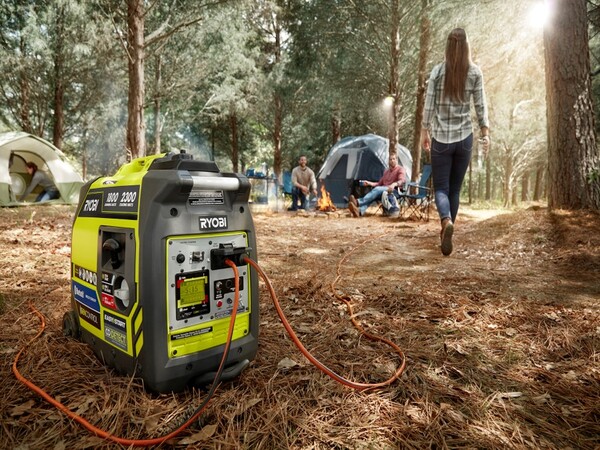 Automatic CO Shutoff with CO Sensor
For increased safety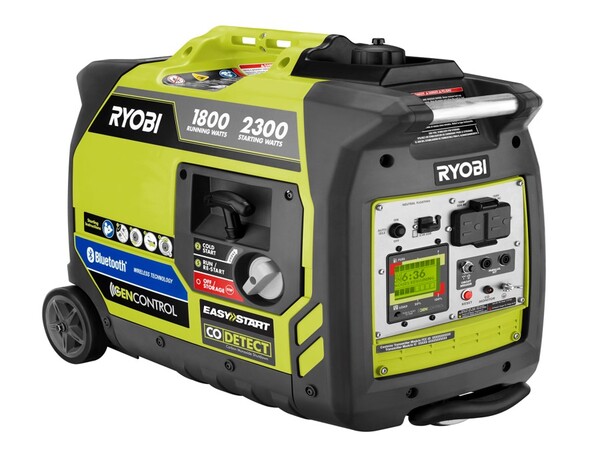 Parallel Kit Capability
For twice the power when a second generator is paired
Extended Handles & Rear Wheels
For easy transport
Clean Power
Safely operates sensitive eletronics through 120V and USB outlets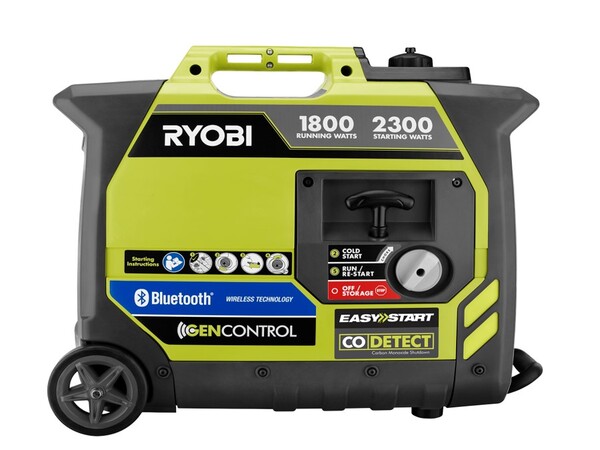 Easy 3 Step Starting
For reduced start-up times
Specifications
Dimensions
Running Watts

1800

Starting Watts

2300

Fuel Tank Capacity

1.2 Gallons

Run Time at 25% Load

10 Hours

Outlets

(2) 120V AC 20 Amp & (2) 5V DC 2.1 Amp USB

Weight

52 lb.

Warranty

3 Year
Includes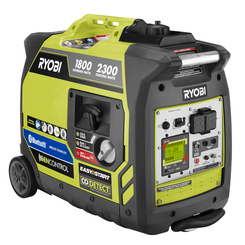 2300 Watt Bluetooth Inverter Generator
[#<ProductFeature id: 2843, title: nil, content: "2300 Watt Bluetooth Inverter Generator ", photo: "6ce09e3c-da98-4c50-842c-9c7f86a50f48.jpg", created_at: "2020-09-09 00:46:46", updated_at: "2020-09-09 00:46:46", product_id: 1363, sort: 0, enhanced_type: "included_item", enhanced_group: nil, enhanced_icon: nil>]
Reviews
2300 Watt Bluetooth Inverter Generator
2300 Watt Bluetooth Inverter Generator
is rated out of
5
by
1405
.
Rated

5

out of

5
by
Joebobbobbob
from
Working awesome
Hasn't failed me good convenient generator go buy one yourself
Date published: 2023-05-01
Rated

5

out of

5
by
Keesie14
from
perfect for around the house
my first ryobi generator purchase was the 1000w gas inverter generator. I got that to replace an older Sportsman generator and figured itd be great for camping or day trips to the beach. I was so happy with that purchase, i didnt hesitate to get this one to keep around the house. its surprisingly quiet and easy to move around. I love the extending handle so you can wheel it around like a dolly. the bluetooth feature might work better for other people, i just dont use that feature enough to say its good or bad. it connected to my phone without any problem and it is nice that it shows how many hours the gen has been used. great ryobi product! if theres a power outage and you need to keep your fridge running for a couple hours, this works great.
Date published: 2023-04-18
Rated

5

out of

5
by
Texasfishingaddict
from
Best inverter generator on the market
Has lates me for over 3 years of constant abuse in the Texas coast. I do a lot of fishing at night and run this bad boy 10 hour constantly on 80% load and has never gave me a problem. Only things I've done is standard maintenance for example oil change spark plug and filter. Over all highly recommended over the other brands.
Date published: 2023-03-29
Rated

5

out of

5
by
ROGELIO123
from
price?
Hi, how much this generator? and how long does this generator work?
Date published: 2023-03-26
Rated

5

out of

5
by
SwampC
from
Smooth operator
Bought this during a 4 day power outage, dummy-proof and easy to use. Love the Bluetooth integration, can see usage and fuel from my phone
Date published: 2023-03-20
Rated

4

out of

5
by
CarzySwede
from
Works great, but could be better
Super simple to set up. Starts really easy. Reasonably quiet - but I have nothing to compare with, so take this comment for what it's worth. Great: Uses very little gas as I can tell - filled it up in the evening and it ran all night, powering a pellet stove and a fridge and some fans to distribute the heat from the pellet stove. Nice with the remote "supervision" on the phone app, especially to see estimated time left before refueling is needed. Clean design with everything encapsulated. Good handles to grab and move the unit. Not so great: the "auto idle control" does not keep up with some loads, and throws the generator into "overload" and shutdown mode. My example: running the pellet stove (draws <200W when lit and burning) and then attaching the fridge/freezer... The surge from the start of the compressor in the fridge is not handled well. Immediate generator overload and shutdown... Disabling the auto-idle and under the same conditions as described above: pellet stove burning, start of fridge - it works. When the fridge is up and running, you can enable the auto-idle. I think they (Ryobi) need to revisit how the auto-idle interacts with the overall power-ration for the generator - is should allow the generator to reach maximum RPM, and stabilize output, and THEN decide if there is an overload condition. Also not sure if the auto-idle and inverter circuitry actually manages to keep the output stable - later during the day, I disconnected the fridge and connected up a flat-screen TV and Home entertainment system (pellet stove still burning). Ran the TV/home entertainment system via a "kill-a-watt" type monitor, set to voltage - the indicated voltage fluctuated each time the pellet stove's pellet feed mechanism kicked in, and you could hear it from the sound of the room fans that they were slowing down temporarily before the generator caught up and compensated for that extra load (which is not very large). Before "you" say it - I use a 12 AWG cable from the generator, and the total load of pellet stove and TV/Home entertainment system was well within the stated limits of the generator... I think Ryobi should re-visit how this auto-idle and power output regulation is designed - it is not quick enough to respond as far as I can tell. When I have more time, I may bring home a power analyzer with transient recording function from my lab at work and do some more in-depth testing. Note: Had the larger inverter generator (4000 Watt) been available in the store, I would have bought that... probably a better choice as a back-up generator, with more aviable power "head-room".
Date published: 2023-03-17
Rated

1

out of

5
by
Dontbuyit
from
You suck !!
Don't buy this garbage!!! Just picked one up from home depot and the thing starts leaking gas's internally terrible quality should be ashamed of the product they put out . M
Date published: 2023-03-15
Rated

4

out of

5
by
Syd18
from
So far so good!
Bought this today, took a couple pulls to get started once fuel was added but so far running well! Took a minute for our window unit AC to kick in on the boat but it's cooling off now.
Date published: 2023-03-09
Rated

2

out of

5
by
MichaelJA
from
Kind of a bummer it doesn't work
I purchased this new 1 day ago. Put the oil in, put gas in, and run the inverter for about 1/2 an hour. Downloaded the app and paired it to my phone. Tried to shut off the inverter using the app and all it will do is studder and idle roughly. The only way to shut it off is to use the fuel shut off. Very disappointed because I paid almost $1000 for this inverter needing the ability to shut it off via the app timer.
Date published: 2023-03-04
Rated

2

out of

5
by
EDS24
from
light compact
I have had this less than a year . Works fine when you get it started. Very hard to start especially if it hasn't been run for awhile. Not the quietest
Date published: 2023-02-27