+5
18V ONE+™ ½ Gallon Chemical Fogger/Mister WITH 2AH BATTERY & CHARGER
Model: #P2850
+5
Protect your yard and home with the RYOBI 18V ONE+™ DEFENDER Chemical Fogger/Mister. This versatile fogger delivers powerful results when spraying fungicides, herbicides, insecticides and other treatment solutions. With its lightweight and portable design, you can maneuver and treat any part of your yard with ease. This powerful fogger covers up to 1,000 square feet per minute and 10,000 square feet per battery charge with instant, hassle-free starting. Best of all, the atomized particles travel up to 15 feet in height and settle into those hard to reach spaces for impactful results. Defend your yard and home from mold, weeds, bugs and so much more with the RYOBI 18V ONE+ Multi-Purpose Fogger.
Features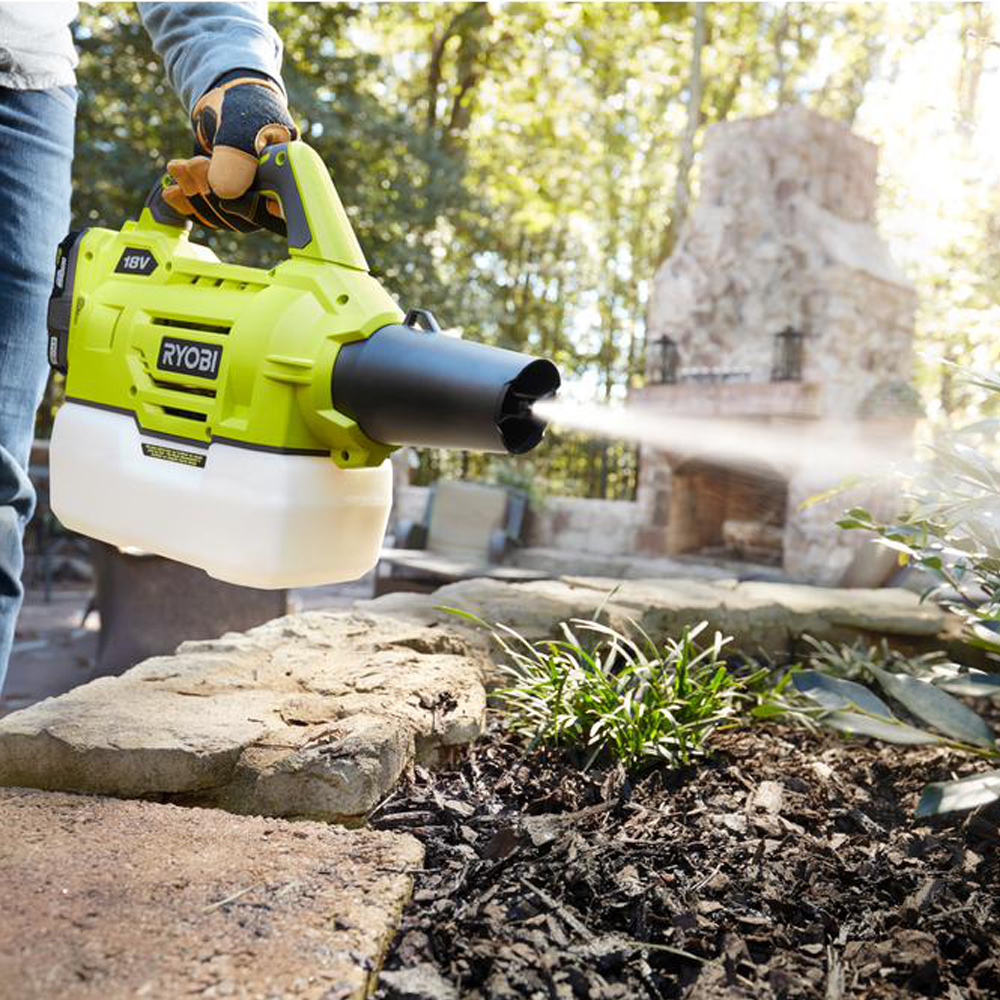 Covers Up to 10,000 Square Feet Per Charge
Covers Up to 1,000 Square Feet Per Minute
Atomized Particles Travel Up to 15 Feet in Height
Instant, Hassle-Free Starting
Lightweight Portable Design
Durable ½ Gallon Chemical Tank
Specifications
Coverage: Up to 1,000 Square Feet Per Minute
Coverage: Up to 10,000 Square Feet Per Charger
Tank Capacity: ½ Gallon
Weight: 7.2 lbs.
Warranty: 3 Year Limited
Includes
18V ONE+™ Defender Multi-purpose Fogger
½ Gallon Chemical Tank
18V ONE+™ 2.0Ah Battery
18V ONE+™ Compact Battery Charger
Operators Manual
Reviews
18V ONE+™ ½ Gallon Chemical Fogger/Mister WITH 2AH BATTERY & CHARGER
18V ONE+ 1/2 Gallon Chemical Fogger/Mister Kit
is rated out of
5
by
406
.
Rated

1

out of

5
by
JaxJeff
from
Not Thrilled
It's rare that I give a product a negative review, but this is one of those instances. I purchased this product to spray insecticide on my bushes and fence think that it would cover a larger area in a shorter amount of time. I could be more wrong. After mixing the insecticide 1/2oz with 1/2 gal of water and adding to the tank I began fogging or trying to fog my fence. The solution was as thin as the water itself and the fogger just didn't do the job. It would either fog a little then stop. Spray a blotchy steam and stop, or not work at all. I would have to keep shaking the fogger of pointing it up or down and it was just too erratic. It took me about an hour to spray 100ft of fence with very poor coverage. Something I could have done in about 15 minute with my Ryobi 2gal sprayer, which I love. So in conclusion if you want to spray plants, fences, your house or whatever skip the fogger and buy the 2 or 4 gal sprayer. Fortunately I got the fogger for a great price so i am not out to much $$$.
Date published: 2023-02-24
Rated

5

out of

5
by
davenelsonfit
from
Great for garden pest control!
I have been looking for a solution to spray my normal garden and especially my fruit trees. This fogger works excellent for cutting my treatment time in half and dispersing my pesticides perfectly over everything!
Date published: 2023-02-15
Rated

5

out of

5
by
EpicMan
from
Great for mosquito fogging.
Use for mosquito yard fogging and when not using for that, we fog our hanging plants to rids of destructive caterpillars.
Date published: 2023-01-13
Rated

4

out of

5
by
CDot
from
Better than sprayer
A better solution than the sprayers I was using. Sprayers nozzles would keep getting a little stuck or clogged temporarily until they were cleaned out.
Date published: 2023-01-09
Rated

5

out of

5
by
MrFiyah
from
Amazing price and amazing product!
Bought this product to treat my home for mold and mildew. Works like a charm! Great price! Great product!
Date published: 2022-12-26
Rated

1

out of

5
by
JDStreet
from
1/2 Gal Chem Fogger
Just received this fogger which I ordered online from Home Depot. I filled with tap water to test. And I'm quite disappointed in its performance or rather the lack thereof. Pulled the trigger and it only blows a mist so week you can't see it. I had to put my hand in front of it to confirm if any water was being blown. And that's the only way I confirmed that it was blowing some liquid. But as I stated, it was a fine mist even though there was good air volume. Plus, the mist that it was blowing was intermittent. Didn't expect this small unit to perform as well as my existing backpak fogger, but I did expect it to fog. I'm returning.
Date published: 2022-11-14
Rated

5

out of

5
by
Dwf76
from
Works great
I bought this a month ago and it really works, it will work well for herbicides and insecticides.
Date published: 2022-11-06
Rated

1

out of

5
by
Missy Jo
from
Don't waste your money!
Have purchased 3 of these machines over the past few years. Every single one works for a handful of times, then starts to leak so bad the liquid just pours from the machine onto the ground. Home Depot talked us into buying the warranty on this item which in the end we found out, it was useless. It doesn't replace the item. We put in a claim with Home Depot weeks ago and have yet to hear back from them. Complete junk and waste of money.
Date published: 2022-10-28