+5
18V ONE+™ ½ Gallon Chemical Fogger/Mister WITH 2AH BATTERY & CHARGER
Model: #P2850
+5
Protect your yard and home with the RYOBI 18V ONE+™ DEFENDER Chemical Fogger/Mister. This versatile fogger delivers powerful results when spraying fungicides, herbicides, insecticides and other treatment solutions. With its lightweight and portable design, you can maneuver and treat any part of your yard with ease. This powerful fogger covers up to 1,000 square feet per minute and 10,000 square feet per battery charge with instant, hassle-free starting. Best of all, the atomized particles travel up to 15 feet in height and settle into those hard to reach spaces for impactful results. Defend your yard and home from mold, weeds, bugs and so much more with the RYOBI 18V ONE+ Multi-Purpose Fogger.
Features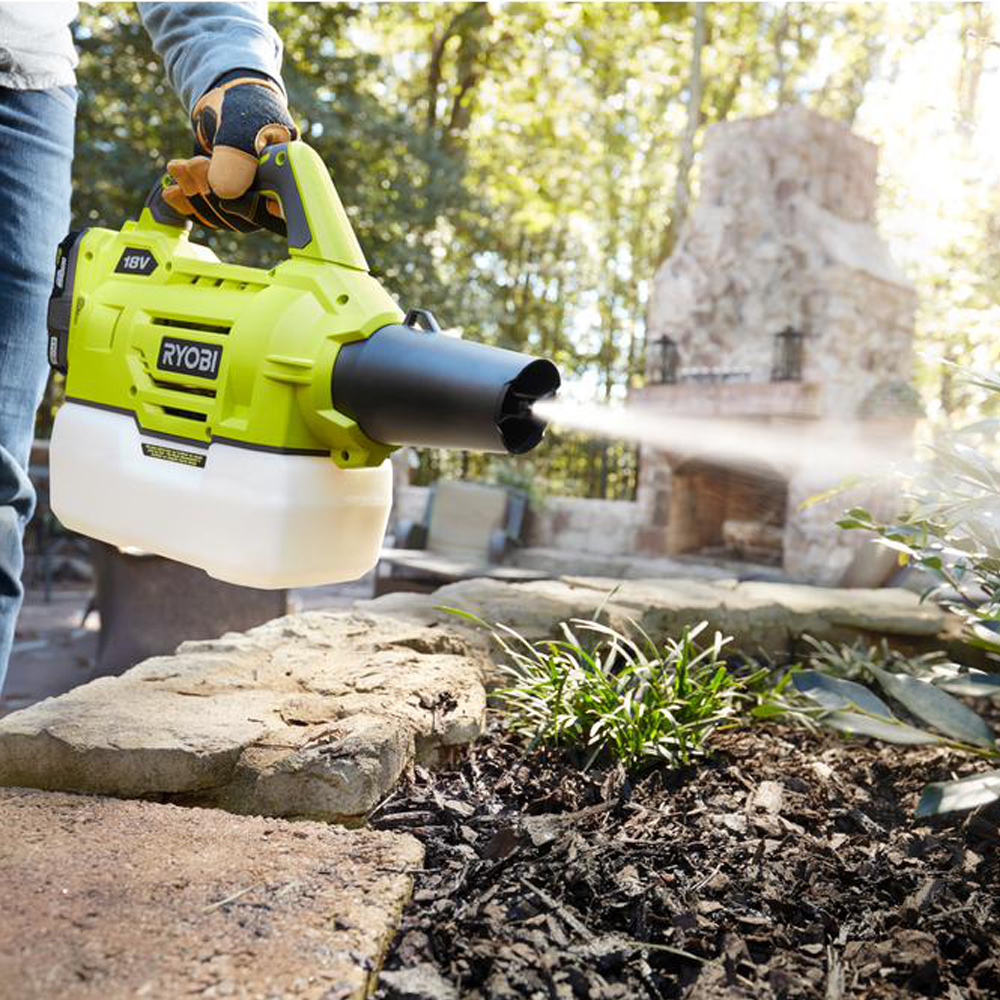 Covers Up to 10,000 Square Feet Per Charge
Covers Up to 1,000 Square Feet Per Minute
Atomized Particles Travel Up to 15 Feet in Height
Instant, Hassle-Free Starting
Lightweight Portable Design
Durable ½ Gallon Chemical Tank
Specifications
Coverage: Up to 1,000 Square Feet Per Minute
Coverage: Up to 10,000 Square Feet Per Charger
Tank Capacity: ½ Gallon
Weight: 7.2 lbs.
Warranty: 3 Year Limited
Includes
18V ONE+™ Defender Multi-purpose Fogger
½ Gallon Chemical Tank
18V ONE+™ 2.0Ah Battery
18V ONE+™ Compact Battery Charger
Operators Manual
Reviews
18V ONE+™ ½ Gallon Chemical Fogger/Mister WITH 2AH BATTERY & CHARGER
18V ONE+ ½ Gallon Chemical Fogger/Mister WITH 2AH BATTERY & CHARGER
is rated out of
5
by
354
.
Rated

5

out of

5
by
MikeyBen
from
COVID-19 uses
Because of a Flu issue, In late February my wife was trying to figure out how to sanitize her school. The budget did not have room for the $800-$1000 sanitizing sprayers. I saw this pesticide sprayer at Home Depot and figured we would take a chance. It took a couple of tries to figure out the right mixture. Chloride worked the best. We can sanitize the entire school with 2 batteries. Takes about 1 hour. FYI, it knocked the FLU out and kept the facility COVID-19 free. About a month after we got it, I was watching the news about New York sanitizing the Subway cars. Guess what they were using. That's right, the RYOBI Fogger/Mister.
Date published: 2020-04-01
Rated

5

out of

5
by
Dsc1191
from
Best Fogger for the price!
I bought this the first week of July to use for the fourth. I live in the deep south where mosquitoes are from the Jurassic period and the flies carry off small dogs like birds of prey. Where the gnats are in such swarms that they can pick up a full size truck. Needless to say, the bugs are terrible. However, in using this fogger it was like Aladdin "A whole new world". The in laws came down and we all had a great time outdoors without the hassle of swatting or constantly spraying bug spray. In all this is a great product to use if you have bug problems and want to enjoy the outside of your home without having to beat away the flying demon pests, however it does not work for in laws.
Date published: 2019-08-06
Rated

5

out of

5
by
Minister of Defense
from
fit our need well
I work for a large church in SC. In response to the coronovirus, we had been searching for a way to fog certain areas of our facility for sanitation purposes. I was fortunate enough to purchase this product and it has worked great. My only regret is that I wish we had five more. In this strange time, it has been very helpful to have this product. I am glad to report that due to using this machine and many other cleaning and behavior precautions, we have not had any outbreak of the virus. With continued diligence in cleaning and and extensive precautions, we will make it through this tough time. To God be the Glory!
Date published: 2020-07-21
Rated

5

out of

5
by
doccarter2
from
Very good product overall.
I have a large property and was tired of pumping my 3 gallon sprayer every time I needed to use insecticide outdoors. I saw this and was glad to see Ryobi designed and built it. I have other 18V+one tools so decided to try out this fogger and I was pleasantly surprised with the results. The fog was just right and went out about 12 feet with a constant flow. I used it until the tank ws empty so I can't opine on the battery life. But I do wish they had a larger tank available so I wouldn't have to reload as often. But overall I really like the fogger and I am considering giving some for Christmas presents this year. The price is right too, and the quality is up to Ryobi's great standards.
Date published: 2019-09-07
Rated

3

out of

5
by
Rose40
from
Not enough volume applied
I had hoped this would work well for mosquito spraying around my property, but it's too low volume. What little amount of "fog" it does spray out takes 2 fully charged larger batteries to *almost* empty the little half gallon tank. I'm spraying water with 3 different insecticides mixed in that I purchased through a pest control website. All are intended to be applied with a mist blower at a specific mix rate per gallon of water to cover a set amount of area. I even replaced the filter inside the tank with a larger one, which helped slightly, but it still doesn't put out a large enough volume of mist to do any good.
Date published: 2019-06-13
Rated

5

out of

5
by
SmartShopper
from
No more mosquito bites
I am so glad that i bought this fogger. I have been trying so many things to get rid off the mosquito problem on our backyard but nothing was helpful. I ran in to this product accidentally while i was searching through the aisle at Home Depot i was very skeptical about it but since i tried so many other things i wanted to give this machine a try. It works right away out of the box no hassle just fill the chemical inside and press the button its ready to run. This was very good investment. I am glad that i can use the same battery on my other Ryobi products as well.
Date published: 2019-08-01
Rated

5

out of

5
by
chicago45
from
Another Ryobi winner
This fogger is so easy to use. Nothing to set up right out of the box. Just add the chemical, take the necessary precautions and begin fogging. It only comes with a 2AH battery, but I have a blower that came with a 4AH battery so that wasn't a problem. I've used it twice and cleanup was simple. Just put water in the tank and run it until the tank is empty and that's all there is to cleaning it. Worked great. Misquitoe free yard. Didn't harm bees, butterflies, or birds.
Date published: 2019-07-14
Rated

4

out of

5
by
Haan17
from
Works ok!
Just purchased the fogger, I thought I could use it to fogg my shrubs outside and the lawn. I also wanted to use the fogger like my dad did when he would fog are house for fleas and tick and other insects, but I haven't try it yet so don't know if it will work? I think so improvents are needed like detachable tank maybe a turning nozzle to point to the ground or point upward. It's a good start would like to see improvements. I am going to take it camping and fogg the tents for summer camp I think it will work. Oh one other thing need a power button to stay on by it self!
Date published: 2019-04-01