+10
18V ONE+™ LITHIUM+™ 10" Chain Saw with 1.5Ah Battery & Charger
Model: #P547
10" Bar & chain is ideal for prunning & light limbing
2X faster cutting than previous model
Over 175 ONE+ Tools – All work with any RYOBI ONE+ 18V battery
+10
Ideal for pruning and light limbing trees and bushes around the home
Features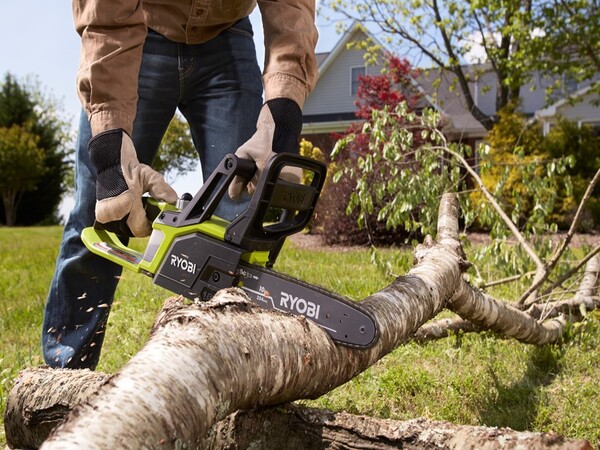 2X Faster Cutting
Than previous model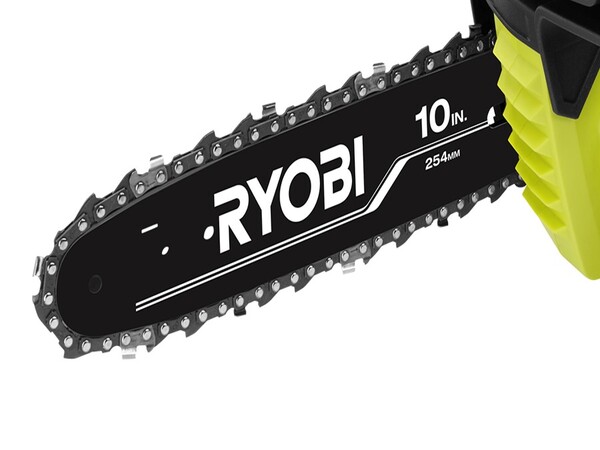 10" Bar & Chain
Ideal for pruning & light limbing
Push-Button Oiler
For easy chain lubrication and longer chain life
On-Board Tool Storage
For convenience and quick bar & chain adjustments
Specifications
Dimensions
Battery

18V ONE+™ 1.5 Ah Battery

Bar & Chain Size

10 in.

Chain Oiler

Push-Button Lubricator

Maximum Cutting Diameter

8"

Throttle

Variable Speed

Replacement Chain

Y40 .043"

Weight

6.5 lb.

Warranty

3 Year
Includes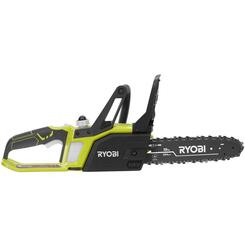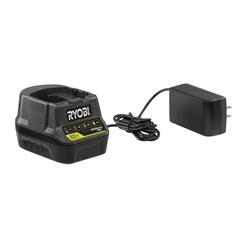 [#<ProductFeature id: 2755, title: nil, content: "18V ONE+™ 10\" Chain Saw", photo: "2e2d95cf-2f35-46ab-ad3b-3c9c6cd110bb.jpg", created_at: "2020-09-08 19:16:16", updated_at: "2020-09-08 19:19:27", product_id: 771, sort: 0, enhanced_type: "included_item", enhanced_group: nil, enhanced_icon: nil>, #<ProductFeature id: 2756, title: nil, content: "18V ONE+™ 1.5 Ah Battery", photo: "ec85af4f-6892-46c0-9f47-8c9adde49034.jpg", created_at: "2020-09-08 19:16:17", updated_at: "2020-09-08 19:16:17", product_id: 771, sort: 1, enhanced_type: "included_item", enhanced_group: nil, enhanced_icon: nil>, #<ProductFeature id: 2757, title: nil, content: "18V ONE+™ Charger", photo: "48d9f6e0-704d-4aa7-8245-bcbd9044092b.jpg", created_at: "2020-09-08 19:16:20", updated_at: "2020-09-08 19:16:20", product_id: 771, sort: 2, enhanced_type: "included_item", enhanced_group: nil, enhanced_icon: nil>]
Reviews
18V ONE+™ LITHIUM+™ 10" Chain Saw with 1.5Ah Battery & Charger
18V ONE+ 10" CHAINSAW KIT
is rated out of
5
by
785
.
Rated

5

out of

5
by
TOPHloaf
from
VERY LIGHT, PERFECT FOR WHEN I NEED A QUICK CUT
THIS THING WORKS GREAT, I JUST GOT IT, AND SO FAR I'M PLEASED WITH THE PERFORMANCE. I HAVE LOTS OF RYOBI ONE+ TOOLS AND WILL CONTINUE TO BUY
Date published: 2023-05-19
Rated

1

out of

5
by
Clubrally
from
How do I return it for something that works,,?
I bought last fall to keep in our Jeep Wrangler, so on back road trail if we came a cross down all trees we could remove them. We finally had a chance to use it this week. This saw would not cut a one inch lim.
Date published: 2023-05-17
Rated

5

out of

5
by
ClarissaS
from
So easy to use!
I bought this chainsaw on a Tuesday to use on the weekend. Fully charged when I needed it, lightweight, durable. My yard work time was cut in half.
Date published: 2023-05-09
Rated

5

out of

5
by
Worker46
from
Love
Bought this a week ago. My mother is 84 and loves it
Date published: 2023-05-08
Rated

5

out of

5
by
Jerrry
from
Fantastic saw
Had a dead tree(3" radius) that threatened to fall on house. Bought saw to take it down. Saw dis a fantastic job and I have found a lot of branches that I will remove with it.
Date published: 2023-05-02
Rated

5

out of

5
by
Drew7xxPnF
from
Cuts the big stuff and the small stuff
This chainsaw is easy to use and does a great job on large logs and smaller branches. I wish I'd have gotten one earlier. We have some pretty severe winter storms and can lose a lot of large limbs and branches on our acre lot. This chainsaw makes quick work of the cleanup. Small enough to be easy to handle and large enough to get the job done quickly. Easy tension adjustment and chain replacement. All you need to add is the oil and that's easy also. I haven't had an issue at all with this saw in two years. Great little workhorse. I have a bunch of the 18v Ryobi One+ tools and they all have performed better than good.
Date published: 2023-04-30
Rated

5

out of

5
by
jnichols1956
from
Great Purchas
I just bought this 18V ONE+ 10" CHAINSAW KIT from Ryobi. It proved to be just what I needed to cut thick branches from many overgrown trees.
Date published: 2023-04-23
Rated

5

out of

5
by
TRupe2104
from
Works great on limbs and small trees
Bought this to get rid of some problematic trees that had gotten too big to "snip". Worked great.
Date published: 2023-04-14
Rated

2

out of

5
by
Yeppa
from
Cheap
I got this for Christmas and just opened (April) . After charging the battery I put it to use and cut a few small limbs that were hanging low , the chain jumped and so I went to take the cover off and fix it but as you see pictured the adjustment Bolt shot out the side of the plastic casing the top plate is metal but everything else around it is plastic. Highly disappointed in the quality.
Date published: 2023-04-13
Rated

5

out of

5
by
RWJ1
from
Very Handy
Very light and easy to use. Cuts through branches like they were butter. Coupled with the large battery, I was able to finish my chore with one charge
Date published: 2023-04-12