+5
18V ONE+™ 8" Pole Saw with 1.3Ah Battery & Charger
Model: #P4361
+5
The RYOBI 18V ONE+™ 8" Pole Saw offers the perfect solution for pruning hard-to-reach limbs and branches. Powered by the 18V ONE+™ lithium-ion battery, this pruner extends up to 9.5 ft. to help you reach some of your tallest trimming areas easily and safely. Featuring an automatic oiler for smooth operation, the in-line motor housing also allows you to prune in tight spaces. The 18V ONE+™ 8" Pole Saw is backed by a RYOBI 3-Year Limited Warranty
Features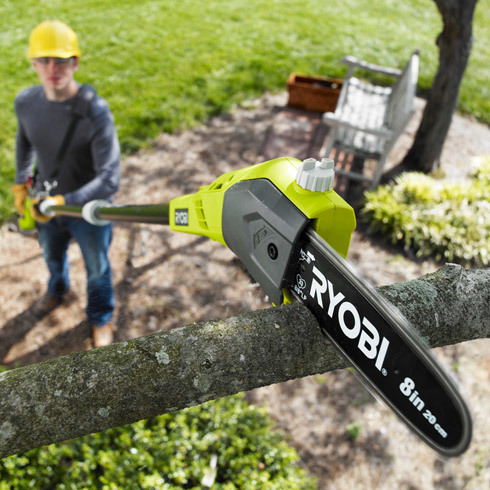 Extends up to 9.5' with extension pole for hard-to-reach areas
Automatic Oiler for extended chain life
8" Bar & Chain is ideal for light limbing
In-Line Motor Design for precision pruning
Angled Cutting Head for more control
Specifications
Bar & Chain Size: 8"
Chain Oiler: Automatic
Throttle: Variable Speed
Replacement Chain: Y33 .043"
Length: 6.5' - 9.5'
Weight: 8 lbs.
Warranty: 3-Year Limited
Includes
18V ONE+™ 8" Pole Saw
18V ONE+™ Lithium 1.3Ah Battery
18V ONE+™ Battery Charger
Scabbard
Hex Key
Extension Pole
Shoulder Harness
Operator's Manual
Reviews
18V ONE+™ 8" Pole Saw with 1.3Ah Battery & Charger
18V ONE+ 8" POLE SAW KIT
is rated out of
5
by
2055
.
Rated

3

out of

5
by
dollunit
from
Good saw. Awful support.
Saw is fine. Did what it was supposed to do. It shipped with a defective battery, though, and Ryobi support has been an absolute nightmare to deal with. 1 month on and I still don't have any answers.
Date published: 2023-09-04
Rated

5

out of

5
by
classemillduty
from
Best saw I ever owned
This saw does a great job cutting limbs from trees. I never owned one and would recommend this to anyone. Saw cuts as it should and it's length is perfect for trimming trees.
Date published: 2023-08-22
Rated

5

out of

5
by
dfrizze
from
Great pole saw
I bought this to trim trees around the yard. It is well balanced and cuts great.
Date published: 2023-08-10
Rated

5

out of

5
by
wildchild 2023
from
18v plus one pole saw
works good it is a nice tool. that you don't need gas or electric cords. i have not had it that long. But a friend has one and uses it all the time. no problems with it. So we decided to get one. To be able to use the battery with other products that we all ready have.
Date published: 2023-08-06
Rated

5

out of

5
by
Linduras
from
Great Product
I have had this tool for 3-4 weeks, used it right away and worked great. Used it couple times more and still worked great. So far it has been doing a great job for me.
Date published: 2023-08-04
Rated

5

out of

5
by
Mikey Y
from
Perfect tool for the DIY arborist and homeowner
Perfect. lightweight, manageable, and enough power to tackle tropical trees and palms in Florida. Never lets me down. Never jams with coconut palm fibers. Slices through scrub oaks like butter. No disappointments in this purchase.
Date published: 2023-07-30
Rated

5

out of

5
by
John 68
from
Great Value
What an unbelievably easy to use product. Using this pole saw saved me more than I paid for it in tree trimming services. Great job Ryobi!
Date published: 2023-07-29
Rated

5

out of

5
by
maddog1
from
Love them
Been cutting up some trees that fell in a storm. Works like a champ love it. I also have a blower and chainsaw they're awesome.
Date published: 2023-07-27
Rated

4

out of

5
by
Ken Koren
from
Good at first, now some issues
Right off the bat, I am a big proponent of Ryobi 18v tools and I have a lot of them. (see photo, not all tools shown). I bought the pole saw almost a year ago and it's worked well for the many limbs on my property. First off, this is a LONG tool when all 3 sections are connected. The section tubes are metal which makes this very heavy after a while. Because the tubes connect, there are plastic threaded compression connectors that join the sections together. The male portion of the connector is (I believe) riveted to the steel tube. (See photo) The sliding female portion threads over the male portion and squeezes against the metal tube to create a rigid connection. When new, that connection was stiff and kept the overall pole saw very straight. What has happened now is that (I believe) the rivets holding the male portion of the threaded connector to the steel tube have come loose. As a result, the connected poles, no matter how much the plastic connectors are tightened, now have a lot of flex in the overall length of the saw. I wish I could post video to show how much. Granted, the saw still works but it is no longer stiff like it was when new. Normally when cutting limbs, there isn't much pressure needed on the saw chain to cut. Now, with the added flex of the tubes, I have to put pressure on the poles to have the chain cut well. A redesign to have just a solid, aluminum pole instead of the 3 steel poles would take care of the flex issue and the weight issue. I know there would be a packaging issue with a 7' or 8' pole. The second issue is I have is a minor one. There is a hex bolt that holds the plastic cover in place that covers the chain and sprocket. There is also a screw that is used to adjust the tension on the chain. The bolt has a hex head, the screw has a slotted screwdriver head. Thus, I need 2 tools to to service the chain. It would be more efficient to have a slotted hex head bolt and then just use a screwdriver for both operations. Minor, but annoying. Otherwise, the saw has worked well for me and I'm happy I bought it. The batteries last long enough that when they die, it's time for a break to rest my arms!
Date published: 2023-07-10
Rated

5

out of

5
by
Maria68
from
Small but powerful
I bought it so I can get rid of some lower branches of a mango tree. It worked perfectly. I'm very happy with my purchase.
Date published: 2023-07-08