+5
18V ONE+ 2300 Watt Electric Start Inverter Generator
Model: #RYi2322E
No hassle electric start engine using the included 18V ONE+ battery
Clean power safely operates sensitive electronics through (2) 120V outlets and (2) USB outlets
Bluetooth Monitoring Using the GENCONTROL™ App
+5
Convenient, Quiet, and Portable Power
Features
Integrated Bluetooth Technology
For the ultimate user experience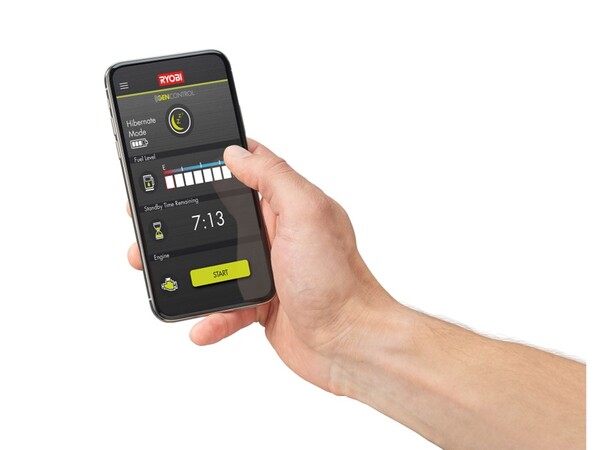 GenControl Reset Button & On-Board Reset Switch
Provide added convenience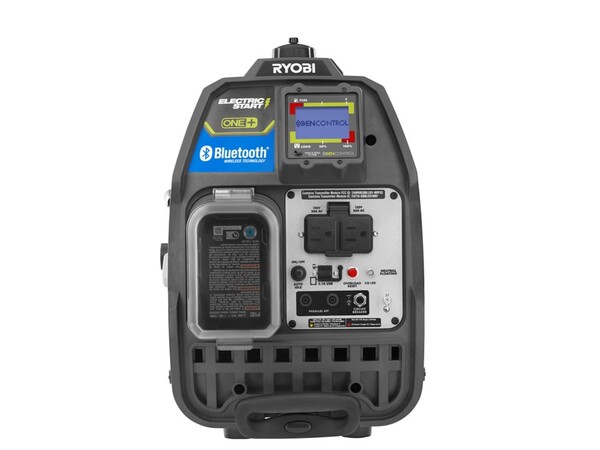 Auto-Idle Technology
Provides greater fuel efficiency and extended run time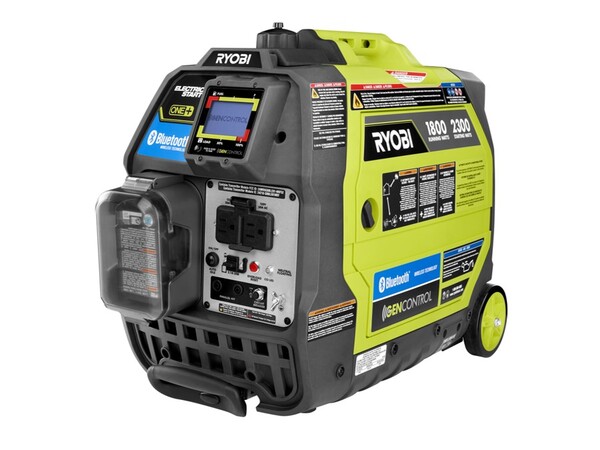 Automatic CO Shutoff with CO Sensor
For increased safety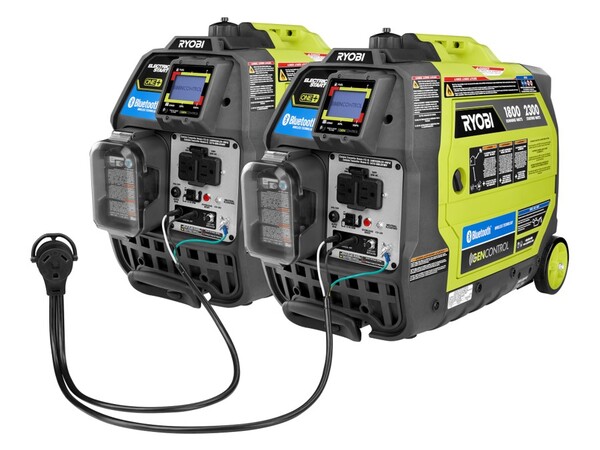 Parallel Kit Capability
For twice the power when a second generator is paired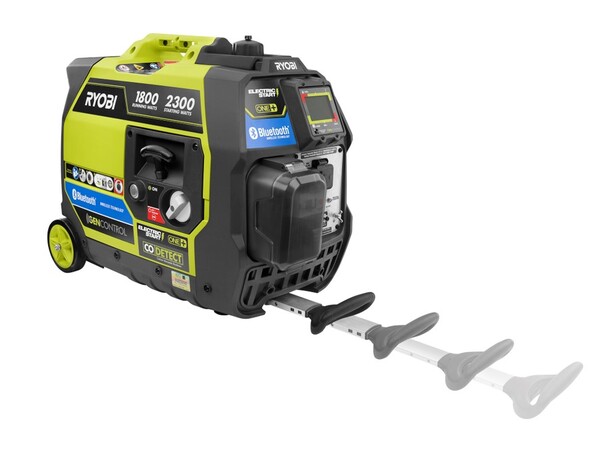 Extended Handles & Rear Wheels
For easy transport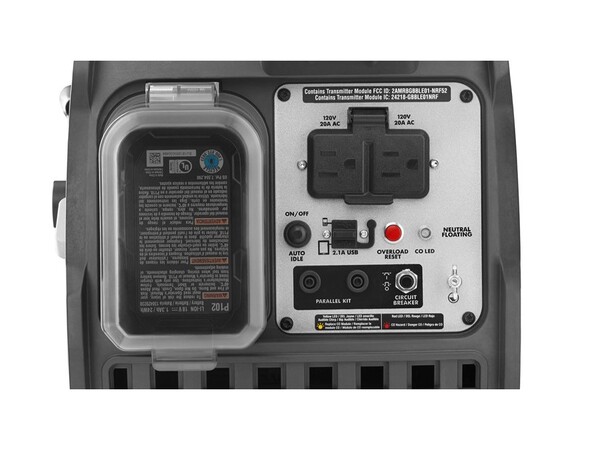 Clean Power
Safely operates sensitive electronics through 120V and USB outlets
Push Button Start
Electric start capable
Specifications
Dimensions
Running Watts

1800

Starting Watts

2300

Fuel Tank Capacity

1.2 Gallons

Run Time at 25% Load

10.3 Hours

Outlets

(2) 120V AC 20 Amp & (2) 5V DC 2.1 Amp USB

Weight

57 lbs.

Warranty

3 Year
Includes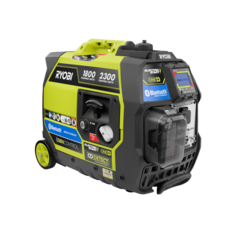 18V ONE+ 2300 Watt Electric Start Inverter Generator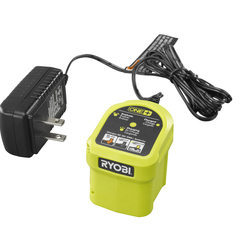 18V ONE+ Dual Chemistry Battery Charger
[#<ProductFeature id: 3689, title: nil, content: "18V ONE+ 2300 Watt Electric Start Inverter Generat...", photo: "51c48a2e-f13f-4be9-bf3b-eec59074590e.png", created_at: "2020-12-01 03:02:49", updated_at: "2021-01-07 02:27:41", product_id: 1492, sort: 0, enhanced_type: "included_item", enhanced_group: nil, enhanced_icon: nil>, #<ProductFeature id: 3690, title: nil, content: "18V ONE+ 1.5 Ah Battery", photo: "9f3c4d46-8897-40f6-ba8f-c102d141bd1e.jpg", created_at: "2020-12-01 03:02:51", updated_at: "2020-12-01 03:02:51", product_id: 1492, sort: 1, enhanced_type: "included_item", enhanced_group: nil, enhanced_icon: nil>, #<ProductFeature id: 4154, title: nil, content: "18V ONE+ Dual Chemistry Battery Charger", photo: "853cc48f-597c-4826-8b51-7756a969f715.jpg", created_at: "2021-01-07 02:31:35", updated_at: "2021-01-07 02:31:35", product_id: 1492, sort: 2, enhanced_type: "included_item", enhanced_group: nil, enhanced_icon: nil>]
Reviews
18V ONE+ 2300 Watt Electric Start Inverter Generator
2300 Watt Bluetooth Inverter Generator with 18V ONE+ Electric Start
is rated out of
5
by
41
.
Rated

5

out of

5
by
Alexandria young
from
Great deal
I think this a great deal I really like this item so much and I just got it
Date published: 2022-12-29
Rated

5

out of

5
by
Denys11
from
Great features!
I bought this a month ago and am so happy that I did...
Date published: 2022-12-29
Rated

5

out of

5
by
Eddy1989
from
excellent features
I bought this yesterday and I am very happy I recommend it
Date published: 2022-11-24
Rated

5

out of

5
by
Chuck754
from
Better Features @ Half The Leading Brand
Very pleased with my purchase. Compared to the leading brand it runs 2 hours longer on a tank, has superior Bluetooth allowing remote self start and schedule a shut off, a superior digital screen that includes a fuel gauge (competitor doesn't track), has automatic choke vs manual, has wheels/suit case handle for transport, better metal security bar for cable locks, nicely engineered for quick and easy maintenance, easy access spark arrestor/clamp to add extension, CO2 detector, takes up to 5 ah Ryobi rechargeable battery packs (which we already have from other tools), runs on a eco setting that wraps up on demand like the leading brand. And although it's 10dB louder at eco setting than the leading brand when under a load the noise level is the same—and both considered quiet generators. In a quiet box this is an issue that will be neutralized. I also like that it's 80cc vs 105cc from closest competitor, yet the Ryobi delivers 2300 watts max vs competitor 2200 watts. I also like that the Ryobi has internal shake dampening and hardly moves when running vs the 2200i competitor that shakes externally—depends on spring rubber legs to dampen the vibration. This means that when strapped down the Ryobi transfers a lot less vibration to platforms or external supports. Due to the wheels and handles the Ryobi 2300 Self Start is slightly taller than the 2200i but the added features and price difference were a slam-dunk in favor of Ryobi for me.
Date published: 2022-11-16
Rated

5

out of

5
by
Rosalin
from
Excelente equipo
La utilicé luego del huracán Fiona y es súper buena
Date published: 2022-11-06
Rated

1

out of

5
by
5000
from
Would not start
After adding the supplied oil and fresh, non ethanol 92 octane gas the unit would not start. I made 40 starting attempts using two separate batteries and the Ryobi would not start. I removed the side panel to manually choke the unit with no success. I did connect via Bluetooth and the eco idle would not turn off. There was never any signs of combustion, I suspect a defective ignition system. I promptly returned the unit to HD with no problems and purchased a Honda which started on the 4th pull new out of the box.
Date published: 2022-10-13
Rated

5

out of

5
by
Mfraz
from
Quiet
Very quiet and lightweight.... easy to start and long run time
Date published: 2022-09-29
Rated

5

out of

5
by
Sixto79
from
Works perfect
I bought it a week ago and despite being way cheaper than other competitors, I love it, I also own a different brand and there's no big difference
Date published: 2022-09-26