+5
18V ONE+™ 2 Gallon Chemical Sprayer with Backpack Holster with 2.0 Ah Battery & Charger
Model: #P2830-H
+5
The RYOBI 18V ONE+™ Chemical Sprayer is the perfect union of portability and versatility. With its included 18V battery and a pump optimized for cordless efficiency, it sprays 30 Gal. per charge with no pumping required. An adjustable spray nozzle makes it the perfect tool for a variety of applications and the durable wand detaches from the handle for 1 or 2 handed use. Featuring a 2 Gal. tank and a cap that conveniently doubles as a mixing cup, the RYOBI ONE+ Chemical Sprayer is completely efficient from prep to clean up. Once you are set up, take a load off with the RYOBI 1 Gal. and 2 Gal. Backpack Chemical Sprayer Holster. Designed to fit the RYOBI 18V ONE+™ 1 Gal. and 2 Gal. Chemical Sprayers, your job just got a lot easier. Enjoy comfort and support no matter how long you work, with the easily adjustable shoulder straps and innovative backpack design. Slip your chemical sprayer into the holster, and with the push of a button you are ready to go, no more pumping required. Backed by a 3-year warranty, RYOBI has the solution to all your outdoor needs.
Features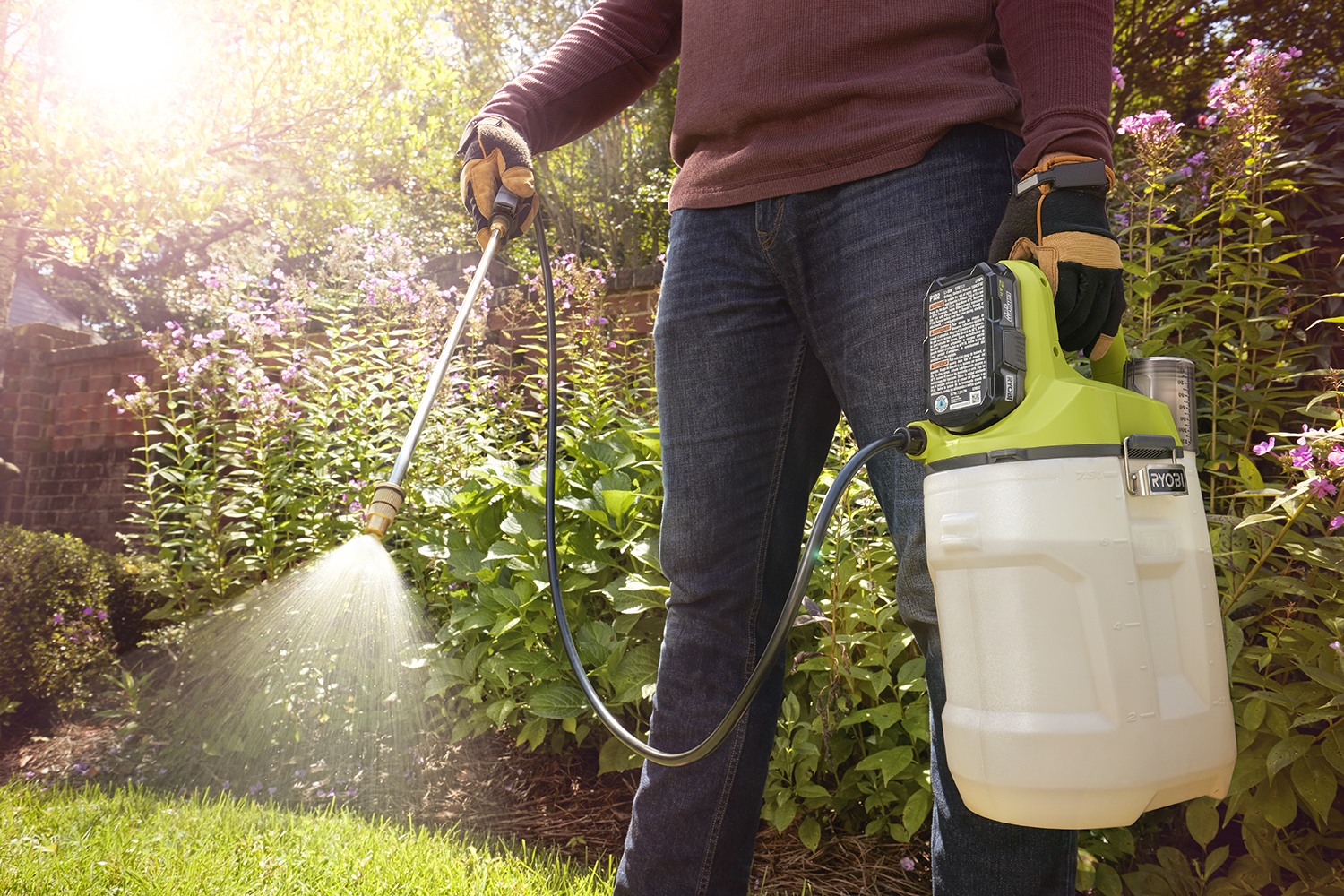 Sprays 30 gallons per charge Efficient pump optimized for cordless performance Adjustable nozzle for customized application 2 gallon removeable tank with on-board measuring cup 1 or 2 handed use Comfortable mesh backpack design Easy adjustable strap
Specifications
Power Source: 18V ONE+™ Battery
Tank Size: 2 Gallons
Tank Material: High Density Polyethylene
Hose Length: 54"
Nozzles: Adjustable
Warranty: 3 Year
Includes
18V ONE+™ 2 Gallon Chemical Sprayer with Backpack Holster
18V ONE+™ 2.0 Ah Battery
18V ONE+™ Charger
Reviews
18V ONE+™ 2 Gallon Chemical Sprayer with Backpack Holster with 2.0 Ah Battery & Charger
18V ONE+ 2 Gallon Chemical Sprayer with Backpack Holster with 2.0 Ah Battery & Charger
is rated out of
5
by
32
.
Rated

2

out of

5
by
IamNoahOne
from
Some great features. Terrible design flaws
Let me say some of the features seem pretty great but design flaws made it lacking in performance The removable tank and have with back pack are great shoulder strap option, measuring cup cap and mine came with 2 tanks these are all seeming great features but the negative is just too much. This may be good for a home garden sprayer or used very infrequently but those people wouldn't need 2 gallons or interchangeable tanks. First the motor runs constantly when on which not only seems like a waste but also means it never really builds pressure which is another problem pressure is terrible trying to spray a foundation you have to go back and fourth and since there isn't enough pressure the smallest adjustment to the tip takes it from mist to "if you can call it" stream. Also along with the pump always running while on the button to shut it off is on top of the unit which means if your using the backpack accessory you have to take it off your back to turn it off. I will say I took it back the next day after getting it and purchased the 4 gallon backpack sprayer p2860 and am very pleased. Might be good for infrequent user but I work in PC and this would not suffice for daily use
Date published: 2021-06-26
Rated

5

out of

5
by
matalhelm
from
Very easy to use
I bought htis for me to use and I found it very easy to use and understand operations.
Date published: 2021-06-21
Rated

5

out of

5
by
Trab
from
Great Sprayer
I bought this sprayer after using a friend of mines. I wanted something that my wife could use to spray our home. The backpack feature allows us to operate it almost hands free. Just mix the solution in both of the 2 gallon tanks and get to spraying.
Date published: 2021-06-17
Rated

5

out of

5
by
HeftyHorse
from
Awesome unit!!
So glad I just purchased this sprayer. It is so convenient not having to pump anything anymore.
Date published: 2021-06-04
Rated

5

out of

5
by
But Mo
from
I like the size and weight of this sprayer
Great sprayer, light weight, and very easy to setup and use.
Date published: 2021-05-09
Rated

5

out of

5
by
Tuna2021
from
Why did I wait so long?
Love this. Had a 1 gallon pump sprayer my entire life. Always running out of pressure and sprayer. Was always exhausted from pumping and replacing mixture. Was avoiding spraying util I bought this RYOBi. Now its so easy and effortless. I actually look forward to applying my ground kill and weed treatments .
Date published: 2021-05-02
Rated

4

out of

5
by
GerryQ
from
Great sprayer but terrible quality control!
I bought this only to use for dormant spray on my fruit trees. About 10 minutes into first use, I felt my back getting wet. Upon investigation, I found that the O-ring between the powerhead and tank had been cut allowing solution to leak badly. Good thing I was not using a toxic substance! At that time I had not yet removed the powerhead, so this must have happened at the factory. Upon checking, I find a sharp burr on the tank opening that cut the o-ring. I sanded it down and installed the only remaining o-ring from the kit. Since I will be removing the powerhead after each use for cleaning, it is likely that I will need many of these o-rings. Contacting Ryobi has been a disaster, chat does not honor west coast time, emails and callbacks are unanswered. Great sprayer but not likely to buy another 18V tool. I am really happy with the 40V Ryobi tools I own, but this has been a customer souring experience!
Date published: 2021-04-28
Rated

5

out of

5
by
JRCHEF
from
Good Buy
I purchased for applying sealants to surfaces and it is a performer has plenty of battery time and is easy to clean between uses.
Date published: 2021-04-27
Rated

5

out of

5
by
Brix
from
This is a must have tool in your arsenal.
I just bought and tried this sprayer and omg. Where have you been my entire life? This little machine takes the hassle out of the pump. It sprays continuously when you need it to. Still trying to figure out if it can shoot Clorox the info on that is vague. But nevertheless, it's a purchase you won't regret buying.
Date published: 2021-04-27
Rated

5

out of

5
by
m2ranch
from
great tool!
Looks and works great. Will do the job that I require it to do.
Date published: 2021-04-25