+7
18V ONE+™ 2 Gallon Chemical Sprayer WITH 2AH BATTERY & CHARGER
Model: #P2830A
+7
For the perfect union of convenience and versatility, the RYOBI ONE+™ 2 Gallon Chemical Sprayer sprays up to 20 tanks per charge with no pumping required. Featuring an adjustable spray nozzle, detachable 2 gallon tank, and cap that doubles as a measuring cup, this product is completely efficient from prep to clean up. For additional convenience and the tool comes with a 2.0 Ah Lithium-Ion Battery and is backed by a 3-Year Warranty.
Features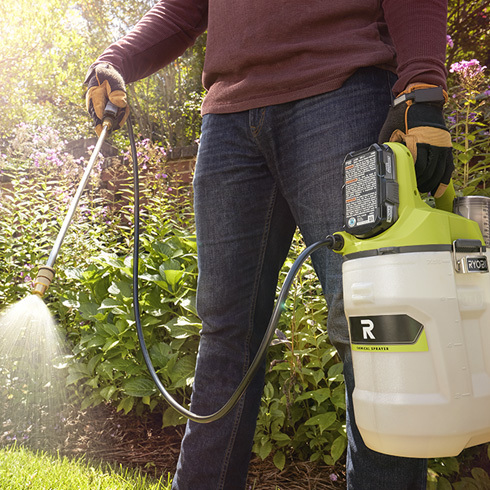 Sprays 20 Tanks Per Charge
No Pumping Required
Translucent 2 Gal. Detachable Tank For Easy Fluid Reference
On-board Measuring Cap Cup
Durable Adjustable Brass Nozzle
Specifications
Power Source: 18V Lithium-Ion Battery
Tank Size: 2 Gallon
Pressure: 45 PSI
Tank Material: High Density Polyethylene
Hose Length: 4 ft.
Nozzles: Adjustable
Weight: 4.5 lbs.
Includes
18V ONE+™ 2 Gallon Chemical Sprayer
Spray Wand
Replacement Seals
Measuring Cap
Removable 2 Gallon Tank
Carrying Strap
18V Lithium-Ion 2.0 Ah Battery
18V Lithium-Ion Battery Charger
Operators Manual
Reviews
18V ONE+™ 2 Gallon Chemical Sprayer WITH 2AH BATTERY & CHARGER
18V ONE+ 2 Gallon Chemical Sprayer WITH 2AH BATTERY & CHARGER
is rated out of
5
by
323
.
Rated

4

out of

5
by
loveryobigreen
from
Smartly engineered and makes spraying much easier!
Finally, I can just keep spraying 2 gallons with constant output rate. That makes for more uniform coverage. I love not having to pressurize the sprayer every few ounces. I like just about everything else about this sprayer. One thing though made me give it 4 stars, not 5. Attaching and removing a Ryobi brand battery (with its spring-loaded side clips) is a lot harder than it is on other Ryobi tools. And this applies to several Ryobi batteries. So it's the sprayer head being a bit out of spec. Nevertheless, I'm keeping the sprayer because it is a gem. It's now actually fun to spray to spray a yard full of roses.
Date published: 2019-03-26
Rated

5

out of

5
by
Wolfie1313
from
Excellent Sprayer
Purchased the two-gallon Sprayer a month ago and I loved it so much as it worked so well with fertilizing my garden plants I purchased another just for Roundup. Love the battery operation, no pumping. It features a trigger on the wand to use manually or push up for constant spraying. Dispenses the fertilizer in a fine adjustable spray and you can cover lots of area quickly and get to the roots easily with the long wand and no or less bending to reach plants. Easy to carry by hand or attach the shoulder strap that works well-not too heavy and design works well. I purchased the backpack to use with the Roundup. I recommend this product. Backed by a three-year warranty.
Date published: 2019-09-07
Rated

5

out of

5
by
Usquevagh
from
Works great for small garden orchard.
Bought this 2 gallon battery powered sprayer to spray my home orchard of about a dozen medium sized apple, pear and peach trees. Have used it just once so far, and can definitely say it's a lot easier than those hand pump sprayers–I'm sold! It is just powerful enough to get the spray almost to the top about 15 feet. If you have dwarf or medium size trees, I'd say this is perfect. The two gallon capacity is plenty; I'll probably only fill to 1-1/2 or 1-3/4 gallons in future (I thought the the 1 gallon size would be on the small size for my trees). (Note: I only spray with organic control substances: lime, sulfur, oil, Neem etc.)
Date published: 2020-05-09
Rated

4

out of

5
by
cranburybob
from
Excellent Performance, but needed adjustment
Upon opening the box, and after following all directions in manual, I turned it on, the motor started, but it did not spray. After further checking, to make sure all fittings were tight, etc, I tried again - still did not spray! called 800# and CSR, with a less than helpful attitude, suggested I return to Home Depot and they would tell me where the nearest repair center was; that was neither helpful nor a solution to me! However, I tried one last time, and did the one thing I hadn't done yet - removed the filter cap at the bottom of the suction hose in the tank, and blew compressed air through it. The unit started right away, and and performed in an EXCELLENT manner for the next three hours. The loss of start is for the machine not working straight away and poor performance from CSR.
Date published: 2018-05-14
Rated

5

out of

5
by
gspaff
from
This is a great sprayer
I needed to apply a lot of insecticide and using a pump sprayer was going to make that work a real bear. A friend recommended this sprayer and it is great! I have used it to apply 16 gallons of spray so far. Not only does it do the job very well but it also comes with the battery and a charger. I use a lot of different Ryobi 18v cordless tools so this was a nice perk. Note, I apply 8 gallons at a time and the battery held up just fine. I'm very happy with the purchase - by the way, it comes with spare seals and if you register, Ryobi says you can get free seals for life.
Date published: 2018-07-16
Rated

5

out of

5
by
Cburton111463
from
Amazing!!
I'm absolutely in Love with my new Sprayer!! Can't believe how easy it is to use! I got the backpack as well and it makes my life so much easier. I believe this maybe absolutely the best Ryobi tool that's you've ever made. I really can't believe how easy the chemical sprayer. This 2 gal is definitely perfect in size. Not to heavy just enough for the job. I also like the fact I can order another jug for different chemicals. I absolutely can't express how excited I was to use this one. I have so many of the RYOBI items and this on is my favorite!
Date published: 2019-12-26
Rated

4

out of

5
by
Handy Me
from
Don't Dread
I have used this 2 gallon sprayer for the first time and it will be a pleasure to use again. The only reason I give it a 4 star is because it don't keep a steady spray if you don't let off for a bit for it to catch up. But after a bit of using it I found it will work if I use it like a paint gun. I am pleased with it.
Date published: 2018-05-30
Rated

1

out of

5
by
kerryblue33
from
Lasted 7 months
I purchased the sprayer about 7 months ago. I thought it would be easier not having to use a manual pump and was happy that I could carry the liquids in a backpack (separate accessory purchase). Now the pump is no longer pumping and they want me to bring it into a service center to see if it's covered under warranty. It's an $80-90 tool. I don't see why Ryobi cannot mail a new tool and ask for the other one back to investigate the issue. I had another company replace my lawnmower over the phone because it was under warranty. If it's not covered under warranty, how much is the service center going to charge me for their time? Probably more than $80-90. It almost seems like they are counting on me not bringing it in for service.
Date published: 2020-05-27