+6
18V ONE+™ 13" MOWER WITH 4AH BATTERY & CHARGER
Model: #P1140-S
Push-Button start for hassle-free starting
Folding handle with quick-release knobs for easy storage
13 in cutting deck with 7-position single point height adjustment
+6
13 in. Cutting deck is perfect for maintaining small yards
Features
Push-Button Start
For hassle-free starting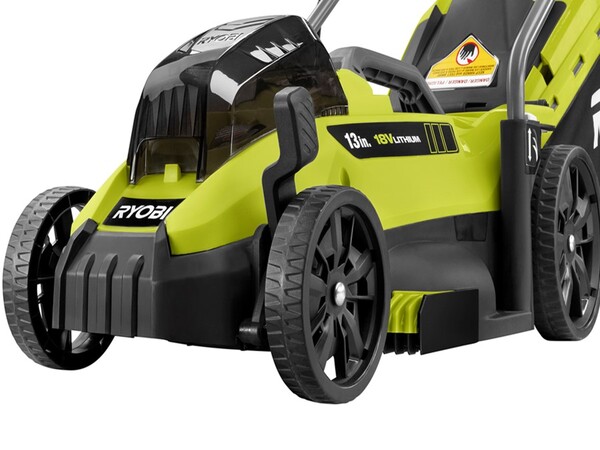 13 in. Cutting Deck
With 7-position single point height adjustment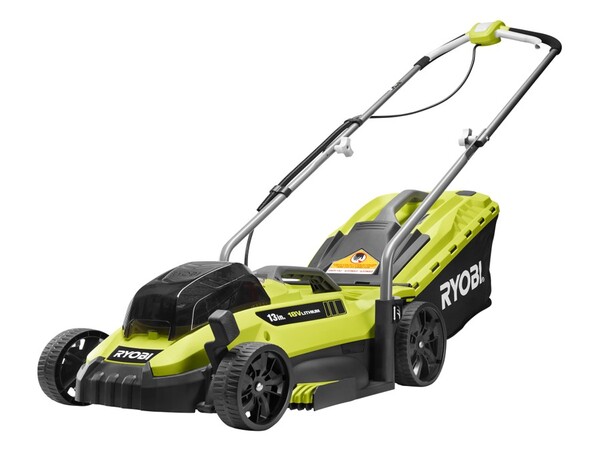 Folding Handle with Quick-Release Knobs
For easy storage
Cutting Options
2-in-1 mulching and bagging capable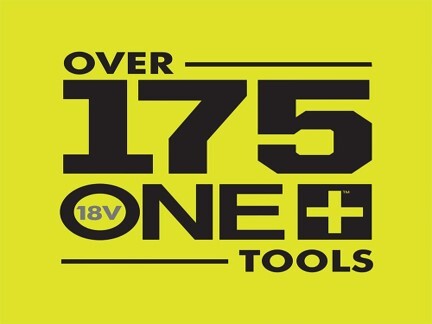 System Compatibility
Over 175 ONE+ Tools – All work with any RYOBI ONE+ 18V battery
Specifications
Dimensions
Battery

18V ONE+™ 4.0 Ah Battery

Deck Size

13 in.

Mowing Function

Mulching & Bagging

Cutting Height

1.5 in. - 2.75 in.

Drive Type

Manual Push

Weight

27 lb.

Warranty

3 Year

Estimated Run Time

Up to 30 minutes
Includes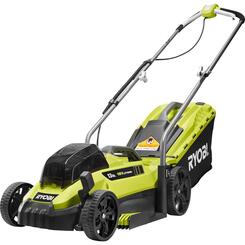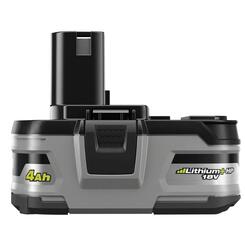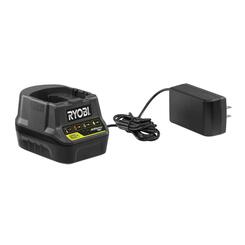 [#<ProductFeature id: 2774, title: nil, content: "18V ONE+™ 13\" Mower", photo: "f42c98b0-4ece-406c-8bad-18aa9b7fe550.jpg", created_at: "2020-09-08 20:08:07", updated_at: "2020-09-08 20:10:19", product_id: 1159, sort: 0, enhanced_type: "included_item", enhanced_group: nil, enhanced_icon: nil>, #<ProductFeature id: 2775, title: nil, content: "18V ONE+™ 4.0 Ah Battery", photo: "7284edd1-1b82-44d7-9f3b-a74cc845a9e9.jpg", created_at: "2020-09-08 20:08:14", updated_at: "2020-09-08 20:08:14", product_id: 1159, sort: 1, enhanced_type: "included_item", enhanced_group: nil, enhanced_icon: nil>, #<ProductFeature id: 2776, title: nil, content: "18V ONE+™ Charger", photo: "28150036-26eb-4807-b9fa-25fae433d2a7.jpg", created_at: "2020-09-08 20:08:15", updated_at: "2020-09-08 20:08:15", product_id: 1159, sort: 2, enhanced_type: "included_item", enhanced_group: nil, enhanced_icon: nil>]
Reviews
18V ONE+™ 13" MOWER WITH 4AH BATTERY & CHARGER
18V ONE+™ 13" MOWER WITH 4AH BATTERY & CHARGER
is rated out of
5
by
587
.
Rated

5

out of

5
by
Marquis
from
Surprisingly rugged
I bought this reluctantly, after reading many reviews about the short battery life. After some research, I found that the 18 volt battery seemed to have better reviews so I went for it... I gotta say, this baby is pretty powerful. It runs for about 30 - 40 minutes depending on if you shut it off between areas (crossing driveway for example) and it does a great job! Now I don't have a huge yard but I'm able to do my 1/4 acre lot plus half of my neighbors yard. That's pretty good in my book. It literately takes about an hour to charge and you are ready to go again! Overall I love it! Now mind you, I've only had it for 2 months now...
Date published: 2018-06-11
Rated

5

out of

5
by
Ratman
from
Awesome little mower!
My gas mower died on the weekend. After thinking about whether or not to spend money to get it fixed; I started to research the Ryobi electric mowers. Just so happened there was a sale on at Home Depot that had a 18V mower, trimmer and blower combo for an amazing price. I purchased one and used it that same day. Best decision ever! I am now able to be at ease allowing my12 year and 13 year old sons operate it as it is very safe and cuts off if the handle is released and no more gas to spill! The battery pack lasted my front and back yard and even had power left to use the trimmer and blower. Very impressed. Light weight, easy to use, quite and gets the job done!
Date published: 2018-05-29
Rated

5

out of

5
by
Miss Ryobi
from
Beyond my expectations
I had just moved into my first home. There were many challenges including the overgrown lawn. I needed to buy a lawn mower but I did not want a gas powered mower because I am sensitive of the exhaust fumes. So I purchase a battery powered Ryobi lawnmower. The price was right, I liked the electric start and it came with a key. It also was the prettiest lawnmower I ever seen. The grass in my yard was taller than the lawn mower, and my new Ryobi lawnmower cut it down easily. When I was finished I took a photo. All that remained is the scent of fresh-cut grass and the sun shining on my Ryobi lawnmower. Thank you Ryobi, for making me look forward to cutting my grass again!
Date published: 2020-06-01
Rated

3

out of

5
by
starsnbarnes
from
Light weight but battery doesn't last long
Very light weight for a lawn mower! I can turn it easily with one hand and it feels like I'm vacuuming the yard! cuts through thick and tall grass with ease but the only downside is the battery doesn't last very long. A full charge takes about 3 hours on the charger from dead. Will have to purchase more batteries in order to fully finish my yard in one go. Other than that no hassle with gas or oil changes, small and compact to store away without sacrificing space. It's also great for the environment! A huge decision maker for me when looking at lawn mowers. Very affordable for any family without breaking the bank to get the job done.
Date published: 2020-06-10
Rated

5

out of

5
by
pincastlerock
from
Perfect Small Lawn Lawnmower
I had my gas lawnmower for over 30 years and four different properties. My current home has a smaller lawn footprint and with plans to reduce it even more, it was time for a replacement. I had told my wife that I wished that there was a smaller cutting width for lawnmowers. I had seen one on a neighborhood app for sale, so I thought I would check Home Depot. I saw this 13" Mower and took the next step and bought it. It is the perfect mower for mowing a yard that takes under 30 minutes to mow. It is quite, no ozone mowing restrictions, easy to move, navigate and just a good little mower. It is exactly what we needed to mow our small lawn.
Date published: 2020-07-08
Rated

5

out of

5
by
VAB3
from
I'm sold on this mower I stongly recomment this pr
After getting familiar with this mower, I am totally sold on its ease of use, reliability and value. This was a replacement for another brand cordless mower, whose battery I had to replace twice within 5 years of purchase. The last time, the battery was no longer in stock and discontinued, rending the old mower useless. After diligent research, I settled on the Ryobi and did not regret it. It mows like a charm, though I had to admit I had to make a few adjustments due to grass height, etc. The only drawback is that 30 minutes on a battery charge won't cut it (pun intended). Luckily I had other 18v Ryobi batteries on hand to finish the job.
Date published: 2020-05-19
Rated

5

out of

5
by
hairgrovear
from
Perfect for Small Spaces!
I bought this lawnmower recently after moving from a single-family home into a townhouse. I needed something to handle a small front/back yard space, and a weed eater just wasn't cutting it. I was skeptical at first that the mower would have enough power to handle the yard, but it worked great! Even better, the compact size and collapsible handles made it easy to carry the tool through my house from front to back yards and store in my "very" small shed. Because I already owned the Ryobi 18v trimmer and leaf blower (from my previous house), it made it easy to swap between trimming, mowing, and blowing with the same battery. If you're looking for something to tackle small yard, this mower is perfect!
Date published: 2018-05-15
Rated

5

out of

5
by
Anonymous
from
Fantastic 13" mower
I have had the mower for about 6 weeks and love it. I did purchase an extra battery because I use 2 batteries to rotate between the mower, weed wacker and blower each time I mow the lawn. The mower has great power, it gathers the clippings very well and I love how easy it is to maneuver between all of my shrubs, trees and plants. I live in an urban area (Phx) so my backyard grass area is maybe 2500 sq feet and I have lots of palms, birds of paradise and Lantana around the perimeter to mow between. The size and weight makes it so much easier than the 21" gas mower I had been using. I would definitely recommend this mower and brand.
Date published: 2020-04-08