+6
18V ONE+™ 13" MOWER WITH 4AH BATTERY & CHARGER
Model: #P1140-S
Push-Button start for hassle-free starting
Folding handle with quick-release knobs for easy storage
13 in cutting deck with 7-position single point height adjustment
+6
13 in. Cutting deck is perfect for maintaining small yards
Features
Push-Button Start
For hassle-free starting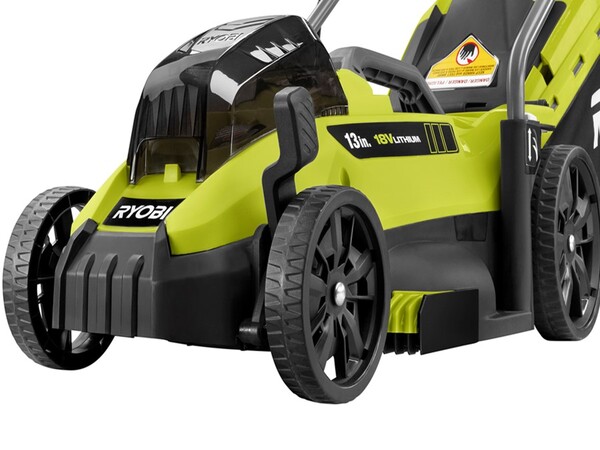 13 in. Cutting Deck
With 7-position single point height adjustment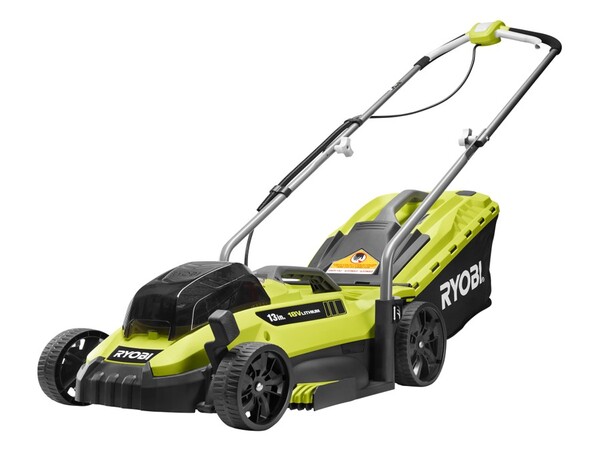 Folding Handle with Quick-Release Knobs
For easy storage
Cutting Options
2-in-1 mulching and bagging capable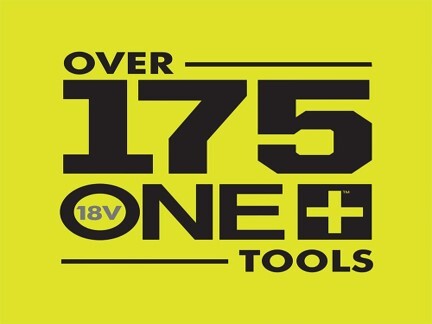 System Compatibility
Over 175 ONE+ Tools – All work with any RYOBI ONE+ 18V battery
Specifications
Dimensions
Battery

18V ONE+™ 4.0 Ah Battery

Deck Size

13 in.

Mowing Function

Mulching & Bagging

Cutting Height

1.5 in. - 2.75 in.

Drive Type

Manual Push

Weight

27 lb.

Warranty

3 Year

Estimated Run Time

Up to 30 minutes
Includes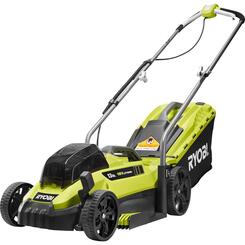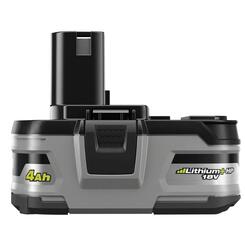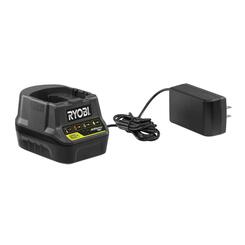 [#<ProductFeature id: 2774, title: nil, content: "18V ONE+™ 13\" Mower", photo: "f42c98b0-4ece-406c-8bad-18aa9b7fe550.jpg", created_at: "2020-09-08 20:08:07", updated_at: "2020-09-08 20:10:19", product_id: 1159, sort: 0, enhanced_type: "included_item", enhanced_group: nil, enhanced_icon: nil>, #<ProductFeature id: 2775, title: nil, content: "18V ONE+™ 4.0 Ah Battery", photo: "7284edd1-1b82-44d7-9f3b-a74cc845a9e9.jpg", created_at: "2020-09-08 20:08:14", updated_at: "2020-09-08 20:08:14", product_id: 1159, sort: 1, enhanced_type: "included_item", enhanced_group: nil, enhanced_icon: nil>, #<ProductFeature id: 2776, title: nil, content: "18V ONE+™ Charger", photo: "28150036-26eb-4807-b9fa-25fae433d2a7.jpg", created_at: "2020-09-08 20:08:15", updated_at: "2020-09-08 20:08:15", product_id: 1159, sort: 2, enhanced_type: "included_item", enhanced_group: nil, enhanced_icon: nil>]
Reviews
18V ONE+™ 13" MOWER WITH 4AH BATTERY & CHARGER
18V ONE+ 13" MOWER WITH 4AH BATTERY & CHARGER
is rated out of
5
by
588
.
Rated

5

out of

5
by
TomEYYC
from
Great mower, works awesome, perfect for small lawn
Bought this over a year ago as I was sick of using a plug in mower and dealing with extension cords. Works great, has good cutting power and easy to maneuver and store. Definitely recommend
Date published: 2022-07-23
Rated

4

out of

5
by
HWilliamson
from
Small but sturdy
Easy to put together. Good for small yard. Easy to store.
Date published: 2021-07-05
Rated

4

out of

5
by
Katiedog
from
Works Great
I bought to help elderly 92 year old friend who is unable to mow her grass. Great for small yards. would take 3 batteries to complete her yard. works great though.
Date published: 2021-07-03
Rated

5

out of

5
by
EagleOne
from
Wish I'd got this sooner
My gasoline push mower starts when it wants sometimes. I got this because of that. I don't have a big yard and this Ryobi mower does the job.
Date published: 2021-07-02
Rated

5

out of

5
by
Anonymous
from
Best Mower I've Ever Owned
I bought this mower at my local Home Depot. I am trying to decrease my carbon footprint as much as possible so I decided to buy the electric push mower. I already love Ryobi and this is just another example of eco-friendly, low-cost and using renewable energy. I have been a Ryobi fan for about 8 years now and I have never had a cool breaker stopped working I've never had a battery that stopped charging or working. Even though I usually get insurance on all of my tools I never have to use it because of the quality, toughness and reliability of Ryobi.
Date published: 2021-07-01
Rated

5

out of

5
by
MadBob
from
light weight
I received this mower as a fathers day gift, I use it on a hillside, I used to have trouble used a full size mower to cut it, but this unit is so light its more like vacuuming
Date published: 2021-06-28
Rated

5

out of

5
by
Jdog71
from
Lots of power
I purchased this 18v mower because I thought it would be a good idea since I have a lot of Ryobi tools already and those batteries fit this mower Genius ! I was on the fence about 18v thought it might not have the pier I needed but I was wrong it has lots of power .. and really light weight.. I use it around my pool I don't like grass in the pool and with the bagger attached it does a great job battery tools is the way to go
Date published: 2021-06-26
Rated

4

out of

5
by
Lex Luther
from
Compact
It's adorable and affordable. Excited to use on our tiny yard
Date published: 2021-06-25
Rated

5

out of

5
by
good stuff
from
good mower
i only have one hand to use and this works fine for me. a weed Wacker was to dangerous for me to use. i love it
Date published: 2021-06-24
Rated

5

out of

5
by
rfgf1
from
Plenty of power and range!
I've used this mower twice now and am pleased with its ability to mow steep angled slopes, cut through the thicker weeds and can mow all of the areas where my zero-turn mower can't reach. This is the 13" version which was just the right size to fit into some of the small areas around landscaping and alongside some of the patios and paths in our yard's two acres. I've used this instead of the string trimmer in most areas--which is really nice as it is easier to use.
Date published: 2021-06-23