+5
18 in. 40V Cordless Pole Hedge Trimmer (Tool-Only)
Model: #RY40603BTL
+5
The RYOBI 40-Volt Pole Hedge Trimmer is ideal for any hedge maintenance around the house. The pivoting head allows for trimming at multiple angles and optimized cutting performance. Designed to reach greater heights you can extend the pole up to 8 ft. The 40-Volt Pole Hedge Trimmer is equipped with 18 in. dual-action blades and a 5/8 in. cut capacity. Backed by a 5-year warranty.
Features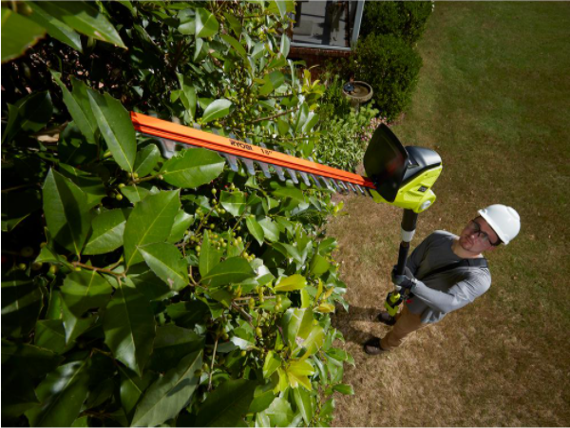 Works with all RYOBI 40-Volt lithium-ion tools and batteries Extends up to 8 ft. Up to 5/8 in. cutting capacity Pivoting head for trimming multiple angles 18 in. dual-action blades for reduced vibration Variable speed trigger for cutting control Shoulder strap included 5-year limited warranty
Specifications
Blade Length: 18"
Cut Capacity: 5/8"
Max Length: 8'
Trigger Type: Variable Speed
Includes
18 in. 40V Cordless Pole Hedge Trimmer
Reviews
18 in. 40V Cordless Pole Hedge Trimmer (Tool-Only)
18 in. 40V Cordless Pole Hedge Trimmer (Tool-Only)
is rated out of
5
by
8
.
Rated

5

out of

5
by
Homeden
from
Good product
I bought this a little over a month ago (during the winter, perfect time for thinking about spring time chores). And I've actually used it for a few hours over the past few weeks to trim some fairly tall hedges (11' - 13') along a small slope. The trimmer worked great. Easy to manage for the most part. It does get a bit heavy after while of slinging it around to reach the tops of the hedges (I haven't tried the shoulder harness yet), but the length and adjustable head angles really help get the job done. I expect this trimmer will come in very handy over the rest of the year... and a lot easier than using a step ladder to get to the tops of bushes.
Date published: 2021-03-03
Rated

5

out of

5
by
RancherRay
from
Just as good as gas powered
I have a ranch and constantly have to replace fence posts. This tool is perfect for what I need. I install 5-6" round posts. The Ryobi Auger has an 8" bit which allows me enough wiggle room for odd sized posts. The batteries last a long time. With the old gas powered auger, I was starting and stopping all day because there is often a lot of distance between posts that need replacement. I can put it in the front seat of the truck without getting oil and gas in the truck. This is definitely a working tool. This is my 15th Ryobi tool. One day I may have them all. Definitely recommend.
Date published: 2021-09-23
Rated

4

out of

5
by
Friendly Fred
from
Pole Hedge Trimmer
The trimmer works good. The 40V products are plenty powerful enough to get the job done. The battery life is not as good as I had hoped for. At a hundred dollar bill each battery I can't afford many. It takes a little over an hour to charge the battery. I would recommend this tools to homeowners. The normal guy on the job doesn't have time to wait for the battery to charge.
Date published: 2021-02-10
Rated

5

out of

5
by
DannyCabo
from
Great Purchase
I bought this tool because I have the regular hedge trimmer and it rocks! This Pole Hedge trimmer does not disappoint I am able to reach places with a ladder and it has tons of power with 40V battery. I am a Ryobi tools bigot now. I have almost all of their power tools and got rid of of all my gas powered tools. So much easier. Can't wait to see what they come up with next!
Date published: 2021-05-14
Rated

5

out of

5
by
MD84
from
Powerful trimmer
I have nearly 600' of 10' tall Podocarpus hedge surrounding my property and needed and extended articulating hedge trimmer to get to the tops without a ladder. I own the Ryobi 40V weed eater and have been completely impressed with it so I decided to go ahead and buy this trimmer. I was thoroughly impressed by the way It cut through the Podocarpus branches, leaving a nicely crisp cut. I've only used the tool once, but if it's like the other Ryobi tools I own it will last years without issue.
Date published: 2021-03-15
Rated

5

out of

5
by
FRED51
from
Reach out and touch they back hedge
Bought this because I like ryobi tools and was tired of not reaching back of the hedge without doing some things which would give an osha inspector nightmares. This did the trick. I can reach all the way across my hedge and make it meet and tidy.
Date published: 2021-02-17
Rated

5

out of

5
by
JKaiserphoto
from
Exactly what I needed
Some of my hedges are getting pretty tall and couldn't reach them with my Ryobi hedge trimmers. I was going to rent a pole hedge trimmer at my Homedepot, but the cost was a little on the high side. I found that I could pay for the Ryobi (tool only) for the cost of renting one twice. Easy decision. It worked great and since I have 4-4amp batteries and a 2 amp, it was a no brainer. It worked great, as expected.
Date published: 2021-10-05
Rated

4

out of

5
by
Sherrodclan
from
Good Product
I bought this trimmer about 3 weeks ago. I have used it once to trim a 12' foot tree and it worked pretty good. It is a little heavy so my arms tired out; however, that I expected that with having the trimmer on the end of a pole. It did what I needed to do.
Date published: 2021-10-07