+6
18V ONE+™ POWERSOURCE 150 Watt Battery Inverter
Model: #RYI150BG
Perfect for powering small electronic devices: laptops, tablets, and cell phones
150 watts of continuous power output
On-board LED light for convenience
+6
Convenient, on-the-go power wherever you need it
Features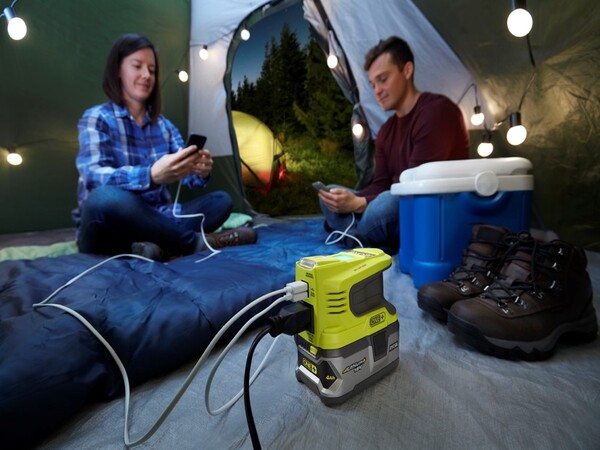 150 Watts of Continuous Power Output
For powering small electronics including laptops, tablets, and cell phones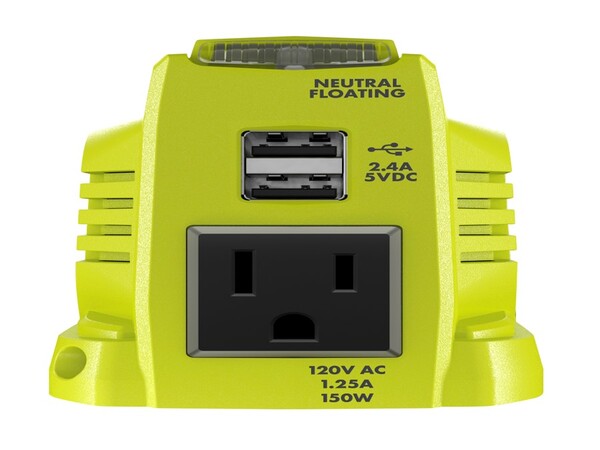 Included Outlets
(2) USB-A Ports & (1) 120V Outlet
On-Board LED Light
For convenience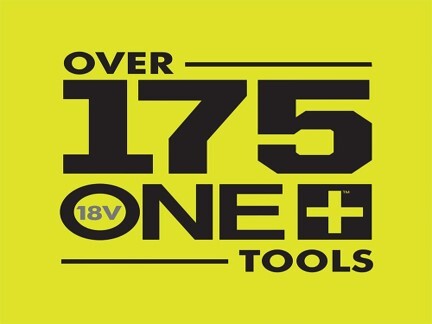 System Compatibility
Over 175 ONE+ Tools – All work with any RYOBI ONE+ 18V battery
Specifications
Dimensions
Weight

1 lb.

Watts

150 Continuous

Warranty

3 Year

Outlets

(1) Household Outlet, 120V 1.25A & (2) USB-A Ports, 5V 2.4A (Shared)

Electrical Output

Modified Sine Wave
Includes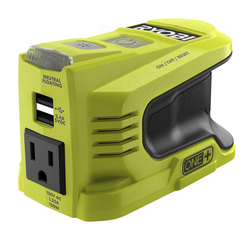 18V ONE+™ Powersource 150 Watt Battery Invertor
[#<ProductFeature id: 2808, title: nil, content: " 18V ONE+™ Powersource 150 Watt Battery Invertor", photo: "ec101f4e-34db-45ba-9389-e8f226fe4b70.jpg", created_at: "2020-09-08 23:20:02", updated_at: "2020-09-08 23:20:02", product_id: 1096, sort: 0, enhanced_type: "included_item", enhanced_group: nil, enhanced_icon: nil>]
Reviews
18V ONE+™ POWERSOURCE 150 Watt Battery Inverter
18V ONE+™ POWERSOURCE 150 Watt Battery Inverter
is rated out of
5
by
770
.
Rated

5

out of

5
by
mrfender5001
from
Way better than a rechargeable USB battery Bank!
I bought this on a whim and never regretted doing so. I can charge my phone 4 to 8 times depending on what size battery I use. I use this to power outdoor lights and fans and keep my phone charged when I don't have a power source close by. I thought I would only use this for power outages. Even though I do use it during those because I have lots of them, I use it way more than for just that. Having 150 watts on hand anywhere you go is very convenient for car rides back of the pickup truck in the middle of a field jobs too. I'm very glad I bought this thing I DON'T REGRET IT AT ALL!!
Date published: 2020-07-21
Rated

5

out of

5
by
bm8211520bm
from
Awesome little inverter.
I bought this as soon as I found it online. This will be very handy to have, it's no power house but will work wonders for small items to provide power anywhere. Great for camping, hiking, boating, anything that takes you away from an electrical outlet. The USB ports are super handy for all of your personal electronic devices, but the 110 outlet lets you power a laptop charger or even a printer, lights, lamps etc. 1.25amps isn't much so don't expect to power anything huge, but put a 9ah battery on this thing and you could charge your cell phone over 14 times.
Date published: 2019-04-17
Rated

5

out of

5
by
Brimonster69
from
Love the on / off switch
I had been looking at portable power packs for ac lights in my trailer. Most were big and I had to recharge the whole thing. This thing is awesome, just need to swap batteries. I happened to see it on Facebook and went the same day to my Home Depot and found it. I love the the on / off switch, it works great runs 2 strings of LED lights in my trailer. Also love the 2 USB ports to charge phones.
Date published: 2019-06-05
Rated

5

out of

5
by
Anonymous
from
I take this everywhere
Ok! I know this is not a perfect tool for every one but for me it's perfect, I can charge my cellphone if I'm at a craft show of charge my payment method for cardiac cards. Use it for lights and more, I won't use it for a toaster or a heater but small stuff is great, don't use a more that a 4v batterie 3 or 4 are good for it and turn it off when you are done, it has a fan to cold it down you don't want it to go all the time, the light on top is not a must but helps. It's really light even with a 4v battery.
Date published: 2019-06-19
Rated

4

out of

5
by
Daneel
from
Nice smaller inverter using your One+ batteries.
Nice lightweight, small inverter that lets you leverage your existing 18V One+ battery collection for 120V AC and/or 5V USB power. For small appliances like fans, lights, CPAP machines, or for USB devices light phones, tablets or other handheld electronics, this is a nice, easy inverter/charger.
Date published: 2020-04-17
Rated

5

out of

5
by
cordcutter
from
Awesome! Awesome! Awesome!
I wanted something like this to exist for a while, and I'm very happy Ryobi came out with it. My wife works from home 3 days a week, and I travel out of state for work a lot, and it seems like whenever the power goes out at home, she is working from home, and I'm away - and not there to start the generator for her. All she really needs is a way to keep her laptop going for work, and this is the perfect solution. It is safe and so easy for her to use. Because I have several Ryobi batteries, she can keep working all day if needed. Additionally, this is super useful when I go camping. I absolutely love it. It works perfectly.
Date published: 2019-05-28
Rated

5

out of

5
by
Txgent10
from
Great features
We got this for the sole purpose of having a back up system for prolonged power outages. Living in an area that has been hit with a hurricane that took away our power for weeks, having a way to charge phones or IPad and short time use of a fan when it get hot is a great thing to be able to do, While we have not had, know I can put my big stock pile of 18 volt batteries to work when I need them is comforting.
Date published: 2019-06-17
Rated

5

out of

5
by
normanidaho
from
Becoming one of my favorite Ryobi tools
This little inverter is amazing. Its perfect for camping and to have in your home if there is a power outage. I plan to get more when they are in stock. There not staying on the shelf very long. Used it for charging cell phones and my fit bit. Used it on a lamp to make sure it would allow for the plug from the lamp. All worked and this is a great buy for anyone who has needs where a regular outlet is not available. Its not intended to be used with say a microwave or vacuum. Anything that requires a lot of power will probably not last very long using this product. Also comes with a light that is bright enough for a tent or camper and also to use at a fuse box.
Date published: 2019-07-18